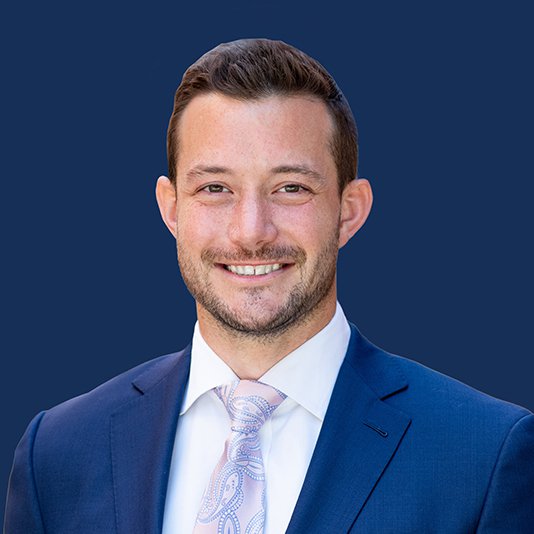 Andrew Warren
Licensed Associate Real Estate Broker
About Andrew
Bio
Andrew is a seasoned real estate professional with over 15 years of experience on both the commercial and residential side of the industry. His proven track record working with buyers, sellers, landlords and tenants has been the result of a strong work ethic and his ability to identify a client's needs, create tailored solutions for those needs, and assemble a world-class team to help his clients through the process.
Over the years, Andrew has had the privilege of working with a diverse clientele including business owners, entrepreneurs, first-time home buyers, and Fortune 500 C-suite executives.
Testimonials
Andrew Warren went above and beyond the call of duty. He maintained our communication from when I was just exploring two years ago, to making my dreams a reality this past August when I was actually ready to make the move. From a customer service standpoint, he went the extra mile by adhering to my aggressive time restraints, and clearly understood all of my needs under this time frame. He was very informative and patient, and made the transaction virtually seamless. I would highly refer Andrew Warren to any of my colleagues in the industry - you will get the best !!
Joy Corson – Vice President Sales, Calvin Klein Collection
Working with Andrew was an absolute pleasure! When I set out to find the perfect apartment with a list of criteria, he quickly got back to me with several great options. Not one place he showed me was a waste of time. He was also very understanding if I did not love something & was genuinely concerned about my satisfaction, even if it meant going back to the drawing board. Even when I was close to signing, I wanted a "last ditch effort" viewing of a few apartments in a different neighborhood just to be certain – Andrew was more than happy to look with me the following day. Andrew is a calming blend of professionalism & personality and while really knowing his stuff & having great follow-up, he was also was a delight to work with.
Jessica Cooper – Owner, Delectable Home
I wanted to send you a written thank you for your assistance in finding my NYC condo. Having been involved in real estate for 36 years and having lived in the city for three years, I have met and viewed many apartments with many agents and firms. When I decided to look for a condo to purchase, I tried many people but found the attitude to be a "big deal," - "if you don't buy this someone else will." When I met you and Heather I was impressed by the fact that you immediately wanted to know what I was looking for i.e. an investment, a second home, short or long term ownership and most importantly where in Manhattan I wanted to be. Throughout the whole process of looking and finding the Onyx property, both of you were attentive and learned my likes and dislikes for style and type of building quickly. I am so happy in my new condo and can only say I would highly recommend both you and Heather to anyone I know who is looking for quality realtors to find a home. Thanks again!
Steve Rosenblatt – Owner, The Spectrum Companies
Andrew, it has been a pleasure working with you to find the perfect apartment in the West Village/Chelsea neighborhoods! Thanks for your help and extensive research. It's been great working with you as our agent in NYC. I look forward to maintaining our relationship in the future.
Stephen D.
Andrew, thank you so much for taking us out to look at apartments. We loved you!! I felt that there were 3 units I would have signed that day if I'd have had to, which made me feel so much better about this hectic move. You did an awesome job finding what we wanted!
Caroline K.
You're in another class entirely from the other real estate brokers I've worked with.
Kathy C.
Andrew has consistently gone above and beyond for us, from searching for potential condos that we may be interested in, to remembering our detailed preferences (for example, Andrew would call out how a potential condo fulfills something we were looking for, even if those requirements had been casually mentioned offhand), to giving us all the information we needed throughout the process, from search, to offer, to purchase. He was always extremely timely in his responses and always made us feel appreciated. He even brought gingersnap cookies he had made by hand to our closing, to congratulate us (along a very nice bottle of Veuve Clicquot). Andrew has been by far the most professional and, quite frankly, the best broker I've ever had the pleasure of working with, and I cannot sing his praises enough. I would strongly recommend him to anyone who is looking for a home.
Joy & Darren L.
I have been a client of Andrew's since 2013, and during those years he has proven to be not just knowledgeable, thorough, and savvy regarding Manhattan RE, but a friend who listens and understands. He helped my family identify and purchase a 2BR new construction unit in Hudson Square after 2 years of searching - his patience as our parameters moved around (to put it lightly), made us feel extremely comfortable knowing he was truly thinking of our best interest and not just trying to get us to close on a purchase. Since that time, he has continued to be a helpful resource whenever needed, keeping us posted on any RE related developments and comps in our neighborhood, trends, etc. He has our highest recommendation!
Amit J.
Andrew helped me with my first purchase in NYC. He is extremely knowledgeable and guided me in the right direction without ever being pushy. He genuinely cared about finding me an apt that fit my lifestyle and needs. He was very responsive and always willing to answer any questions. He made the process seamless and stress free.
Sarah W.
The Olcott, 27 W 72nd St, APT 1102
55 West 17th Street, APT 1501
The Caledonia, 450 W 17th St, APT 2009
The Machinery Exchange Building, 136 Baxter St, APT 1/2A
15 E 26th St, APT 19D
555 W 59th St
The Sutton, 959 1st Avenue, APT 10A
101 W 24th St
15 Renwick St, APT 601
The Olcott, 27 W 72nd St, APT 1102
55 West 17th Street, APT 1501
The Caledonia, 450 W 17th St, APT 2009
The Machinery Exchange Building, 136 Baxter St, APT 1/2A
15 E 26th St, APT 19D
555 W 59th St
The Sutton, 959 1st Avenue, APT 10A
101 W 24th St
15 Renwick St, APT 601
301 East 50th Street, APT 9A
325 Lexington Avenue, APT 24C
River & Warren, 212 Warren St, APT 4J
The Boerum, 265 State Street, APT 1101
75 Wall Street, APT 30-O
45 Christopher Street, Apt. 7G
162 West 123rd Street
The Boerum, 265 State Street, Apt 1214
The Onyx Chelsea, 261 W 28th St, APT 10C
247 West 46th Street, Apt. 701
45 East End Avenue, APT 12F
444 East 86th Street, APT 3-F
303 West 66th Street, APT 12-CW
308 Mott Street, Apt 1D
389 East 89th Street, APT 16B
333 East 75th Street, APT PH-D
555 W 23rd St
303 East 33rd Street, APT 5J
475 Sterling Place, APT 3E
303 West 66th Street, APT 17-GW
635 W 42nd St
234 W 148th St, APT 2B
81 Columbia Heights, APT 33