The Instant Pedestrian Plaza: Good or Bad?
Phil Ryan | August 10, 2011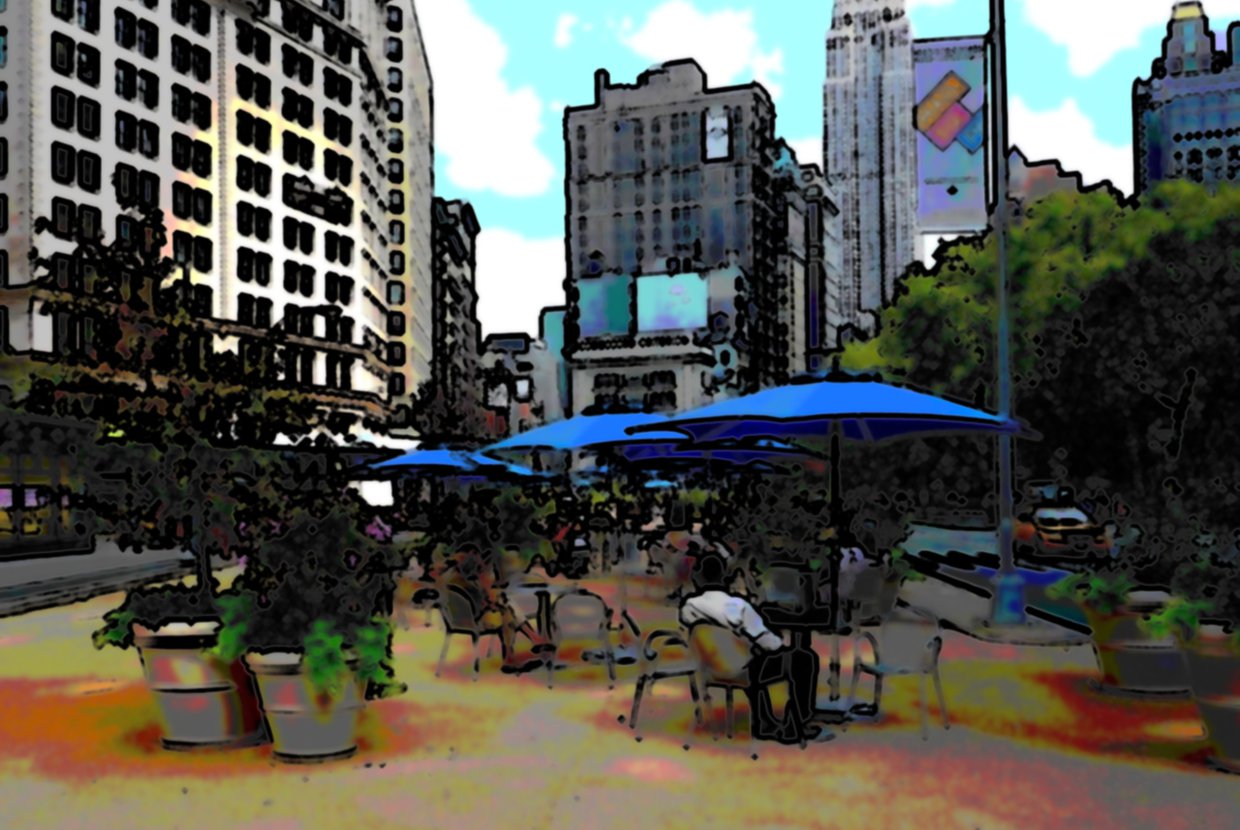 Anyone who lives in Manhattan sometimes feels a bit overwhelmed, whether it be from seemingly endless traffic, and, especially if you live in Lower Manhattan, a lack of green space apart from randomly dispersed pocket parks that are out of the way much of the time. Many of us can't go to a waterfront park on our way to or from work, and in the concrete jungle that we love so much, spaces such as Central Park can become quite crowded. So what can be done about this? The New York City Department of Transportation is going through with a pilot study on pedestrian plazas, usually at oddly-shaped intersections in dense neighborhoods with little to no greenery, providing somewhere to at least sit down without trekking to a more well-known park.
To understand how converting a small piece of road space into a public space can radically transform even the smallest of intersections, let's look at a few examples. Anyone who has ever gotten off the subway at Chambers Street has certainly noticed that the station's exits sit at a busy and slightly confusing road junction in Tribeca. Hudson Street diverges at an angle from the intersection of Chambers Street and West Broadway, only to cut through Duane Street, again at an angle. The resultant intersection is bizarre for drivers and pedestrians alike; the former are stuck attempting to make tight turns in an already congested neighborhood, while the latter may end up on a small island in a sea of cars, which is no fun to navigate at rush hour.

This island, known as Bogardus Triangle, is home to a cute, if cramped, pocket park that receives little access from visitors and residents alike because of its isolation, and despite actually only being a short hop across a one-lane street, is psychologically separated from the rest of the area. In its attempt to create good examples of instant pedestrian plazas, NYCDOT blocked off the initial stretch of Hudson Street between Chambers Street/West Broadway and Duane Street to all but pedestrians, in essence creating a giant bulged curb connecting Bogardus Triangle to the rest of the streetscape.

The result is an easier method of wayfinding, as there are fewer places that requiring crossing the street, as well as reducing overall congestion; Hudson Street traffic is distributed onto Duane Street, which lies perpendicular to West Broadway and eliminates odd turn angles. As a result, Bogardus Triangle sees far more visitors, many enjoying the shade of the rare trees in Tribeca and enjoying their Starbucks from across the street, playing with their children, or simply reading a book on a warm day. Isn't that what livability is all about?

It is important to note that these pedestrian plazas do not in an of themselves add value to specific plots of land. Rather, they improve the quality of life, even minutely, through reduced traffic volumes, more open space, and increase overall livability, all of which contribute to increased neighborhood "health" and the areas they occupy more desirable places to live. Because of their success, NYCDOT has expanded the program in phases, adding locations across New York City. Successful implementations have occurred in the Meatpacking District and the West Village where grids at sharp angles have been softened through the addition of instant plazas, distributing traffic onto side streets and allowing for more street crossing locations. Despite some initial criticism and valid confusion, it seems as though plazas are here to stay, a move that no doubt will be met with much enthusiasm from a variety of city dwellers.