Subway Dreaming: Connecting the L to the 7
Kimberly Milner | November 30, 2011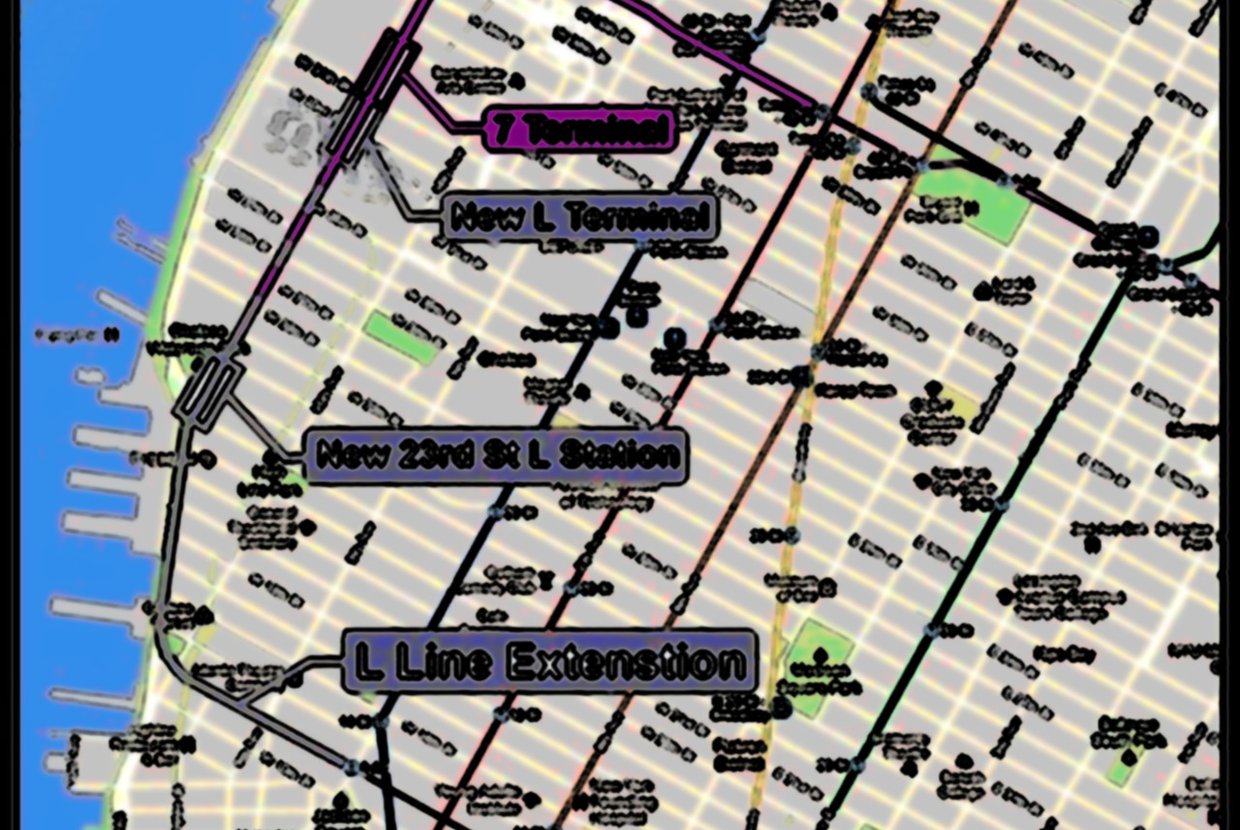 With dusty construction creating eyesores and heartbroken storeowners on 2nd Avenue, gossip of the MTA's newest subway line often overshadows other MTA subway projects. But with the city less than 2 years away from completing its 7-line expansion designed to finally pick up stranded Javits Center passengers, a buzz started by concerned commuters has disregarded the Transit Authority's comical budget woes and suggested a left-field extension of their own.
Instead of making the West Side's Javits Center and Hudson Yards the end of the road for the 7-line extension, why not add some gray to the picture and have the L-line connect to the terminal? Extending the L-line 3 avenues past its 8th avenue terminal and just a few blocks north (well actually 20) would connect the L to the 7 and provide the isolated Hudson Yards area a direct link to downtown Manhattan, fully putting that once desolate stretch back on the map.
But talking transit and not money has dimmed the prospects of this fascinating suggestion. Indeed, the MTA, pointing to empty coffers, has already dropped its planned 10th avenue stop on the extended 7-line, giving commuters a lengthy ride from the Port Authority to the Javits Center - and the unparalleled opportunity to gaze at MTA subway ads - at Hell's Kitchen's expense. In their defense, not building the 10th Avenue terminal has allowed the 7-line extension to progress quickly; officials have already noted that that the station at 34th and 11th has been completed 10 months ahead of schedule.
Although there are a lot of ways to redraw the map, what lies at the heart of the left field L-line extension idea isn't lazy New Yorkers throwing ideas out there that will never happen, but resistance to a budget deficit that leaves dead ends. The 7-L line transfer would warm the souls of NYC commuters because it's so logical; it would keep the city's flow moving. The L-line proposal, created by the bloggers at NY by dZine, assaults NYC complacency. So, in the spirit of these daring dreamers, lets imagine this: a subway system that puts different maps and ideas New Yorkers come up with on display, instead of their own pomposity.