Chinatown About to Get a High Line of its Own
Daniel Muhlenberg | February 29, 2012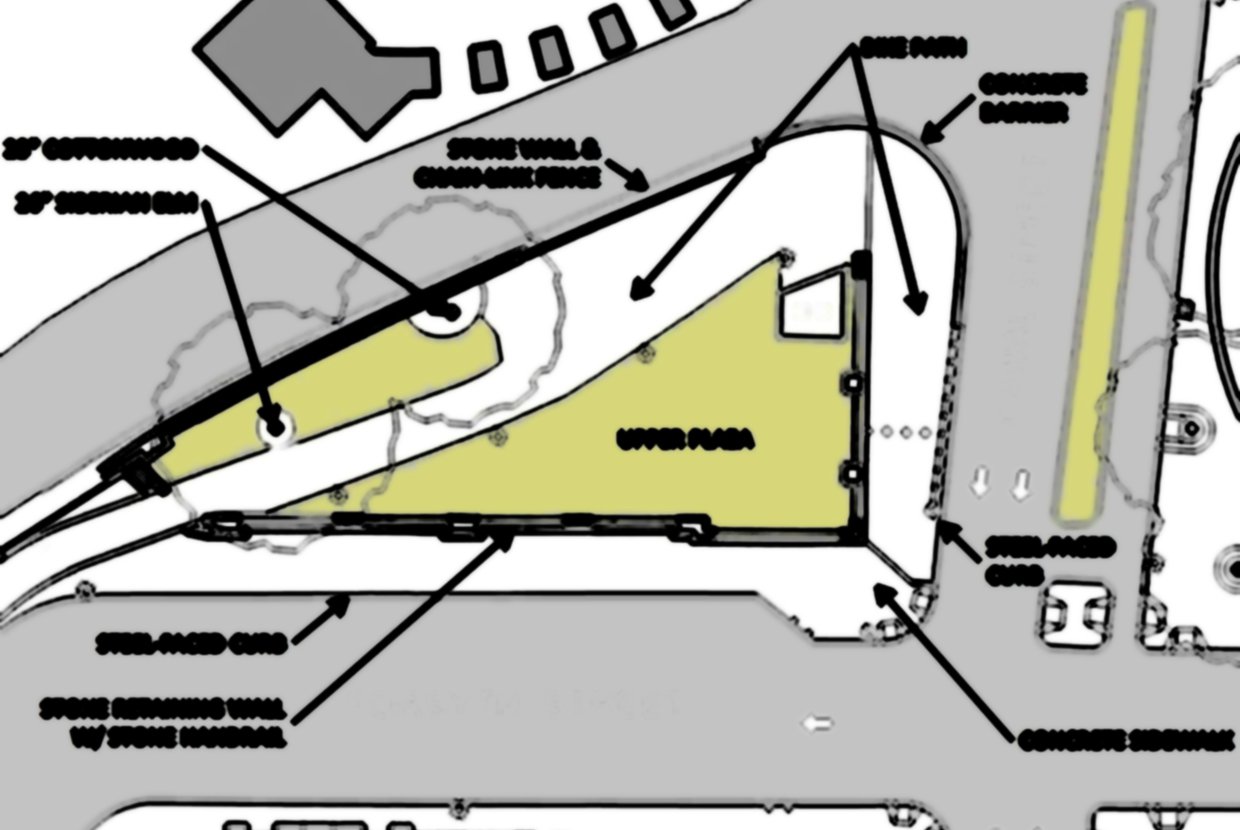 Mark your calendars: another modern Manhattan park is on the way in summer 2014. The small triangular plot of land that borders the Manhattan Bridge doesn't have a name yet, but some are already calling it Chinatown's "mini High Line" in reference to the High Line Park in Chelsea. The comparison is apt insofar as the Chinatown park will be a raised space, but the similarities end there. This is a very small piece of land, so the emphasis should be on the word "mini." This isn't a bad thing, however, because designers are creating an intimate environment that honors Chinatown's heritage and gives people a chance to stop and think, something which is truly rare in Manhattan.
Right now the site is just patch of gravel between Canal Street, Forsyth Street, and the Manhattan Bridge, but it will become a public plaza with seating, artwork, and plants, plus a new staircase on Forsyth. This new plan is unsurprising in the context of Mayor Bloomberg's long-term vision for Manhattan; he has recognized that modern parks in Manhattan are public spaces that not only enhance the quality of life for Manhattan residents and attract tourists, they also serve as economic engines that attract businesses and raise property values. Residents of apartments in Chinatown and the Lower East Side are hoping that this trend continues, which may be why Community Board 3 unanimously approved the city's plans a few weeks ago. The designs for the actual park definitely didn't hurt either.
Chinatown's new park will be a Chinese-themed garden ringed with bamboo and cherry trees. Designed by architect Xu Bing, the main feature of the park will be his trademark square word calligraphy that makes English letters look like Chinese characters. The writing will spell out the last two lines of "Writings at Helin Temple" by Li She of the Tang Dynasty: "By a bamboo temple I talk with a monk midway/Half a day, in my floating life, is thus whiled away." As you can guess by the tone of the poem, the new park will be a tranquil space for contemplation.
These plans should help stimulate new construction in these Manhattan neighborhoods by bolstering economic activitiy as well, especially since city planners will widen the Forsyth sidewalk by 10-feet in order to better accommodate the year-round green market right next door. The park will serve as a natural complement to the greenmarket, so shoppers and park-goers alike will have plenty of reason to visit Chinatown once it opens.