2013: Economic Principles Will Catch Up To Reality, Condo Prices To Rise
Written by Ryan Daley
January 4, 2013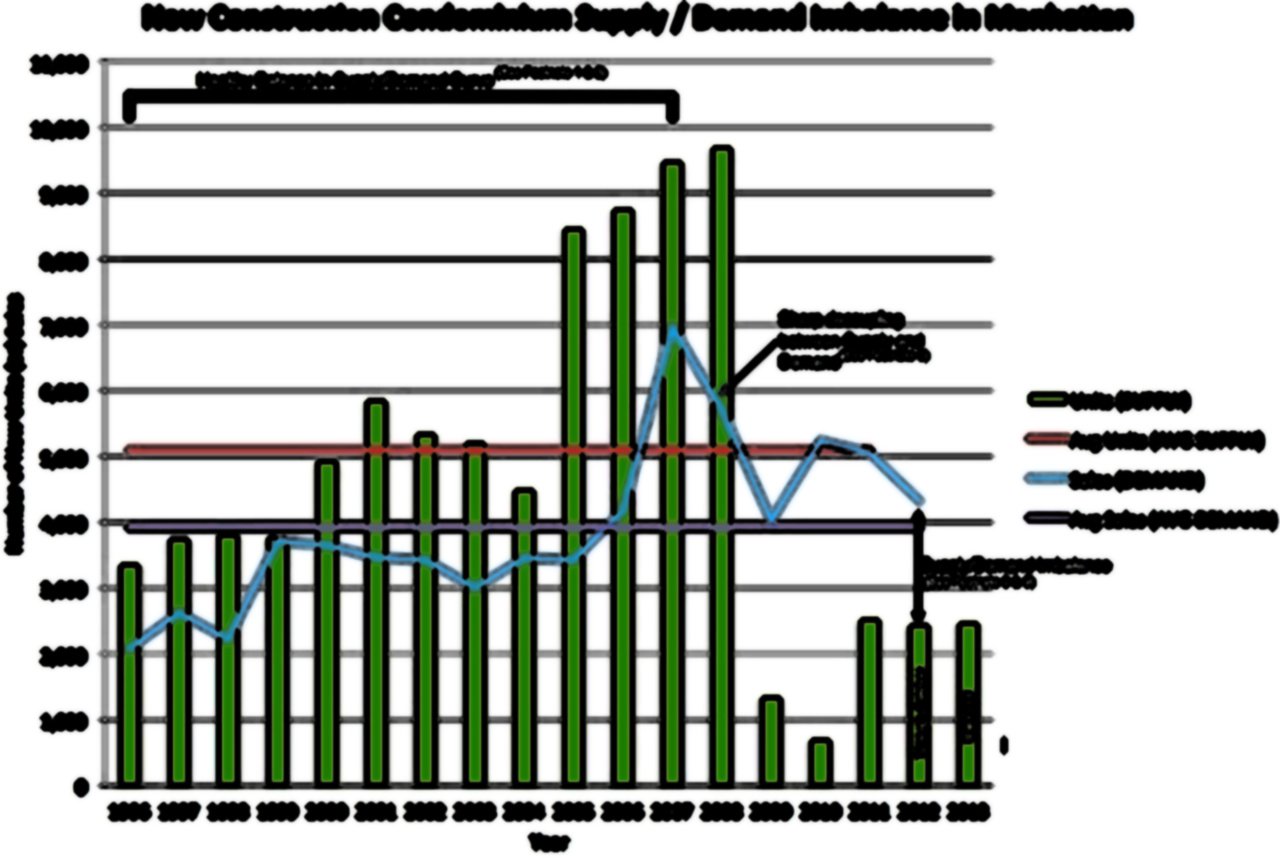 Chart, analysis and market projections by J. Thomas
Footnotes to accompany chart above
1.) From 1996 – 2007, there exists a tight correlation between new residential units (SUPPLY) and condo sales (DEMAND) as developers introduced additional units in response to growing demand.
2.) In each of those years from 1996 – 2007, supply was greater than demand, representative of healthy balance in the supply / demand curve.
3.) We see a sharp decoupling between supply and demand beginning in 2008, concurrent with the credit crisis in Manhattan which began to manifest in 3Q-2008 after record highs in 2Q-2008.
4.) Since 2009, supply has remained significantly below its long-term average, roughly at 50% in years 2011, 2012 and expected in 2013.
5.) Since 2009, demand has remained above its long-term average despite a pronounced shortfall in inventory. This has created a significant supply / demand imbalance.
6.) The current gap that exists between demand and supply removes the need for developers to offer incentives such as discount off asking price as absorption rates are historically high.
---
As we crunch the numbers and analyze the Manhattan real estate market in the year ahead, we're finding some interesting trends regarding consumer demand and the amount of new inventory hitting the market in the next year.
The number of building permits submitted and approved for 2013 suggests the condo inventory shortage will continue through 2013 and beyond.
If we assume that, in a typical year, the demand for new construction can absorb a supply of roughly 5,000 units, 2013 inventory will fall far short of meeting demand. We also suggest that the demand for luxury apartments in 2013 is atypical (greater than average) due to:
• Pent-up local/national demand - This is created by a recent softening of several years of extremely tight lending constraints and increasing consumer confidence in the economy.
• Low re-sale activity – Many current homeowners are hesitant to sell since there is little inventory to transition into.
• Increasing global demand for real assets in New York City - This is created by the resiliency of the NYC market in response to the economic downturn.
The absence of a year-over-year increase in the average price/sf of Manhattan condos in 2012 [$1,301/sf in 4Q-2012 compared to $1,295/sf in 4Q-2011], despite the overwhelming strain of the inventory shortage, suggests condo prices will rise, perhaps significantly, in 2013 as economic principles begin to catch up with reality.
Basic economics states that a decrease in supply with constant demand [2012 demand was very close to its long-term average] will increase the price of the underlying asset since the two are inversely proportional. We suggest that, since the price effect of this supply/demand imbalance did not materialize in 2012, condo prices must rise in the near future.
---
* Unit/supply data from United States Census Bureau
* All sales data prepared by Miller Samuel Inc.
* 2013 projection for new construction units prepared by Corcoran Sunshine Marketing Group
* Source: A Build Up of Building Permits
Opinions expressed herein are only that, opinions, and not to be construed as advice. The opinions expressed herein are solely those of the author and do not reflect those of Elegran Real Estate. Past performance is not indicative of future results.
All material herein is intended for information purposes only and has been compiled from sources and/or third parties outside of Elegran LLC. Though information is believed to be correct and presently reliable, the information is subject to errors, omissions, modification and/or withdrawalwithout notice.