Foul On The Play! : NYCHA's Proposed Infill Plans Blocked
Janna Allen | April 09, 2013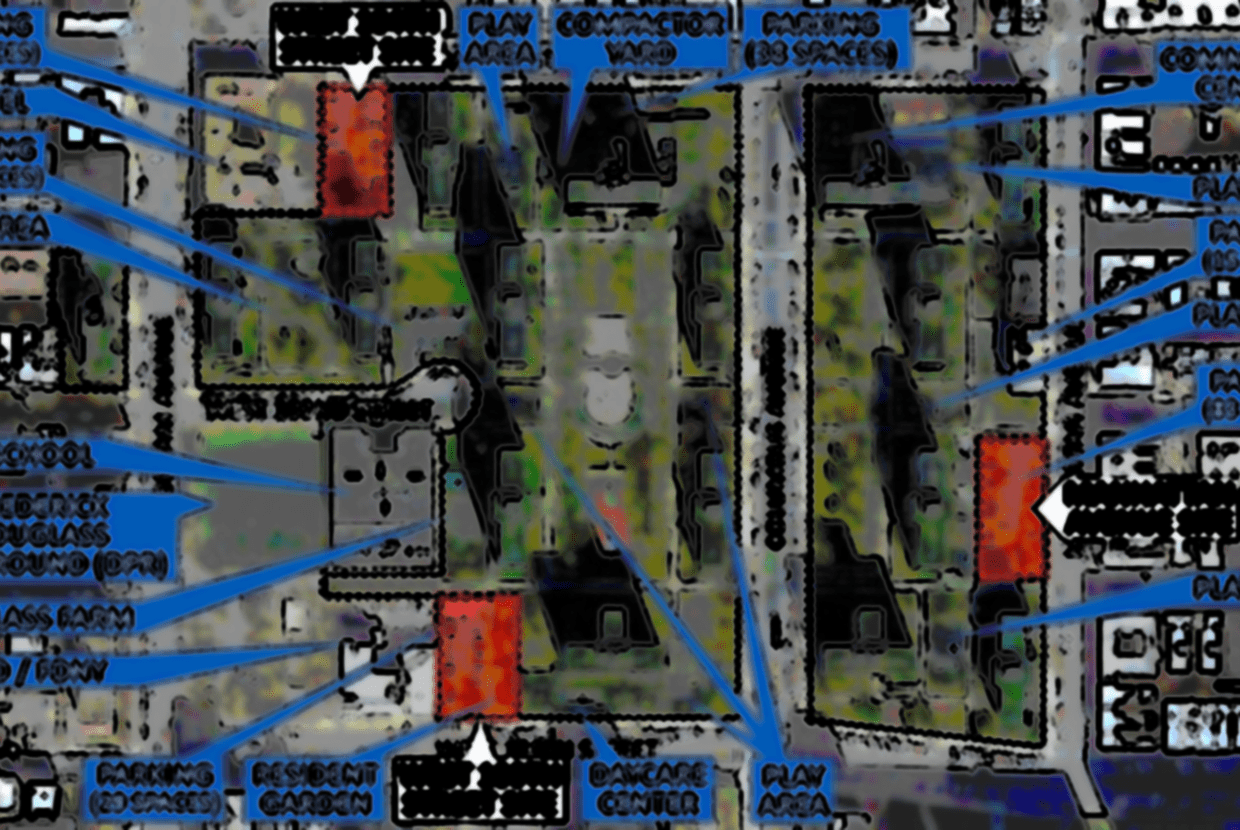 Those who are dwelling within public housing in New York City are not happy. Their simmering anger is being directed towards NYCHA and their landfill plan (pictured above), which sprung about late last month. Empty pockets and eager eyes have forced NYCHA to propose a sale of "unused" land located within several housing projects in Manhattan. Parks, seating areas and parking lots would be auctioned off to private developers and replaced by new luxury buildings with hopes of an upsurge in much need NYCHA income.
On Friday, April 5th, a press conference was held on the steps of City Hall in Manhattan. Here, city council members urged NYCHA to take their plans and submit them to the Uniform Land Use Review Procedure. The submission would put the City Planning Commission, City Council, and the Mayor in the power-seat to approve or disapprove of the plan. NYCHA's chairman, John B. Rhea has said (according to The Local East Village) that no such submission is necessary being as the land on the chopping block is owned by NYCHA, and not necessarily public land. A Request For Proposals is already in NYCHA's hands, and plan to release it by the end of this month.
While Councilwoman Margaret Chin has been pushing for the proposed buildings to implement the 80/20 rental rate (making 20% of the apartments affordable), those apartments would be renting out for $2,500 a month for a one-bedroom, Wall Street Journal reports. Thus, proposed affordable housing would not be affordable to those already dwelling in the surrounding area.
Tenants have much to say about the proposals, but their collective consensus is a strict: NO.
Many questions have been arising. Some are wondering if the public would get enough out of the deal. Many are also wondering if the luxury towers have the potential to brew a clash of cultures. Others are simply uncomfortable about the way NYCHA is handling it all. Over on the Lower East Side at the Meltzer Towers, seating areas for the elderly have found themselves within the housing authority's grasp. $10.5 million in needed capital for the Meltzer Towers improvements and repairs has been reported by NYCHA. A tower at the site of the seating area is being proposed, and is being estimated to generate $970,000 annually. Tenants are not taking the bait and remain unimpressed.
NYCHA is still pushing the plan, calling it the "largest opportunity to generate millions of dollars." Regardless of the tenant opposition, they remain on the defensive. Benefits such as temporary construction jobs, increased revenue from rent, and permanent employment at proposed retail sites are being thrown about by the housing authority, and are being collectively blocked by concerned tenants.