Experience New York's Great Outdoors At This Summer's Best Open Air Markets
Nikki Hess | June 21, 2013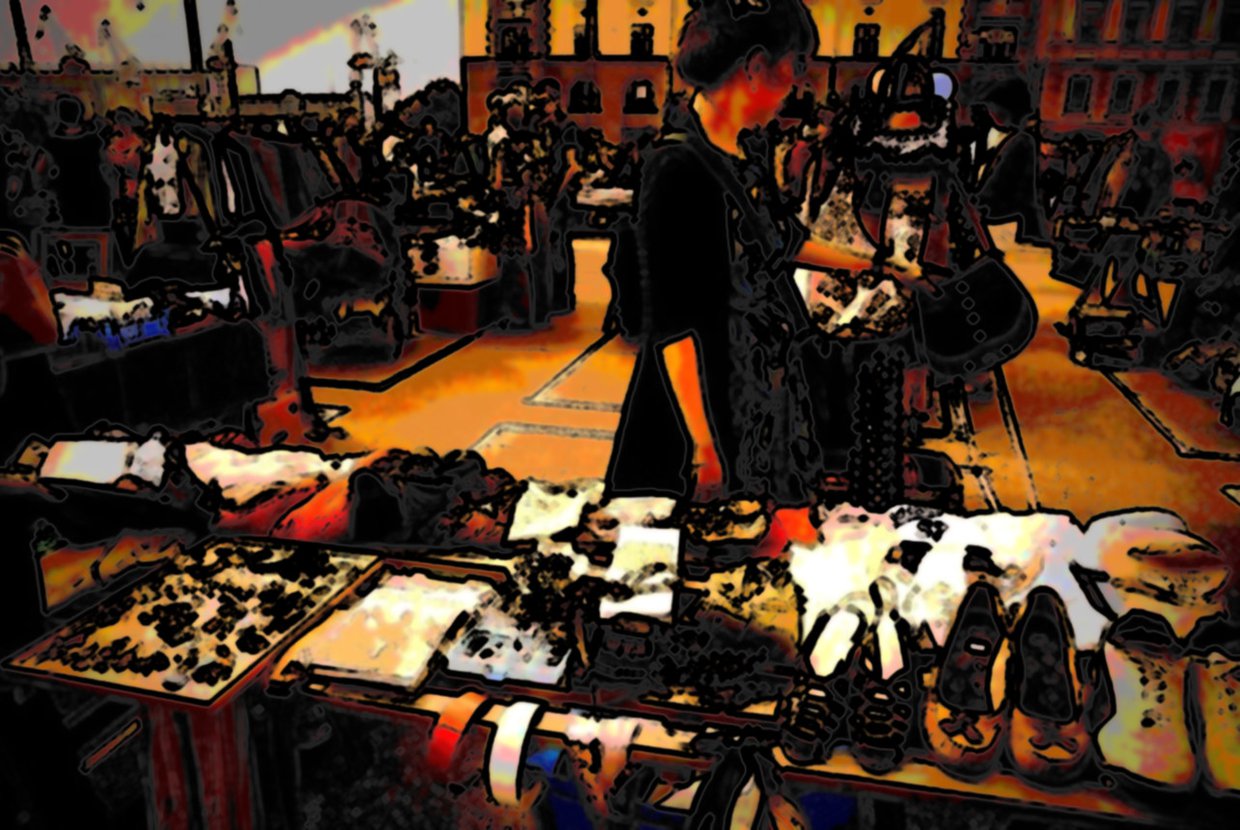 Living in New York is anything but inexpensive. From overpriced meals to a budding, but costly luxury real estate market, any Manhattanite's bills can end up being rather steep. That's why, for many New Yorkers, the feeling of scoring a great deal is practically ineffable. The best place to do so this summer? Outdoor markets. With a wide array of spots to choose from, anyone can find quality goods at bargain (and/or reasonable) prices across the city, from Midtown to Brooklyn. To see which ones are worth the trek, take a look below at this miniature guide to some of New York's best open air markets.
Manhattan
When: Mondays, Wednesdays, Fridays, and Saturdays from 8 a.m. to 6 p.m.
Where: North and West sides of Union Square Park
What: This world-famous market is a New York favorite. The square itself, which practically teems with its 140 vendors (give or take), is the perfect spot to engage in sensory overload. In business since 1976, the Union Square market is home to regional farmers, fisherman, and bakers that sell just about everything one can imagine including jams, pickles, freshly cut flowers, wine, maple syrup, and cheeses. This well-known market also hosts cooking demonstrations, cookbook signings, tastings, educational tours, and, according to its website, attracts an impressively large crowd of 60,000 market shoppers of all ages and backgrounds.

Hell's Kitchen Flea Market
When: Saturdays & Sundays from 9 a.m. to 5 p.m.
Where: West 39th Street between 9th & 10th Ave.
What: Comprised of three different markets, the Antiques Garage, the West 25th Street Market, and the Hell's Kitchen Flea Market, this award-winning outdoor urban shopping oasis offers antiques, collectibles, vintage clothing, home decorations, furniture, jewelry, and plenty more. At the Antiques Garage, open since 1994, shoppers are encouraged to explore the market's two floors and 100+ vendors to score anything from paintings and prints to rugs, fine silver, and handbags. The West 25th Street Market, although similar to the Antiques Garages, also offers mid-century modern items and boasts up to 125 vendors. The final market, the Hell's Kitchen Flea Market, includes vendors from The Annex, which was formerly located in Chelsea and adopted by Hell's Kitchen in 2006, and it offers a little something for everyone. Plus, it presents its customers with some of Midtown's best views of the Empire State Building, the New York Times Building, and the New Yorker Hotel.
When: Saturdays from 6 a.m. to 5 p.m.
Where: East 67th Street between 1st & York
What: The East 67th Street Market is one of the city's longest-running, and arguably most philanthropic markets. It began in August 1979 with a mere three vendors but has since expanded to include over 100 dealers from across the tristate area. According to Time Out, its proceeds have raised more than $2 million over the years to help improve children's education at P.S. 183, the host school of the entire operation. Items available for purchase at the historic market are fresh produce, stunning accessories, delicious pastries, and more.

GreenFlea
Image Courtesy of Yelp

When: Sundays from 10 a.m. to 5:30 p.m.
Where: Columbus Avenue between W. 76th & 77th Streets
What: Yet another one of Manhattan's first open air markets, GreenFlea, which also has an indoor venue, has been operating for over 25 years and is one of the places to track down designer vintage duds, as well as prepared gourmets foods and spices, antique and collectible artisan crafts and furniture, and even locally grown greenery at its very own branch of the famous Union Square farmers' market, Greenmarket. Also, similar to the East 67th Street Market, GreenFlea donates portions of the money it generates to New York's schools and has provided the institutions with more than $4,00,000 since 1985.

Hester Street Fair

When: Saturdays 10 a.m. to 6 p.m.
Where: East Village on the Corner of Hester and Essex
What: What began as a destination for one-of-a-kind goods and specialty foods has transformed itself entirely and become much more that just a highly curated outdoor food market. Nowadays, the Hester Street Fair also encompasses a pop up retail experience, a night time food bazaar, outdoor markets in Los Angeles, Hester Events, and even catering options, all in addition to its general street fair that sells a plethora of items like artisanal food, home goods, and crafts. What's more, the market has grown exponentially to the point at which vendors are now selling their products online for those who are unable to make it to any of its many events. In other words, there's no excuse for missing out on this undeniably popular summer event.


Brooklyn

When: Saturdays & Sundays (with the exception of SmorgasBar, which is open daily from 11 a.m. to 10 p.m. and 11 p.m. on weekends)
Where: Various Locations Across Brooklyn & South Street Seaport
What: This may very well be the mother of all flea markets. Shoppers and perusers alike should prepare to be entirely overwhelmed, in the best way possible, of course, by the vast variety of options that the multi-faceted flea market offers. The breakdown of the market is as follows: the actual flea market exists in two parts. The first flea market takes place in Fort Greene every Saturday from 10 a.m. to 5 p.m., while the other flea market, which is also open from 10 a.m. to 5 p.m., takes place only on Sundays and is stationed in a different location in the East River State Park. Both fleas host 150 vendors of antique, vintage, and handmade items as well as food. Smorgasburg, Brooklyn's ultimate outdoor food-only frenzy, also boasts two locations. The first is in the East River State Park in Williamsburg and is open, again, from 10 a.m. to 5 p.m. on Saturdays. Smorgasburg's DUMBO location, on the other hand, is on Sundays from 11 a.m. to 6 p.m. in the historic Tobacco Warehouse in the Brooklyn Bridge Park. Both fairs present its customers with packaged and prepared foods, as well as vendors of just about anything related to the kitchen. Lastly, SmorgasBar, which is located at South Street Seaport, is home to ten food vendors and two bars and was started in an effort to "revitalize the area following the damage from Hurricane Sandy." Essentially, to sum it all up, the massive market that is Brooklyn Flea sells nearly every product imaginable, and it creates yet another reason to travel to this ever-expanding neck of the woods.

Red Hook Food Vendors

When: Saturdays & Sundays from 9 a.m. to 9 p.m.
Where: Red Hook Ballfields on the corner of Bay and Clinton Streets
What: An international palate is a must for attendees of this foodie heaven. The Red Hook Food Vendors, also known as the Ballfield Vendors, gather together every weekend to dish up plates from all over Latin America. One can easily grasp a sense of the neighborhood feel while sampling Guatemalan treats from the Carrillos, Colombian delights from the Cerones, El Salvadorian snacks from the Lainezes, or Mexican dishes from the Martinezes. Simply put, if authenticity, and for that matter, utter deliciousness are major concerns when it comes to trying new foods, then look no further than Red Hook's weekly food extravaganza.
When: Saturdays & Sundays 10 a.m. to 7 p.m. Year-Round (Williamsburg); June 21st to late September 7 a.m. to 10 p.m. and Sundays from 10 a.m. to 8 p.m. (Chelsea Market)
Where: Williamsburg - 70 North 7th Street between Wythe and Kent, Chelsea Market - 75 9th Avenue
What: Artists & Fleas is a "community for those who love to sell and a destination for those who love to shop." Located in the very popular Williamsburg, this market sells just about everything, including one-of-a-kind artworks from vintage 20th century textiles like superhero sheets and sci-fi curtains, to handmade Art Deco jewelry, to a wide selection of natural vegan candles. The market's website, which is equally fascinating and diverse, features some of its favorite vintage artists and designers and it even has a running blog. The best part? Artists & Fleas is opening up a rotating pop-up shop in Chelsea Market to bring its unique collections to the city. Wallets, beware.
Queens
Long Island City Flea & Food Market
When: Saturdays & Sundays from 10 a.m. to 6 p.m.
Where: 46th Avenue and 5th Street, Long Island City
What: Meet the newest market in, or rather, out of town: The Long Island City Flea & Food Market. This newcomer, which promises an all-star lineup of diverse vendors that sell antiques, art, clothing, furniture, and a great deal more, definitely merits a trip outside of the city. Aside from the fact that its location overlooks the Midtown Manhattan skyline, this Queens-based curation of the borough's finest also hosts roughly 100 vendors which run the gamut from ice cream and pizza stands to home furnishings and fashion options. Plus, it offers a rather unexpected change of scenery to those in desperate need of a break from Manhattan.