Hey, New Yorkers: It's time to De-Clutter
Shwetha Ravishankar | June 28, 2013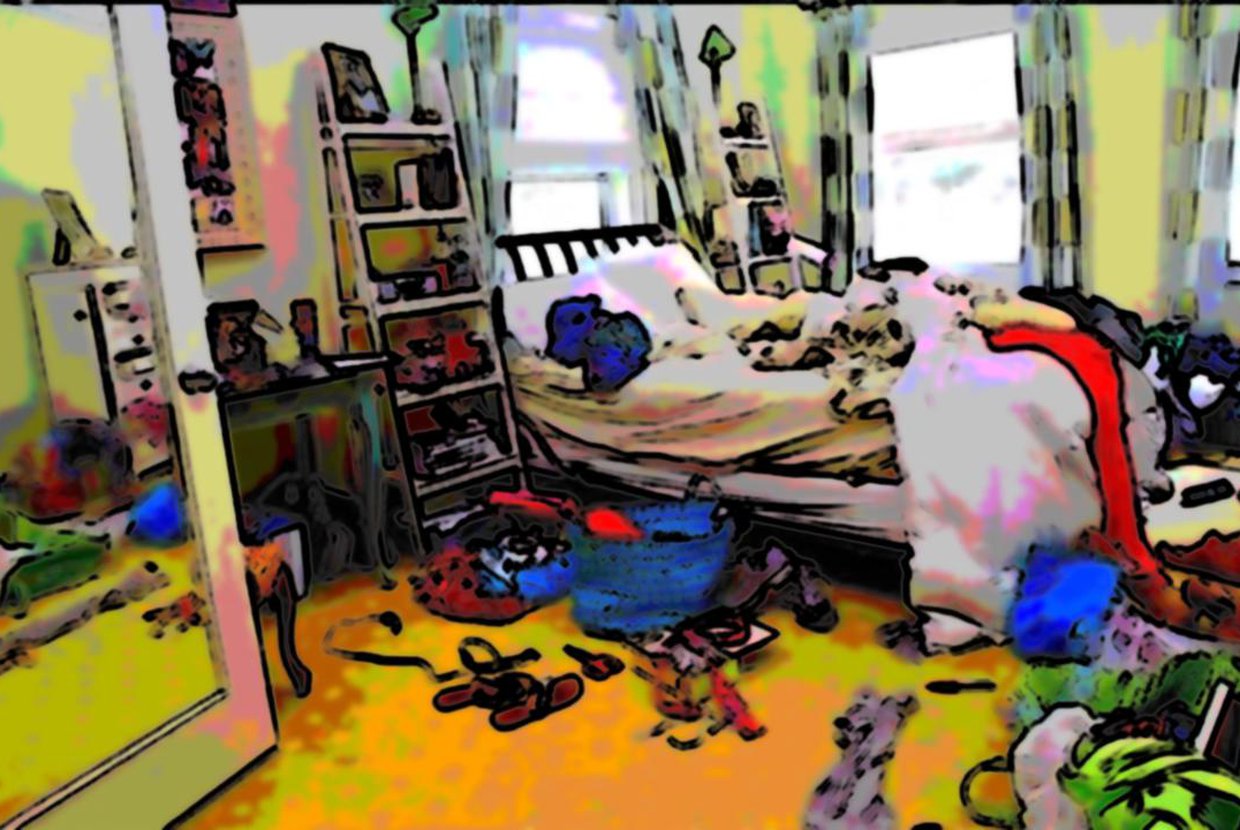 Living in one of the most expensive cities in the world and one of the fashion capitals in the world, comes with its perks, pains, and pressure too. Just the other day you visited your buddy's loft, in the uber-cool neighborhood of Chelsea, and wondered OMG how does he live in this cramped space? I'm sure your apartment on the Upper East Side or SoHo is no different.
How often have you missed the luxury of a walk-in-closet like back home, or counter space in your kitchen? Almost every single day, isn't it? That being said, you can live in style, even in the most cramped spaces in the city, just like this guy! Here in New York City, its the New Yorker attitude, of making it work for you, getting creative, and most of all "thinking out of the box", which are things that will come in handy, as you get ready to move in to the big city, solo.
Here is our list of products that will come handy in making those smart living, space saving choices! I have divided them into different spaces around the house, for your ease.
The Living Room
Go sleek, storage friendly (this of course applies to everything) and multi-functional. For that all important couch, go in for a neutral shade and throw in colorful cushions. So, this cheery couch from Crate and Barrel is your go-to place after a long day at work, and your best bet for that friend who just-needs-a-place-to-crash in New York City.
Looking for additional pieces of seating, that add character to your space? Look no further than these vibrant hand woven hanky tuffets from Anthropologie, or you can opt for this retro printed ottoman from Etsy, for its dual - seat & storage!
From comfy couches to next pick-up/put-down space in your living room - your coffee table. According to me, the kind of coffee table you have and what you put on it, says a lot about the person. From books, to little knick-knacks, or a vase with happy blossoms! My best find was this rustic, vintage industrial cart from Houzz, or this modern, sleek and contemporary style coffee table with a pop of color from Houzz as well.
We all know how poorly lit NYC apartments are in general. Even if you get lucky with ample sunlight, from dusk to dawn you are dependent on good and energy efficient light fixtures, which is not something your apartment comes with. This clip-light from Ikea is my pick for its simplicity in design, use, and energy efficiency as well, and this unusual one from Urban Chandy, that adds light to the living room and life to the space as well.
Moving on, we head to the dining area, which is rarely a designated space in NYC apartments. Almost everyone add a counter top table in the kitchen with high bar stools, or you can just use this very cool picture table, nothing like you have ever seen before, featured on Design Crave.
You have a ton of books all stacked up in those big boxes, bring them out and stack it pretty on this leaning bookcase from Crate and Barrel, you can add on as many as you want and work this on either side of your wall mounted TV too.
Now that we have covered the floor area, here is a cool idea to add little accents on the wall, from picture frames to decorative pots, make this mantle your own, from Pottery Barn.
The Bedroom
First off you would want to make sure of the measurements of the room or the area in your studio apartment where this would fit in. Next up, you open the closet door and look back into your couple of suitcases overflowing with clothes and wonder, how am I going to fit it all in? We all have been there, haven't we? When buying your twin/queen/king bed, make sure it comes with drawers on the sides or storage space under the mattress or even under the bed. I use this space for storing my offseason clothes and blankets. Here is one product from Ikea which has four huge drawers. And this one will sure blow your mind, check out the designs by Resource Furniture.If you have a space for your child, then personalize it with these monogrammed letters with space to keep their little toys or use it anywhere in the house by fixing it up with lights, this one I spotted on Apartment Therapy.
Now lets move on to the pain-point in all NYC apartments - welcome to the world of cramped closets! Here are a few things I use and recommend to better organize your closet. For scarves, this hanger from Bed Bath and Beyond fits in 15 scarfs, switch them over between seasons and you are good to go, this belt hanger, these colorful woven basket from the Container Store, and this multi-level hanger could ease your stress levels a wee bit; and for those dark and dingy closets this light is a life-saver for sure, stick it and turn it on and you now have the gift of closet-vision! Although the closets are cramped, they have a lot of vertical space, make sure you make full use of them, its ideal to stack up your shoes boxes, and those bulky suitcases.
The Kitchen
If you are obsessed with stocking your kitchen with spices and sauces, and everything else in between like I do, then there is just never enough space for all of it. With just a couple of tiny cabinets, and very little counter space, it's almost a battle in there! Well here are the products that will come to your rescue, this folding island from QVC for that much needed counter space, this wall mount dish drainer, this wooden chopping board from Lipper International, available on Amazon, fits right over the stove top, and this all important pot rack with a grid shelf, from Bed Bath and Beyond, where you can pretty much hang everything. Considering counter space, here is a space saver coffee maker from and slim toaster from Walmart; and here is a rack to fit everything else in your kitchen, which will set you up comfortably in your little kitchen.
The Bathroom
First up this space saver is a lifesaver for all those bulky towels, your endless collection of perfumes, shaving creams, body lotions and everything else you need space for. This under the sink organizer is a very simple DIY idea which will help you keep your cleaning liquids more organized.
The Shoe Rack
Here are two very cool and unique products that will keep things interesting. This cutesy rack from Charlotte Tangye Design will sure be the envy of everyone, and spin this wheel and take your pick from Rakku Designs.
Herb Garden
Yes, in spite of tiny spaces and no balconies in most NYC apartments you can still enjoy of fruits/herbs of your labor, with this very cool idea for a herb garden. If you do not have space to hang it this way, then you can simply place it on your sunny window sill.
There we have it, a whole bunch of smart space saving options to make your little living space a happier one! If you know of more such fun products, leave us a comment and spread the word.
Just like Graham Hill says, "Small is Sexy". Check out his Ted Talk.