How One Brooklyn Start-Up is Revolutionizing the Street Sign
Nikki Hess | June 27, 2013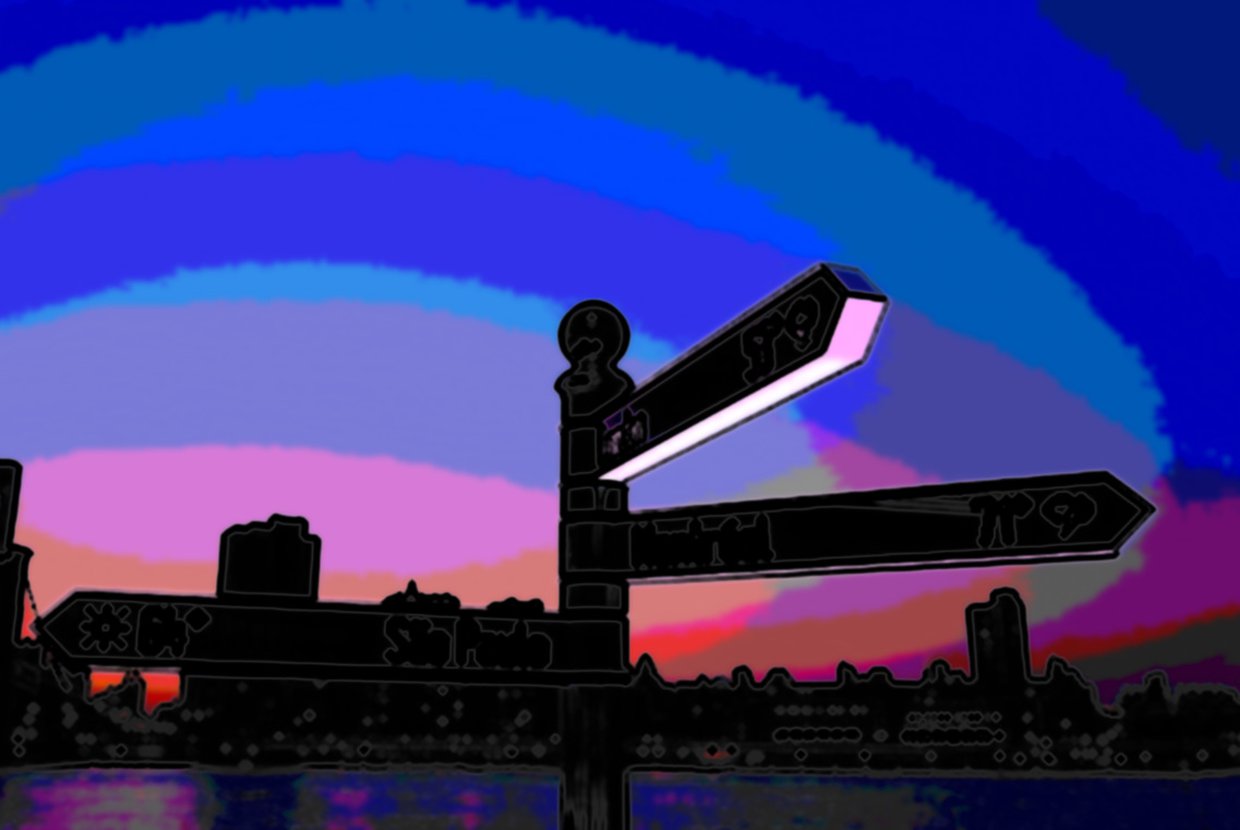 Hungry for new technology? Chew on this: Breakfast, a multifaceted, Brooklyn-based company, has designed and built a revolutionary new street sign known as Points that quite literally points you in the direction of whatever it is you're craving. The start-up, which aims to create a link between the online world and the real world, specializes in combining custom robotics with superior design, enhanced digital experiences, and "[good] ol' fashioned fun" to create the products of the future. To learn more about Points and what goes on behind the scenes at Breakfast, we spoke with one of the company's co-founders, Michael Lipton, about their latest innovation.
Nikki Hess: Hi Michael! Thanks so much for taking the time to chat. So tell me, what exactly is Breakfast?
Michael Lipton: So, as far as the quick history of Breakfast, we began about three years ago, and we are a privately funded, small shop of six people. Together, we all work to form a bridge between the online world and the real world, and we try to build projects that harness the scalability resource of the online world in a way that is designed into a space and that puts a little more thought into the aesthetic of the experience than what you would commonly find. I think that now, the default behavior for interacting with someone in a public space is to put them in front of a flat screen or touch screen and let them have at it. The problem is, you are only going to get so much use out of that. For one, this way of interacting with people can be a little off-putting. Secondly, people are somewhat desensitized to this method, and a lot of the time, they don't really look at these technologies as means of acquiring a lot of information or interaction. By putting more thought into how someone would tend to want to be served their information and interact with these machines, I think that you can get a lot more efficiency out of technology. For that reason, all of our projects tend to combine some degree of custom hardware and mechanics along with software that provides a software bridge. Additionally, all of our projects follow one of two lines: In the past, we have been hired by clients to operate more in a marketing capacity, and we were essentially commissioned to build some kind of custom installation or product to move a brand message forward - advertising work. But a lot of the time, we just build things that we are interested in and we attempt to spin them off into their own business models. That's what we are looking to do with Points. We have done that a couple times in the past, and we are currently trying to balance those two modes of operation.
NH: Now with Points, how would you describe that particular project?
ML: It's a modern take on the old school directional sign. Before, the directional sign was a very low-fi, utility-based thing that was comprised of a stake in the ground with some arms that pointed to your painted-on destination. What we have done here at Breakfast is take all of the static elements of that sign and we have made them dynamic. Not only is the content that appears on the arms of the sign changeable and updateable, but it is also has the capability to change direction and move its arms in different directions.
NH: Wow! So how did this idea originate?
ML: In order to understand the inspiration for this project, it helps to understand the overall idea behind our business, which has been to use the resources and scalability that the Internet provides to bring those things into the real world and, in turn, make everyday objects smarter. I think it pays to go back and reevaluate these different components of life that, in this case, haven't changed for hundreds of years because we lacked the means to improve them. Now that we do have the means, it is definitely worthwhile to go back and look at how they can be improved. For that reason, I see Points as the purest fulfillment of our mission statement to date. It looks, in a kind of graceful way, to take the information that is online and manifest that information into a format that goes beyond the more common technologies, like touchscreens and projections, that we use on a daily basis.
NH: Considering the fact that you built this entirely from scratch, how long did the entire project take to complete?
ML: I'd say that the project was three years in duration, but not necessarily in total effort. It's been three years since we first came up with the idea and actually started to work towards a prototype. But for a while, it was more of a side project that we would pick up for a few weeks here or there when we had the time. So I'd say if you consolidate all that effort it's closer to one year overall, but it did span across three years total.
NH: Did you encounter any big problems while designing and building it?
ML: I mean yeah, there always are. But there were no big problems where we had to step back and say, "Wait, maybe this isn't possible." Still, there was a long list of challenges because one of the key goals was to try to make this look very, very simple and to try to make it look just like an ordinary street sign, until it starts to move. And in order to do that, we had to pack a lot of very complex mechanics into a very small space. In the base of each arm, we installed a complex series of gearing and custom electronics that had to be designed within a very small form factor. Not only that, but we also had to account for the fact that these arms could swing 360° over and over and over again, which, if you have something connected by wires, can end up being a big problem since they will likely, at some point, get really twisted and snap. So that was one of the more challenging design considerations. In fact, that was probably the number one challenge. Everything else was a lot of work, but that was definitely the hardest part for us.
NH: So where does this unique sign draw all of its information from?
ML: [The sources are] really limitless. As it stands right now, Points uses Twitter and Foursquare. With Foursquare, we are able to pull in locations that can supply a lot of the static content that tells us where our coffee shops and our subway stations are. Then there's Twitter, which adds a nice dynamic element. For instance, if there is a specific topic that we care about, such as what is being written about a music festival, we want to know not only what people are saying about that festival, but also what some of the artists that are playing that festival are going to be talking about. That's something that could be of interest, especially when you tie that together with the idea of knowing where the artists are at that time. Maybe, for example, they're tweeting about being in an autograph tent, which is something that is happening in real time and something that you wouldn't be able to hear or learn about through the use of a map of any other wayfinding service. This ability to adapt to that sort of spontaneity is, I think, one of the things that makes Points special. Beyond that, what really excites us is the idea that we can extend this to incorporate any information that we can tap into. Anything with an API (Application Programming Interface) or data source that we can read from can be integrated into that sign in order to tell us, as an example, whether or when the L train is going to arrive. Still, it is a very adaptable system and could cater specifically to a number of different install sites.
NH: What about inappropriate tweets

? Does Points have some sort of system to prevent them from appearing on its signs?
ML: We certainly could add a moderation element, but it would all depend on the client. If Points was being installed in Disney World you probably wouldn't want anyone using their potty mouths in the middle of the Magic Kingdom, but it would just depend on where we are. It is certainly possible to have both an automated and a manual moderation layer.
NH: Good to know! Speaking of online content, how often does Points update its information?
ML: It's totally fluid; it's really up to the specific install site. If we want to have it update every hour or every five minutes we can do that. It's whatever is going to be appropriate, and since that will change based on where the sign is installed, there are no hard-and-fast rules or generalizations around what needs to change and when it needs to change.
NH: Who is the intended audience of Points? Is it for directions-challenged people like myself, for example?
ML: There's that element, for sure. It [the audience] goes along two different lines. With the immediate release of Points, we are looking at more of a rental model where we will have a very small number of signs that we can take around to events such as music festivals or conferences, i.e. things that are lasting a few days or maybe a couple of weeks. But the long term vision for Points is to be able to have long-term installs in places like cities. It could be in Times Square or anywhere else in any city, and I think that while there is a utility function there, there is also a lot of novelty to the product as well. So maybe it belongs in Disney World or any other theme park. It could be in hotels or airports, too. There is a long list of places where it could be appropriate to have a Points sign running all the time.
NH: Who would you ultimately be working with to make these projects happen in places like New York City or Disney World?
ML: As far as the city goes, there are a couple of different ways that we would go. We would either be working with New York City itself and working with the government, or we would be working with some kind of brand sponsor or private space. Say, for example, that Points was going to be placed in front of the Time Warner Center or some other private space. If that were the case, then they would certainly have a large say in everything. If the sign was going to be placed on the sidewalk, then we would be speaking to the city no matter what. Basically, it just really depends on who is going to reap the most benefits from the installation and who is sponsoring it. In the case of a theme park, it is very clear cut that the park is going to be our client. Maybe they will end up getting a sponsor to help, but that would be the end point as far as who we work with because everything would be within their control, and they would dictate where the sign would go. Since the setup requirements are very straightforward, just a power outlet and an ethernet cable, we would just turn over the admin page to them, give them some training, and then let them proctor over the product however they deem fit.
NH: If Points ends up in the streets of New York City, where will the trial sign be located?
ML: It's tough to say. You know, it could be of great value in a high-traffic, tourist-centric spot, but it just as easily could be used to help locals find their way. I think there have been plenty of times when there has been a group of people that wants to know where to go that ends up sitting around a street corner for a half hour talking about which restaurant or bar would be best. Being nudged in a certain direction could definitely add a lot of value [not to mention save a lot of time] so it really depends on what the objective is there. If we want to get it as road-tested as possible, then we want as many people as possible to be interacting with it. Still, it is very possible that the right choice is to start a little more slowly and work towards targeting locals as opposed to tourists, but I think there is a benefit across the board.

NH: If I wanted to rent Points for an event, such as a wedding, how much would it cost?
ML: At this point, we are probably looking more at corporate events that are a bit longer term [than a wedding] just because it does take some work to get set up. Having a one-or-two-day thing might not be the best. We're certainly open to it, but we're looking more at the multi-day festival, conference kind of crowd. As far as costs go, it's still a bit up in the air. Really, it is going to be something that operates on a case-by-case basis as opposed to something that has an à la carte menu. The factors are going to be the length of the event, the location of the event, and then beyond that, the kind of content that we want on there. Do we want just baseline stuff that we've already implemented, or do we want something specific to the install location? By the time everything is said and done we're looking at a low five-figure rate for a rental, at least as a starting point, and then it will fluctuate based on the specifics.
NH: Have there been many interested buyers?
ML: Yeah! We have been very happy and lucky with the reception that we've gotten. We just went live two weeks ago, and we're looking at hundreds of emails that I'm [laughs]... doing my best to work through as quickly as possible. I'm just trying to sort out exactly where Points will go first, and trying to gauge interest in parallel with looking at the rentals, with an interest in sales, so that we can start to evaluate what it will take to get to that point of selling our product.
NH: So is points your favorite project that you've done so far?
ML: I'd say so, yes. [As for what my team thinks], it is probably one of the projects that we are most proud of; it's one of our most extensive and elaborate creations. More than that, I think it really pushes the envelope and fits the vision of the types of things that we are always aiming to create, so I think that it is my favorite by quite a long shot.
To learn more about Breakfast and their creative projects, check them out on Facebook, Twitter, or Instagram. To rent a Points sign for your event, click here and scroll to the bottom of the page.