A Much Needed Makeover for the East River Waterfront
Joel Bennett | July 18, 2013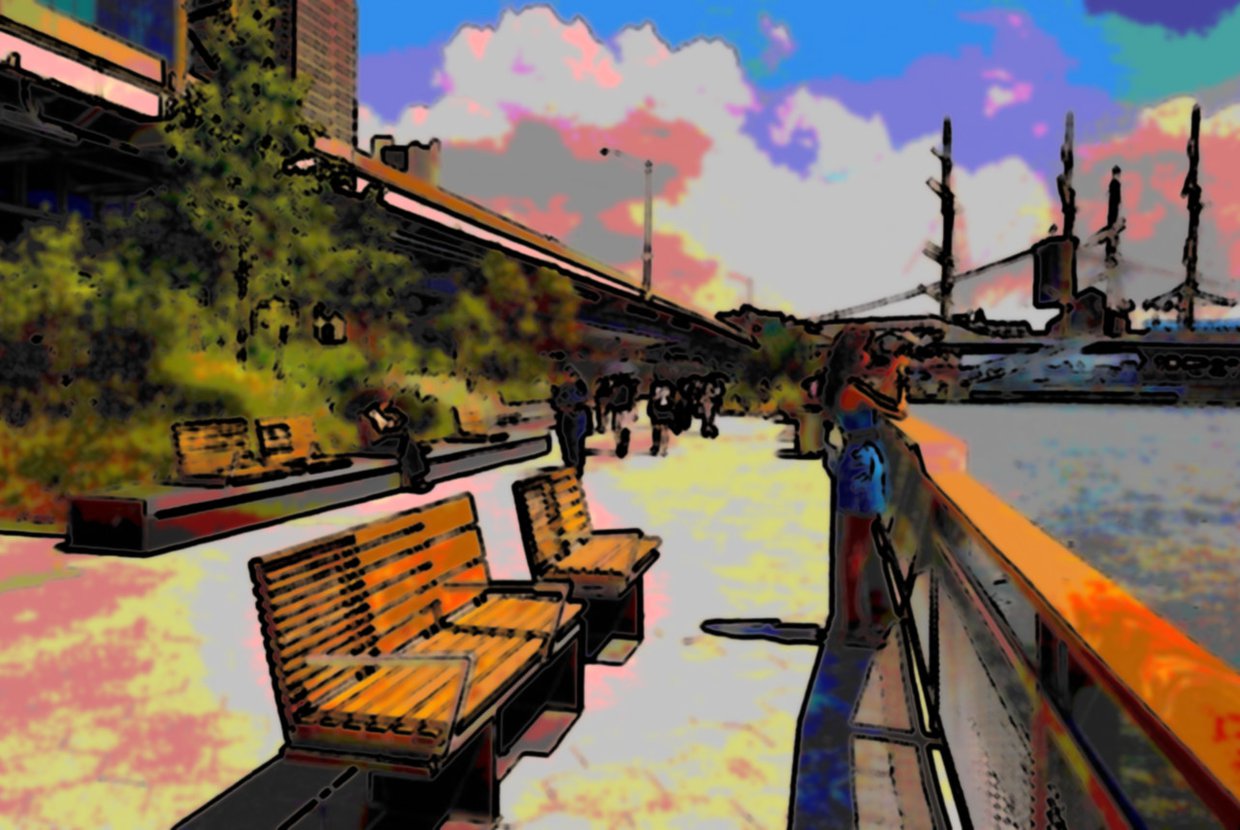 In spite of Seth Pinsky, the NYC EDC's president, announcing his departure, development of the East River Waterfront Esplanade continues without hitch. Architects have re-submitted updated schematics of a final plan for the project to Community Board 3 for review, and a completion date has been set for Spring 2015. The community board has until late August to make any recommendations for change, but the current incarnation of the final design plan is available online for public consumption ("PKG #4").
A continuous bike lane will run along the two-mile stretch of renovated public space between the Battery Maritime Building and Montgomery Street. Other designated recreational spaces and structures include basketball courts, a synthetic turf field, a bocce court, exercise area, and a skate park. The plan also includes some interesting bench-swings that'll hang under the FDR designed to give a "front porch" feel, called 'gliders'. The architects followed a theme of simplicity, with a range of seating options (bleachers, benches, picnic tables, bar seating, etc.) all using the same natural finish reclaimed wood.
One of the more standout features of the proposal is that of the railing, which adds a new level of functionality as the wooden beam curves and flattens out in certain areas while the railing itself bends inward and outward – this allows it to shift purpose from a leaning outlook ledge, to a simple rail, to a bar seating area, all with seamless, inline transitions. Fisherman have also been accounted for (or at least, the wellbeing of those surrounding them) with the inclusion of 'get-out' platforms that provide a safe, designated area for casting into the East River.
The ERWE development will come in three phases, with the first phase of the project having already been opened to the public in the Summer of 2011. Phase I, occupying the area between Wall Street and Maiden Lane, includes bar & lounge seating, various plantings, a look out, and a dog run. The area around Pier 15 is a two level reconstructed waterfront pier that offers excellent views of the East river and both the Manhattan and Brooklyn skylines, and also features an elevated lawn area, plenty of seating, and two lookouts. While most of the Manhattan waterfront developments have neglected the East River side, the Esplanade is a welcome improvement to an otherwise inaccessible area.