Move Your Body in NYC This Summer
Clemence Fontaine | July 10, 2013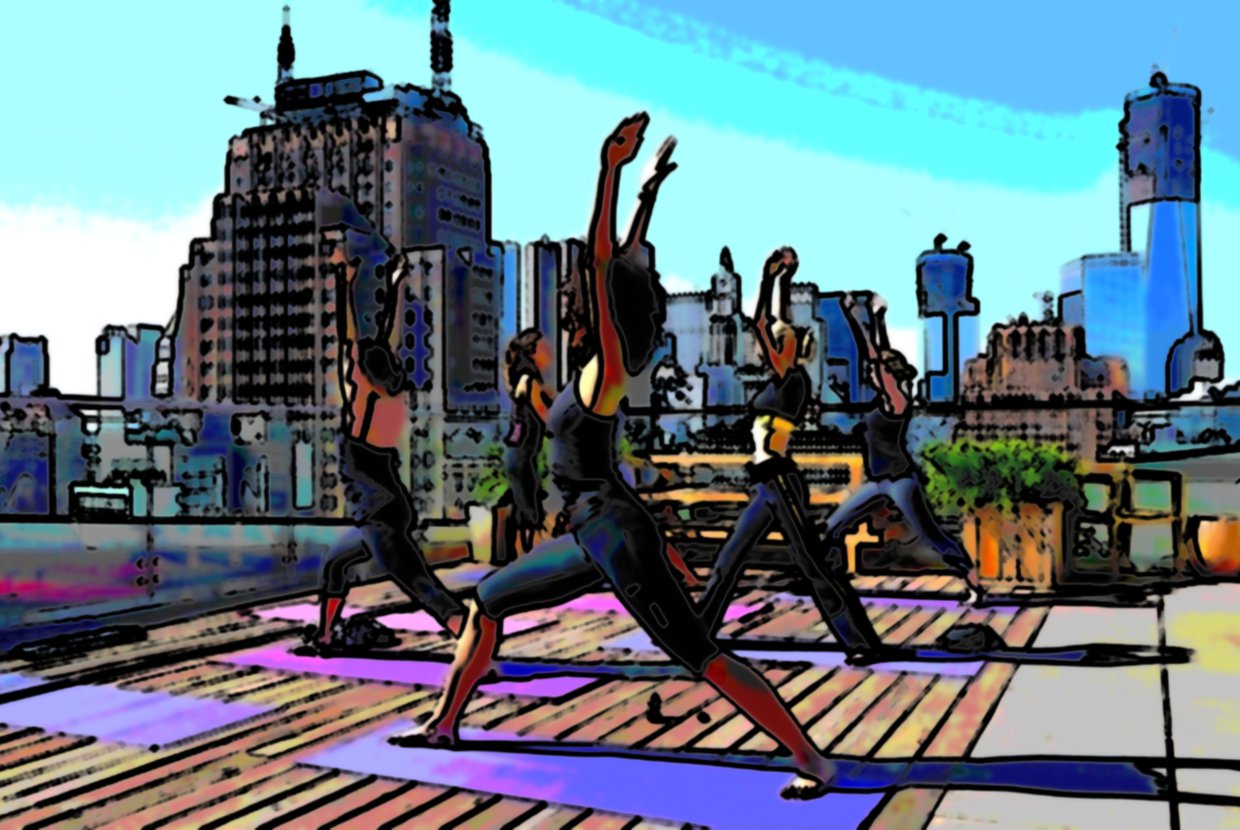 The summer has finally arrived and for the unlucky many that will have to stay in the city, work and sit at their desk for hours, an escape from the routine won't harm. So go move your body. Whether it is before or after work, go move your body with this selection of different outdoor activities and classes that New York offers.
Team sports' lovers? Grab your own ball and net and play volleyball on the beach. If you're looking for a more serious game, the Downtowners can meet at the Battery Park's Esplanade Plaza on Wednesdays from 6 to 7:30 pm for coeds matches. There is also, Chelsea Park on 27th Street or if you're heading uptown, you will find Highbridge Park in Washington Heights. Following the 2013 Confederation Cup? You don't bend it like Beckham quite yet but you're a fair player, so head out to the Riverbank State Park or the McCarren Park for Brooklyners. If you have the will but lack the team, then join a soccer Meetup group.
Worried before putting on your swimsuit? No need to starve with salads, just work out in Union Square. Every Thursdays are dedicated to sports from 7 am to 7 pm with boot camp sessions, dance class, morning run, and yoga for adults and kids. Learn More.
If you cannot make it on Thursdays, then check out all the classes that the city of New York proposes with the Shape Up programs from Mondays to Saturdays, all throughout the five boroughs. No need to take a sport membership anymore, just show up with your smile and enthusiasm and get ready to move. The various classes include pilates, zumba, kickboxing, aerobics, … enough to keep you busy and sweaty. Learn More.
If your pulse is racing for Central Park, there is cardio training on Tuesdays and Yoga session on Thursdays from 6:30 to 7:30 pm, just make sure to be there a little early to have a spot. Learn More.
For more yoga classes check out Lolë Showtique NYC on facebook and make sure to Like it to receive all the new updates. Classes are held every Tuesday nights at 6:30 pm, Pier 25 so as to breathe in the fresh Hudson River breeze. Learn More.
For a more energetic Hudson River experience, after a Sunday Brunch, forget the quiet stroll, go learn new steps with the Moondance events at Pier 84, 6:30 pm. Starting July 14 with Swing and the George Gee Swing Orchestra to more Latin beats with Salsa and Tango to spice up the night. Learn More.
Feeling like you want to cool down after all this sweating? Go kayaking. Different boathouses offer docks with free walk-ups from Long Island to Brooklyn, Staten Island, and Manhattan. The sessions can run from 15 to 40 minutes paddling if there is no queue. For the earth-lovers, opt for the Red Hook Boaters to help pick up refuse on the beach while waiting for your turn to take off. Learn More.
Not only it is good for your health, but sport also enables your brain to release endorphins, dopamine, and serotonin - hence a real happiness booster! With all that, you will just be glad to have stayed in New York for the summer.