The Greenhouse Effect: Bright Farms
Shwetha Ravishankar | July 02, 2013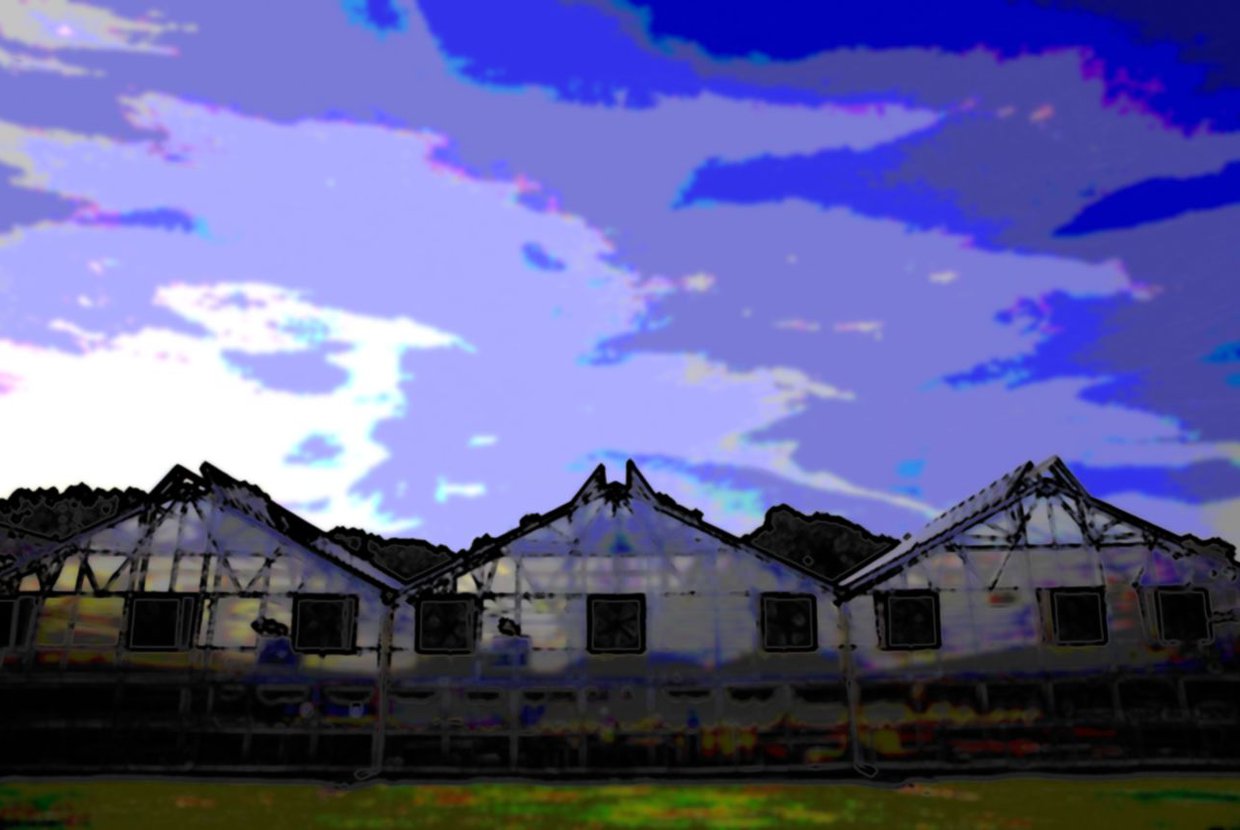 We recently chatted with the public relations manager at Bright Farms - Kate Siskel at their Midtown office space. We chose their sunny outdoor patio to talk about the company's vision, of skimming the supply-chain path from seed to shelf, their road to success, and the company's future plans.
We began our conversation talking about Paul Lightfoot, CEO Bright Farms. One mention of Paul, and Kate had one word for him "Efficiency". When asked why, this is what she had to say, " His license plate says "Efficient", I thought that was funny, but no, "Efficiency means everything to Paul". This man loves efficiency". She went on to say, "In his personal life, Paul began to gravitate towards a healthier lifestyle, and this was the time he was talking to his friend Ted Caplow, and the two were throwing around ideas, without any plans to start anything on his own."
Bright Farms was formed out of a non-profit called Sun Works, in 2006, with the vision of bringing sustainability education to schools and building greenhouses in schools. Later they began their for-profit arm, called Bright Farm Systems, and started taking up projects to build greenhouses for clients. As they progressed, they realized this was a challenging model, since most people had the desire for greenhouses, but no knowledge about farming, and more importantly the huge capital investment that goes into building one, which Kate told us is whopping 1 to 2 million dollars per acre.
That was when they changed the course of things, and thought about approaching supermarkets and clusters of stores with the idea of bringing fresh local produce to their shelves faster and in more efficient way, so as to shorten the supply chain, which Kate says, "Is better for the environment and a good way to scale up local produce". The idea clicked, the supermarket retailers, laid their apprehensions about lack of farming knowledge and capital to rest; when they were offered greenhouses to be built and operated for them, with the only commitment to buy the produce from Bright Farms.
We all know that there are a ton of organic, local farm products out there in the supermarket aisles, so what sets Bright Farm products apart? To this Kate said, " One we are local, most supermarket lettuces, and all tomatoes, are not local when they are organic, because they are still organic but from Canada or Mexico. With a short growing season, it is hard for supermarkets to work with local farmers, as they don't have crops year round. Issues like smaller volumes, crops not looking consistent, which is specially important for customers in the US grocery shoppers who mostly shop at supermarkets and would not buy produce if it did not look perfect, even if didn't taste perfect. What we are essentially doing is bringing the farmers market to the supermarket. Local farmer grown, farmers market quality product , and a transparency policy, where we promote and talk about the farmers growing our produce.
While everything else on the supermarket shelf is anonymous, that is where Bright Farms come in with that level of trust, because that is essentially why people shop at farmers markets - local jobs, keeping money in the community, land preservation,and sustainability of a local food system."
Speaking of organic and local produce, we all know when we walk through the supermarket door, as healthy and good the products are, they can leave your pockets feeling much lighter, be it for a pound of tomatoes, a box of lettuce, or a bunch of herbs. Elements like weather, distances, and freshness of produce which jossels produce prices all year round. This brought us to the "price point" differentiator of Bright Farm produce, which we learnt is not bad at all, for the quality of produce, the superior taste of their juicy red tomatoes are $3.99 for a pint, and $3.99 for a 5 ounce clamshell box of crunchy fresh lettuce. For "infinitely superior quality", as Kate puts it, their products are not astronomically priced.
Is organic local or is local organic? Well, we had our doubts and Kate took us through it. "Our produce is not organic but its local. It is very hard to tag hydroponics as organic. Getting an organic certification from USDA is a challenge, although you can get a organic certification from elsewhere.That said, we do not use pesticides, everything we use is natural and non synthetic, better than organic; because even in organic you can use certain natural pesticides that are non synthetic. We use integrated pest management(IPM), which is a system where we use introduce predator pests to eat other pests. IPM is not well known among consumers, although you might have seen the sticker on apples. And although we are not organic, we are getting organic pricing simply because of the technique we use. We always say that, we grow in the spirit of the organic movement."
So, Bright Farms produce is not organic but its local, and grown using a technique called Hydroponics. A method not very popular in the USA as it is in other parts of the world, especially where water is scarce. Netherlands is into this technique in a big way. For a city like New York the technique works out very well. Bright Farms had several reasons to adopt this technique, reducing environmental impact, no soil used in Hydroponics, very water efficient method that requires seven times less water for greens and 25 times less water for tomatoes. It is also land efficient, produce can be grown all year long in a climate controlled setup, it has a very high yield, no farm run off because water gets recycled and reused in the system, with no soil it is much lighter, and it is much easier to find a building that can support the Hydroponics greenhouse, than a full soil based farm; and to add to all this, the hydroponic method of farming is 10 times more efficient than field agriculture. With turnaround times as quick as 5 weeks from seed to harvest for baby greens, they can change crops very quickly.
Where are these giant hydroponic greenhouses located? Their biggest fully operational greenhouse located in Bucks County, PA. All their produce which includes a variety of lettuce, tomatoes on the wine, herbs, cucumbers, and peppers; is on the shelves of their supermarket retail partners like Pathmark, Wall Balm, and Super Fresh (In all 31 stores located in New Jersey) and the most recent A&P, who owns Food Emporium. Yes, you will be able to buy Bright Farms products in New York too. Until there big greenhouse project coming up in Sunset Park, Brooklyn is all set to open in early 2014 is complete, fresh produce is brought in from PA, which is under a days drive to NYC (which is the how local produce is defined by supermarkets). Its not only the consumers who are in for a big advantage of having the freshest produce, but also the supermarket itself. With Bright Farms price protection model, the supermarket signs up with them for a 10 year period and an undisclosed fixed price for all their produce. Which is great, considering the prices of food and fuel and everything else in between is going to skyrocket.
Bright Farms is not only focused on bringing quality produce from the nearest greenhouse to the grocery store, but in the process they also take extreme pride in the way they are building an educated and informed farmers network that is like no one else. Kate gives us the details of this. "While the health industry focuses on issues in the food system, obesity, and environment issues, labor and farm workers are something we put a lot of emphasis on. We hire a head grower for every farm and train them in our methods, further the head grower can make autonomous decisions and hire anywhere between 10-25 workers who work at the farm. Job creation is also a big part of what we do, and we are aware of the unhealthy conditions most farmers in America have to work under, they are heavily underpaid, and not provided with health insurance. We at Bright Farms have taken great care to not just provide jobs, but provide quality jobs, with more than minimum wage, health insurance, and safe work environment to all our farmers. We even promote our farmers in our marketing material each month. So by training so many, we are creating a resourceful pool of farmers for the future of food, and sustainable food production, we are creating a legion of hydroponic farmers, a skill most farmers don't have."
Bright Farms have their greenhouses spread all across the country, under 50 miles from grocery stores, and their closest greenhouse to grocery store is less than a half mile, which is quite impressive. While they are headquartered here in Midtown, they are in the process of building east of the Rockies in various cities. They are also in cities like DC, St Louis, Indiana, Chicago, St Paul, Oklahoma, and Kansas City, and building 43,000 to 100,000 square feet of greenhouses near cities that are not close to where produce comes from, and they manage to produce one million pounds of produce a year, substantially altering the supply chain.
Like they began early on Bright Farms continues to be involved with several social initiatives,like their farm to school program - where students see for themselves the process from seed to harvest, then they are less intimidated by greens and veggies, and more open to try it, by increasing that we are hoping people will eat healthier, thereby building healthier communities. We are a relatively new brand, so building brand awareness in the areas where we are building greenhouses and educating consumers about our methods is very important to us.
What does the future of Bright Farms look like? Kate says, "Bright for sure, we want to conquer the world" (laughs). We are on a mission to scale up local produce, and benefit communities, the environment, and people. While there are so many reasons why local produce cannot scale, our model works around that, it allows us to successfully scale up, and brings us back to our roots,to make local national and bring consistency into every supermarket."
She wraps up our very informative and engaging conversation, saying,"What we are bringing to the supermarkets, does not exist in the supermarket aisle at all. Quality benefits, personal products, we know exactly who grew everything, we want to establish that connection and sense of trust, because food is extremely personal, we ingest it, its cultural, an integral part of who we are, people feel very passionately about what they eat and don't eat, for us providing customers with that sense of trust and building that relationship is very important."
Go Green!