Buskers of the Big Apple
Shwetha Ravishankar | August 22, 2013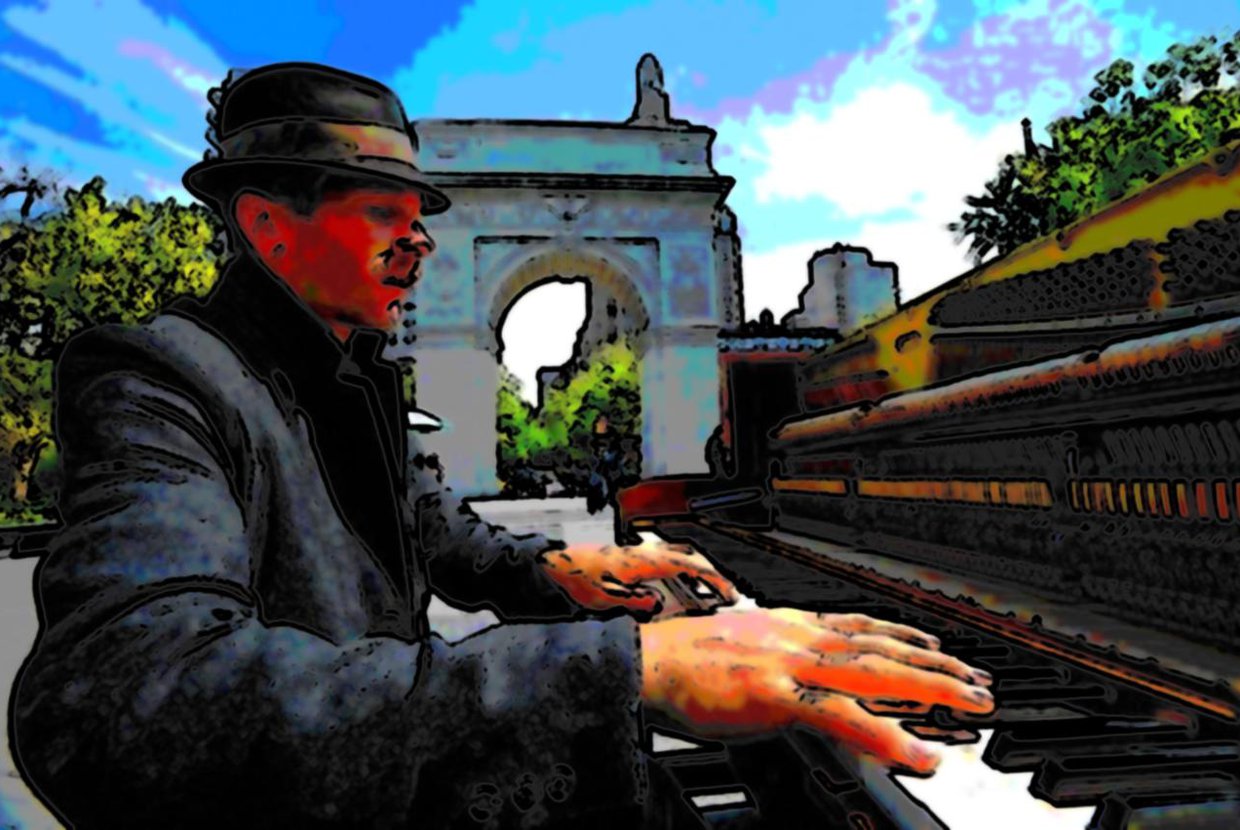 Music & musicians, art & artists, have always been the very essence of New York's streets. The street performance trend was seen to have surfaced even before the 1920's, which defined the city's dynamics even back then.
Thanks to the immigrants of the Great Depression, this kicked off a trend and made it popular in the city. The Italian organ players (hurdy gurdies) at the time, were known to serenade women from their apartment windows. Banjo players were another group of musicians popular at the time, who even back then took to the subways and elevated spaces around the city.
Sadly, in the 1930's, the city and its people thought of them as an annoyance and made it illegal. But this did not stop the talented artists from expressing themselves, as they entertained crowds while riding the subway.
After a period of suppression, there has been no stopping these talented performers on our streets, subways, square's and sidewalks. Today, tourists and New Yorker's like me enjoy our subway ride and walk on the streets of the city, entertained and not annoyed (for the most part at least!)
I vouch for it, when you hear someone who has lived in this city say, "there is never a dull moment in NYC!" So, here is my list of street performers, who have graced the city, with their musical and theatrical talent.
Memories of these first few performances are etched in my brain, since these were the very first ones I ever saw. Coming from India, a country of snake charmers and tightrope walkers, who never really caught my attention as much, I was glad I had all the time in the world to stop by every other street/subway performer in the city, as I took my first steps along the city streets.
You will see that a lot of the performances are centered around Union Square, since that is where a lot of the action takes place, nope not around Times Square you touristy people!
Image Courtesy NYDaily
This first group is a regular at the Union Square Subway Station, and they definitely do a good job of grabbing a hurried New Yorker's attention. They are a BBoying group, of course there are a ton of them doing the same across the boroughs of the city, but these guys have some serious acrobatic and hip-hop skills, that will blow your mind, Group leader, known as "Float Master", John Rich, who has been doing this since he was eight, and has performed worldwide and even appeared in Puma commercial, is the guy you should watch out for.
From underground to up above, Union Square just like Washington Square Park in Greenwich Village, is the spot where all the summer action happens. From chess, to the Hare Rama group chanters, NYU students chilling, and teens and tweens walking in and out the Forever 21 stores, and at the center of it all is the acrobatic duo - Yahya & Tylon. Not much is known about these two, apart from the fact that, I have seen them on every summer day in Union Square, attracting huge crowds, every single time they perform. Yahya, who is half Brazilian, has trained in classical ballet, but has jaw dropping tricks up his sleeve. From walking backwards with his body twisted through his legs, and giving onlookers a lot to cringe about, these guys bounce on and off the ground and even atop the heads of nervous onlookers who they pick, line up, and jump over!
Be it on a shopping trip, or a ride to work, musicians are all over the subway, some more conventional and some totally bizarre. When you hear that this woman popularly known as the "The Saw Lady" a.k.a Natalia Paruz, is called so, because her instrument of choice is the "saw", of course! She has been one of the frontrunners in the city's busking scene for so long now, cranking out soft, ethereal, and sometimes eerie alien like sounds from her saw. She has played her saw-violin in orchestra's around the world, including Israel Philharmonic and the Royal Air Moroccan Symphony Orchestra, in addition to the local Carnegie Hall and Madison Square Garden. Her regular haunt though is Union Square,where she dishes out classical compositions, and fun tunes like the theme from Star Trek too. Be sure to check out her blog and her Facebook page too, which has a sizeable 3,000 loyal fans across the city!
This next set of buskers are at their best, while on either side of the tracks, most often seen at the Metropolitan Stop. Midwesterners-turned-Brooklyn residents, Zack Orion and Scott Murphy, send the music of their tunes piercing through the subway station, entertaining one and all! They are called Mountain Animation, and they not only stars of the subway, but perform across the city as well.
Next up, Mecca Bodega, is a multi-musician percussion-driven band, who have performed all over the city. They have collaborated with musicians like Steven Hills and Mike Doughty, who have incorporated their tunes on the HBO show Subway Stories. Here we turn our focus to one of the bands favorite members, the didgeridoo player, Australian native, Simon, who is seen belting out tribal beats, at the Atlantic Terminal, where you would transfer from D/N/R to the 2/3/4/5. These beats are sure liven up your commute, and have your feet tapping too.
The rocking brother duo - Heth and Jed, have been on the busking scene for a while now. Playing harmonic slow jams, and other tracks, they are a regular on street corners and subway stations. While they were at it, they also wrote a memoir called Buskers: The On-the-Streets, In-the-Trains, Off-the-Grid Memoir of Two New York City Street Musicians, and have been giving shout-outs and mentions by NY Mag and the New Yorker too. Next time you are around Union Square, stop by and enjoy their music.
The spotlight shifts to Washington Square Park, where Colin Huggins, who is not your usual guitarist or drummer, he plays a 650-pound baby grand piano, that he rolls out from his storage space in Spring Street all the way to to the park. Thanks to the Kickstarter campaign, Huggins was upgraded to a baby-grand piano, and with his repertoire of playing tunes from Chopin to Michael Jackson and Beyonce, he is there to entertain all weekend long, from 11 am to 7 pm.
Probably one of the only families on the busking scene, the Boyd Family, performs at the Bethesda Fountain Terrace, dishing out classics like "Ave Maria", and "Amazing Grace", pop ballads like "You Lift Me Up", and many more. Whether they go cappella or with a few string instruments, their harmonies would make you stop, listen and appreciate. Performing all year round on weekends, their tunes are definitely sweet "music to your ears".
This is a band I have heard many a times, Moon Hooch is a regular at the subway station, with a loyal fan following on social media, and a style of music they call "cave music", you will sure have your foot tapping to the saxophone tunes mixed with electronic house, which makes one helluva cocktail! Drummer James Muschler, saxophonists Wenzl McGowen and Mike Wilbur, are active on the concert scene, but are still part of the NYC busking scene. From summer series concerts, to All Good Music Festival, and their popular "Cattle Dance Party" set in a cow pasture, they are here to stay and entertain fans for a long time to come.
This next guy is the youngest musician-in-the-making, on the thriving busking scene in New York, he first emerged on the scene back in 2010, when he was 12 years old, and took onlookers by surprise. "Pianist, Music Star, World's Happiest Boy", reads his business card, which he gives out after wowing audiences on the 42nd Street subway station. This little boy who hopes to go to Juilliard someday pounds the piano with one classic after another. What began as a birthday gift by his dad, soon became a passion. His favorites are Mozart's "Rondo Alla Turca," Beethoven's "Symphony No. 5," and Chopin's "Nocturne Opus 9 No. 2." While Jason Cordero, tries stretching his hands with popsicle sticks, here's hoping to see this prodigy turn into a musical sensation!
Amid the wonderful, there lies the weird too, if you are a regular on the 6 train, you know the Chinese guy with the electronic saxophone! He graces the subway and the trains, and for the 2 years I have lived in the city, I have almost never heard the man play a second tune, other than "The Godfather" theme. I do understand its popularity and heard several buskers play it in the city, but come on, there must be another tune he can play, or maybe its time to tune things up, for that much needed change! And this guy is no performer, shake a little, strut a little, and he gathers quite a crowd (this one's purely for laughs!!).
And before we tell all you the story behind how these budding musicians earn a spot to perform on the NYC Subways, we wrap up our list with these groups of Mexican singers like Antonio Fernandez on the #6 and R lines. All of them play classics like Mariachi, and folk tunes, they travel in groups of 3, with their cowboy hats, guitars, and accordion, hopping from one train car to the next.
By now we New Yorker's know that just about anyone can perform on the NYC's subway. But what if you were to audition to get a designated spot of your choice, and a time slot you think is best suited to make those extra dollars? Well, hundreds of hopeful's like Emily Hopkins with her humongous harp, who wowed the judges back in 2012, with her renditions of Beatles classics, and "Lolita the Dancer" by Marcel Tournier, not only do they get a spot, they also have their name on posted banners as well. This is truly a great initiative by the MTA, and the best example of this can be seen at the Union Square Station.
So, the next time you are at the station, spare a moment to appreciate talent, and spare a dollar when you have it, to encourage these budding performers, who are hoping to get spotted and signed on for the gig of their life!