Street-signs of the Times
Joel Bennett | August 02, 2013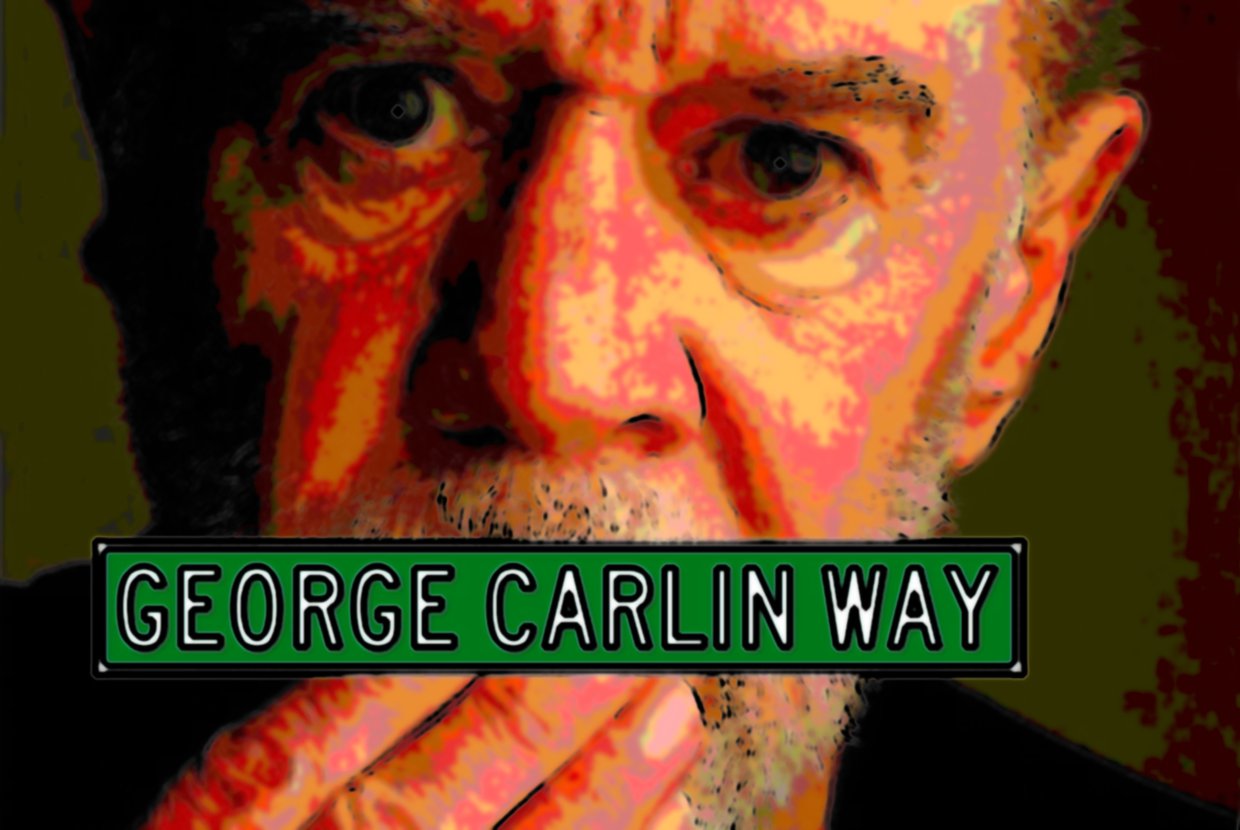 A section of 121st Street will most likely be renamed George Carlin Way, thanks to the efforts of Kevin Bartini and other comedic advocates who held a fundraiser on July 17th. The proposal to rename the stretch of road where the late comedic icon grew up in the 1940s has been met with opposition for a couple of years, particularly from the Corpus Christi Church and school. Carlin, an outspoken atheist and critic of religion, frequently made a target of the school. Reverend Raymond Rafferty of the Corpus Christi Church also cited Carlin's endorsement of drug use as an unacceptable offense. As a compromise, the street renaming proposal has been adjusted to exclude the block where Rafferty's church resides, and he has no intentions to further hinder the process.
In 2007, Manhattan's Community Board 6 was considering paying homage to Kurt Vonnegut by changing the corner of East 48th Street and Second Avenue to "Kurt Vonnegut Way". A local resident for 40 years and a community icon, Vonnegut's presence and writing career should surely meet the credentials for a co-naming, considering just a year earlier a block of West 66th Street was designated "Peter Jennings Way". But the renaming process itself became a subject of discussion, with City Council Speaker Christine Quinn standing in opposition of a proposal to rename a section of street in Bedford-Stuyvesant after Sonny Carson, a radical black activist.
Board members, who previously approved Katharine Hepburn Way and Jan Karski Way, felt the gesture was becoming cheapened. The city council was considering a bill of 50 street co-namings that year alone – names included Robert Breen, Ruth Poindexter, and Daniela Notaro. While most of our named streets and avenues today are rooted deep in the city's history, borrowing from landowners, politicians, war heroes, and philanthropists, there are quite a few archaic and colloquial streets that have been changed or fallen out of popular use to remove any negative associations with the areas' namesakes.
A stretch of road between 42nd and 57th Streets on Eighth Avenues was known as the Minnesota Strip up until fairly recently, due to it being a common hangout for prostitutes hailing from the Midwest – thank Giuliani for putting an end to that one. Doyers Street was known as The Bloody Angle, a small crooked road where Chinese Tong gangs used to brawl into the 1930s – often using hatchets as weapons. In 1994, the NYPD stated that more people had died violently at that intersection than any other in the U.S. Heath Avenue was called Blood Alley, thanks to the presence of a slaughterhouse, while Myrtle Avenue was informally known as Murder Avenue…for obvious reasons.
Bone Alley, Dirty Lane, and Jew Street are just a few of New York City's street names that were scratched from the maps to keep up with the times. Since this seemingly innocuous gesture to a man who has made considerable contributions to the world of comedy and entertainment has managed to stir controversy, one can't help but wonder where any relevant offense lies. Since the co-naming of streets is becoming a more careful process, with political correctness threatening a candidate's eligibility regardless of cultural impact, and the city's long efforts to clean up its image – perhaps having your name on a street sign really is still an exclusive honor.