Your Vegan Fix: NYC's Best
Shwetha Ravishankar | September 19, 2013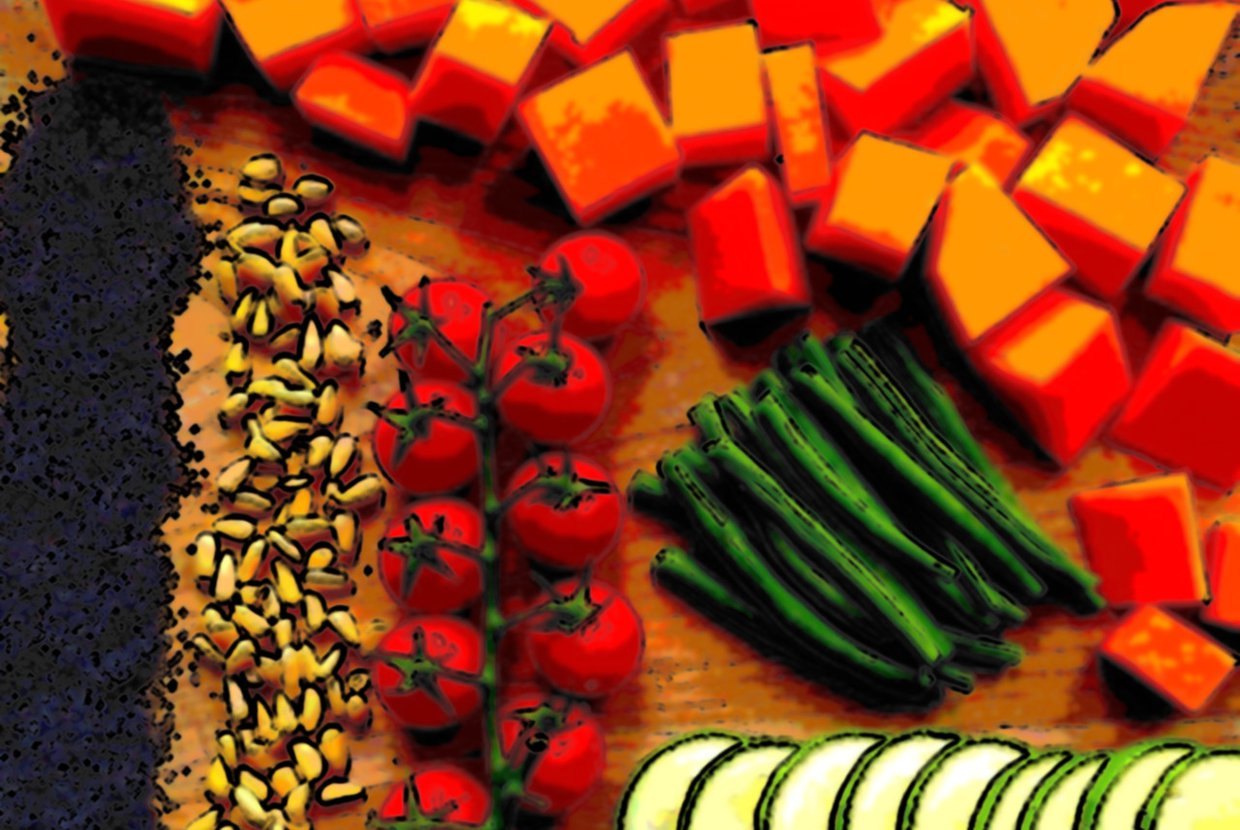 If you are in New York City, and wondering if you may have to jump off the vegan wagon due to lack of delicious vegan options, well think again. There are several vegan/vegetarian options to satisfy every palette across varied cuisines. So much so that while you enjoy your meat free delights, watch out, your non-vegan friends could be looking to snag a bite!
Here is a list of our favorite spots in the city. Feel free to add on to the list!
Anjappar, 28th Street, Lexington Avenue
Kicking off our list with a little spice from Chettinad in southern India, is Anjappar. Located aptly on "Curry Hill" in New York City, this is a cuisine you and your meat eating friends can both enjoy. If this is your first time trying spicy Indian food, then opt for the conventional vegetarian "Thali" ($7.99), served in a round platter with little portions of lentils, veggies, daal, steamed rice, crunchy and savory papad, spicy pickle, and authentic south Indian dessert to finish off your meal. The other option is to start off with a vegetarian soup - Rasam ($1.99) and batter fried cauliflower - Gobi 65 ($6.99). For the main course, their Kathrikai Kuzhambu - eggplant cooked with spices ($7.99) paired with steamed rice or Indian bread - Naan ($1.99) is ideal. Wrap up your meal with an authentic sugary delight - Payasam (2.99).
Dirt Candy, 430 East 9th Street, Between Avenue A & 1st Avenue
This is one vegan restaurant that is all about veggies! Yes, every dish on their menu beginning from appetizers, entrees, and even desserts have veggies in them. Don't say yikes yet! Step into this tiny little space that seats just about 19 diners, and let chef and owner Amanda Cohen serve her magic. You have to start off with their delectable jalapeno hush puppies served up with a side of maple butter ($6) and their Cucumber ($12) - a cold soup. Your main course follows with more veggies, this time its Beans - coconut poached tofu, sea beans,saffron sauce,long beans with Moroccan herbs, and sizzling rice ($18), and finish off with more veggies, with their Ice Cream Nanaimo Bar - Sweet pea, mint, and chocolate ($11).
Angelica Kitchen, 300 East 12th Street by Second Avenue
Known to be one of the oldest vegetarian restaurants in town, Angelica Kitchen is a little vegan oasis in the heart of the East Village. With a cookbook and a regular fan following, Angelica Kitchen is your go to vegan delight. If hunger pangs have caught up, then Angelica's Wee Dragon Bowl combo ($15) is perfect - a large bowl of bubbling flavors, with rice, beans, tofu, vegetables, with a choice of dressing, served with cornbread. If you are here for a full three course meal, then start off with the Kombu Vegetable Bouillon - a warm broth, mildly flavored with ginger, sage and thyme ($2.25), for your entree you can choose between a Norimaki - vegetarian sushi ($12), or the big bowl of Three Bean Chilli (12.50), if you are gluten sensitive, they can alter the dish to suit you), and finish off with their signature Kanten Parfait ($5.25).
This Pan-Asian restaurant is bursting with fresh flavors, just likes its name - Wild Ginger.Walk-in for some traditional Japanese, Chinese, Vietnamese, Korean, Thai, and South Asian dishes. With so many options on the menu, it can be a tough decision. Here is what we suggest - Hijiki Salad - marinated black seaweed and edamame peas ($6.50), Basil Soy Protein ($13), and finish off with their organic hot teas or their homemade iced drinks like Thai iced coffee ($3).
Crisp, 684 Third Avenue, 43rd Street
This is truly the one place I stop by when I am in a mood for some crispy falafel or an absolutely finger lickingly good veggie burger. I happened to step in on a day when my co-workers decided to go in for a Five Guys Burger. Being vegetarian, you always wonder if you can ever have that sinfully delicious veggie burger. At Crisp you can, order their Backyard Burger - a black bean patty with chipotle aioli, crispy onions, corn salsa, lettuce and cheddar ($6.95), with a side of their yummilicious waffle fries ($2.95) - you can thank me later! Of course their signature is the crispy falafel, enjoy it in a pita or laffa flatbread ($7.95), salad bowl ($7.90), or burger ($5.95).
Not all dim sum's in Chinatown have to be pork buns and fried dumplings, walk in to the Vegetarian Dim Sum House, and you will change the way you look at dumplings. Their veggie dim sum, is a twist on the traditional meat ones. It's a good option to go with a bunch of friends, so you can order a bunch of options and try them out. While they have a ton of options to choose from on their menu, try their mock jumbo shrimp ($18), sweet and sour mock chicken ($18), the shark fin dumplings ($3.35), Chinese kale wrapped in flat rice noodles covered in soy sauce ($8.95), the treasure balls ($2.95) and the turnip cakes as well ($2.95). Finish off with some Mango Pudding ($2.95).
Candle 79, 159 East 79th Street
A high-end cousin of Candle Cafe, Candle 79 is known to be one of NYC's premiere vegan restaurant. Farm fresh ingredients, organic wines, and a elegant decor that makes for a welcoming ambience. At Candle 79, they take their organic, vegan, to a whole new level, offering eco-friendly cocktails - what they are, I quite don't know, but the names sure caught my attention. While you are here, just order "The Reforestation" cocktail, and do your bit. They plant a tree for every person who orders the drink at $15. Add a side of Angel's Nachos ($16) or their Stuffed Avocado, to get the green theme going! For your entree, they have an interesting selection from Seitan Piccata - with creamed spinach ($23), the Moroccan Spiced Chickpea Cake with sauteed veggies, red pepper-coconut curry with toasted almonds, or the Summer Vegetable & Wild Mushroom Fricassee ($21). After all that food, some herbal tea in flavors like lavender-verbena. prange, nettle, or ginger($4), is perfect.
sNice, 150 Sullivan Street
Wrapping up this vegan list, with a little vegan cafe - sNice is a casual little cafe, serving up sandwiches and salads. Their vegan options include roasted veggie panini with arugula and goat cheese ($8.75), a Thai salad with edamame and peanuts ($8.75), and an interesting soy sausage sandwich with broccoli rabe and roasted red peppers ($8.75). For vegan desserts, they have muffins, cupcakes, and little cakes in a Mason jar ($6). Pick up a coffee and you are good to go!
"If slaughterhouses had glass walls, the whole world would be vegetarian." - Linda McCartney