Banksy to Use NYC as Personal Canvas This October
Bryan Gamble | October 04, 2013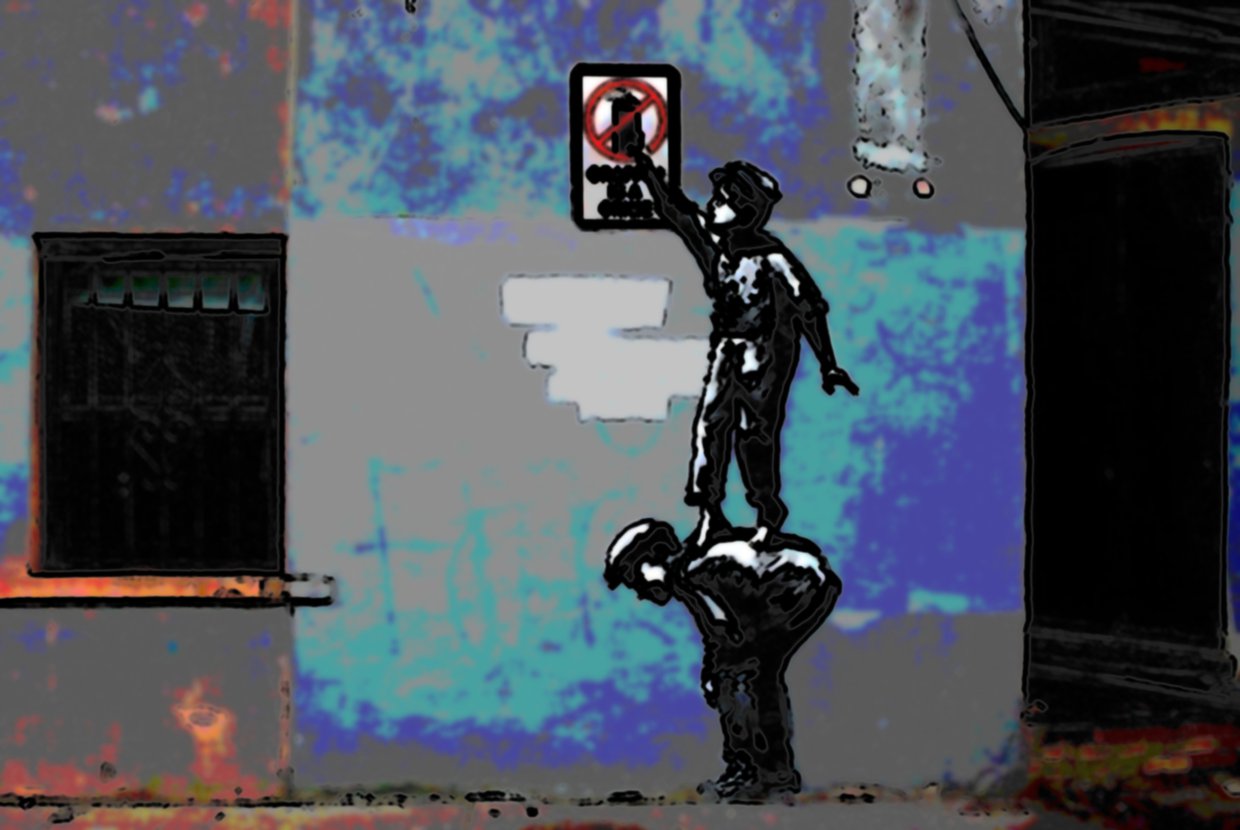 As we all know, New York City is home to an ineffable amount of art and artists trying to make a name for themselves. Some, like sculptor Tom Otterness, have been accepted and his works are a staple of city art, while other 'artists' make their mark all over the city in the form of graffiti. Graffiti, with a long history in New York City, has largely desensitized us to seeing tags and profanities haphazardly sprayed on a wall and obnoxiously displayed in our faces, while the occasional piece leaves us wondering about the sheer courage or stupidity that drove someone to tempt death in order to spray something in a particularly dangerous spot. As such, many doubt the artistic value of graffiti but one world-famous graffiti artist, Banksy, has defied critics for over 10 years and is now among us for his latest project. Banksy, the elusive and mysterious British graffiti artist has begun a campaign in New York City for the month of October. Perhaps his most ambitious work yet, Banksy plans to turn New York City into one large exhibit titled "Better Out Than In" with pieces scattered throughout the city.
The 'exhibit' already features several pieces including one at 18 Allen Street that depicts one child bent over to allow a second child to climb on top of him and reach up to a sign that crosses out a spray can and reads "graffiti is a crime." In an interesting twist to his normal work, the piece also features a toll-free telephone number that people can call in order to listen to a tongue-in-cheek message from a 'curator' of the piece. The man in the message informs the listener about "Ban-sky" and that "the children in this case represent youth, and the sign represents – well, signs," as well the etymological lesson: "You're looking at a type of picture called graffiti, from the Latin 'graffito,' which means 'graffiti,' with an 'o.'"
For those who are unaware of Banksy's work, a simple search will reveal his catalogue of stenciled graffiti in cities around the world. Often bearing subversive epigrams and combining dark humor with biting social commentary, Banksy's works have become a sensation around the world with strong supporters and detractors adding to his fame. Utilizing a stencil for the majority of his work, Banksy has been compared to Parisian stencil artist Blek le Rat but others have criticized Banksy's artistic merit for his 'cheating' by using stencils. Banksy has also directed a film, Exit Through the Gift Shop, and has several books including Wall and Piece, which features images of many of his works.
The debate over whether or not graffiti can be considered art is an old one. City residents and graffiti enthusiasts may already be aware of the "graffiti Mecca" of 5Pointz, but the warehouse is currently scheduled for demolition to make way for residential high-rises. Graffiti, even that of Banksy, tends not to last long for what authorities tend to claim as its mitigating effect on neighborhoods and it is largely unrecognized as a legitimate art form. Banksy has nonetheless failed to be deterred by this and will foreseeably continue expressing himself on the walls of our city and other cities across the world.