Business Blossoming on Orchard
Peter Black | October 16, 2013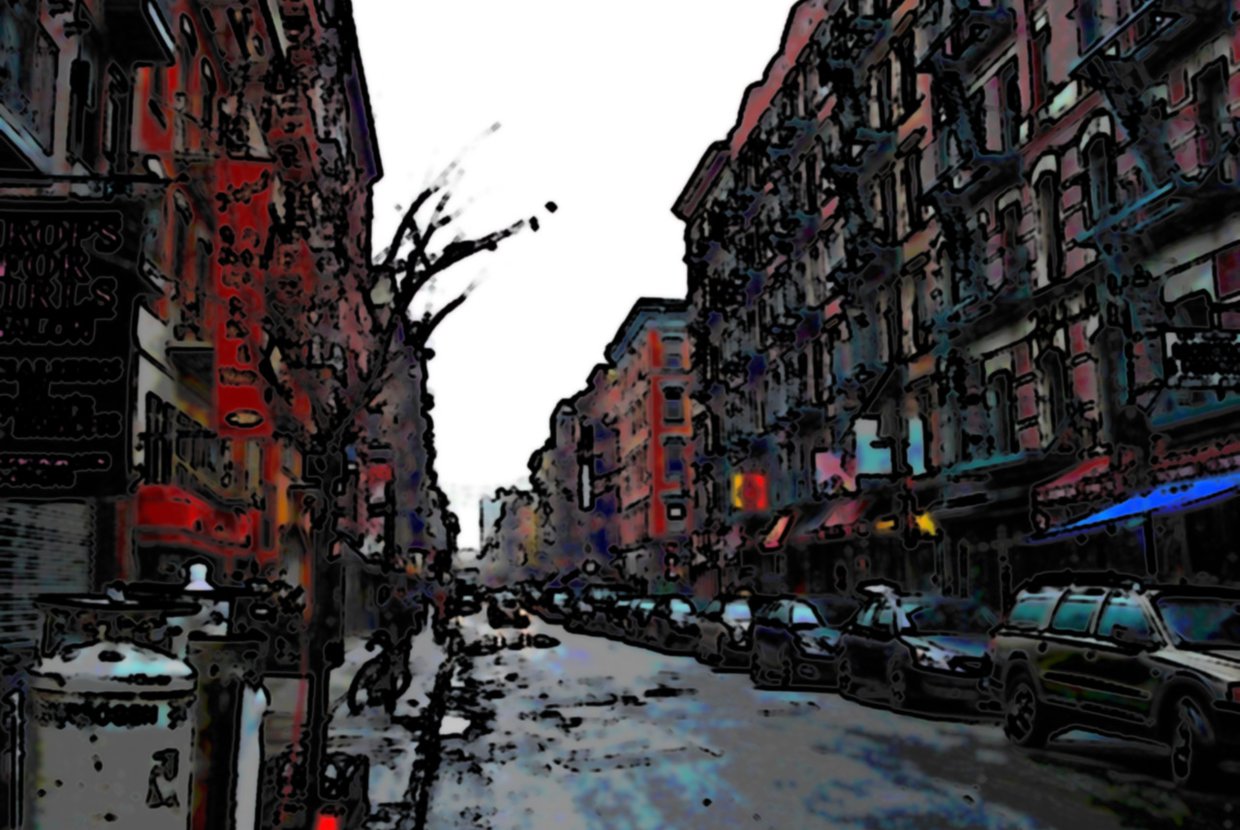 In early 2012, the New York Times reported that Orchard Street was in the midst of a revitalization. New restaurants and luxury boutiques were replacing garment shops and used furniture stores. More surprisingly, it was becoming an artistic mecca. Several new galleries—attracted by cheaper rents and a "grittier" vibe—were establishing themselves in the neighborhood.
Apparently this trend has continued; Orchard Street and the surrounding neighborhood are now home to over 100 art galleries. Rents are somewhat high compared to Brooklyn but very low compared to Soho and Chelsea, New York's traditional artistic epicenters. Artists enjoy the fact that Orchard offers "more visibility", and they appreciate its eclectic vibe. "There's a great sense of community and camaraderie here," said artist Monya Rowe, who recently opened a new gallery in the neighborhood.
Restaurateurs seem to agree. Din Yates, who opened a Cheeky Sandwiches in 2009 on a then desolate Orchard Street, said that, "Orchard Street had and has that vibe that fits me. It's still a neighborhood, even with growth." His once lonely restaurant now has several companions—Leadbelly Oyster Bar and Fat Radish Restaurant recently opened on the block.
Feng Su, a modern American-Chinese fusion restaurant, will join Orchard's burgeoning food landscape in November. Its location is excellent (22 Orchard) and its credentials are impressive. The owner, Wilson Tang, successfully resuscitated the withering Nom Wah Tea Parlor. The incoming head chef, Jonathan Wu, was a former chef at the acclaimed Hell's Kitchen eatery Per Se. The upcoming and fashionable Feng Su will complement the upcoming and iconic Russ and Daughters, which will open a new restaurant on Orchard in February.
Large scale residential and commercial development is also in the works. Waterbridge Properties and Janganga bought several proprieties on Orchard for $27 million; they plan to turn them into luxury condos. DLJ Real Estate Capital Partners is renovating Jarmulowsky Bank; they plan to turn it into a 100 room hotel. Other available properties in the neighborhood include 314 Grand Street for $30 million, 32 Orchard Street for $5.5 million, and 55-57 Canal Street for $4.7 million. On October 7th, 45 Orchard Street was listed for $16.95 million; apartments in this building will cost between $3,900 to $8,400 a month.
All of Lower Manhattan—from the Financial District to Nolita to Chelsea to the East Village to Gramercy—is on fire. A few blocks from Orchard, definitive plans for the Seward Park Urban Renewal Project (SPURA) have recently been announced. This project will drastically alter the retail, commercial, and residential landscape of the Lower East Side, changes that will inevitably echo down Orchard. The massive Hudson Yards Project is also coming to fruition, which will further contribute to Orchard's growing popularity.