The Next Big Thing: Micro-Units
Peter Black | October 08, 2013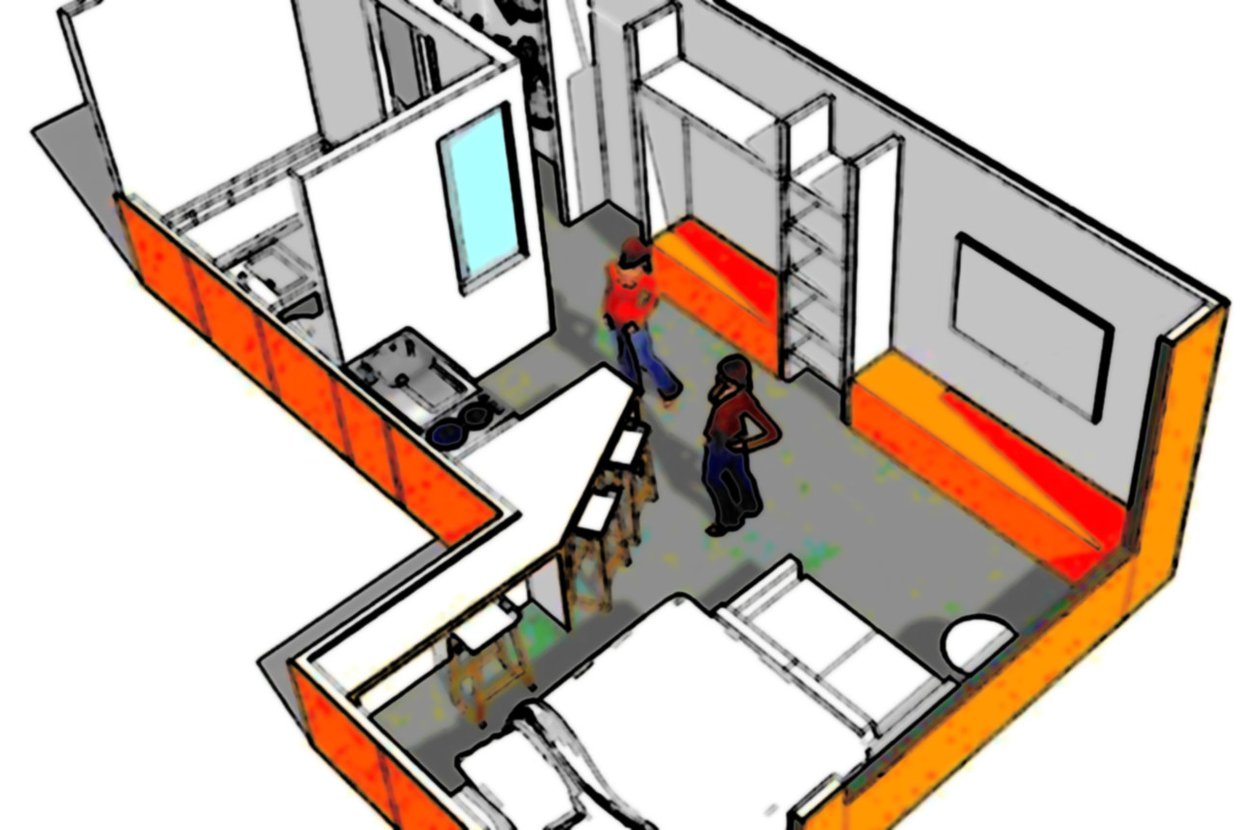 New York City's already tiny apartments are getting even smaller. In July 2012, Mayor Bloomberg—in his infinite wisdom—proposed that the city begin developing micro-apartments. Bloomberg argued that micro-units would maximize building space, easing the strain on families faced with increasingly ludicrous rents.
Bloomberg's micro-apartment initivie (adAPT) challenged architects to come up with possible designs. Their models needed to be between 250 and 370 square feet, and the best design would be featured throughout a new 55-unit condominium on 335 East 27th Street in Kips Bay.
A coalition of companies, including Monadnock Development LLC, Actors Fund Housing Development Corporation and nARCHITECTS, won the competition.
Their proposed unit is unquestionably elegant and efficient (and somewhat pretentious and unfeasible). There is a small living area which is also the bedroom. In the living area/bedroom there is a couch which can be folded out into a bed.
"Chameleon furniture" is a common theme throughout the apartment. Wooden chairs transform into a short flight of stairs. A coffee table transforms into four cushioned stools. A cutting board transforms into a dining room table. Nothing is what it seems and everything is more than it seems. Strange but useful contraptions fly out of the simplest, yet unlikeliest, of places. There's a bar behind the TV. There are file cabinets in stools. Couch pillows are stuffed in a neat container under the bed. An ironing board jumps out of a closet. Magical, IKEA lifeforms and sleek modern appliances scratch and paw behind each wall, fervently awaiting the moment that they can pop out and serve some needful resident. Everything in the apartment is brilliantly disguised. The desk looks like a cabinet; the dishwasher looks like a cabinet; the closet looks like a cabinet; the cabinets look like cabinets.
Except the new prototype units at East 27th Street won't have any of this stuff. They will be 250-300 square feet empty boxes. They won't have the awesome folding couch/bed; they won't have the cool little coffee table/stool things. The ultra-trendy custom furniture listed above—and displayed here—probably costs a fortune. The bed alone is $6,000 (and that's not including the mattress). For $2,000 a month you'd think they'd at least throw in some of the space-saving perks.
Families are also left out of the loop. These apartments can house a couple—at the most—and that couple will probably end up hating each other after the first three weeks. Families looking for affordable housing won't find it here. The units are designed for young professionals, transplants, and hipsters.
Despite the obvious problems, several reporters recently tested out the apartments and found them comfortable. They enjoyed the innovative use of space and noted that the apartments would "definitely force you to be neat." The micro-units will certainly attract a special breed of human—it will be interesting to see what that breed is.