Track Your Bus With MTA's Bus Time
Bryan Gamble | October 21, 2013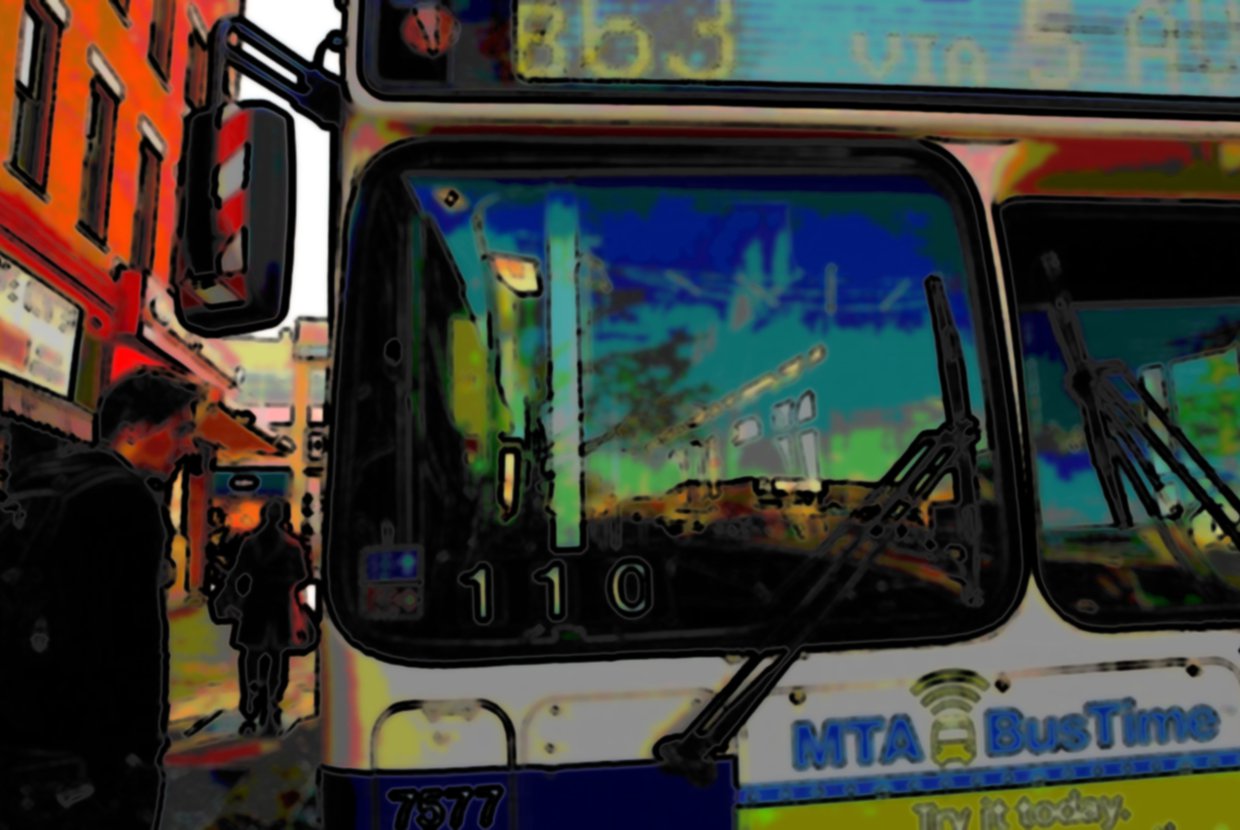 It's a well known amongst New York City commuters that the decision to take an MTA bus often amounts to tempting fate when arriving somewhere on time is pertinent. On a good day, a bus will be several minutes off schedule or you'll be thankful to sprint your bus, whereas on other days a single snowflake or raindrop will seemingly halt the entire fleet and leave you waiting indefinitely. Until now, the act of 'tracking' your bus has meant peaking over the curb and straining your eyes across traffic for a fleeting glimpse of (hopefully) your bus. Fortunately, those days are over, because tracking a bus has just gotten much easier thanks to the expansion of the MTA's "Bus Time" program into Manhattan. Bus Time allows New Yorkers to keep tabs on buses in real time and helps reduce wait times.
The Bus Time program (please feel free to play with it) has outfitted MTA buses with GPS systems that feed information about the bus's location and nearest stop to a central server. This information is now available for 6,000 bus stops, 150 routes and 2,852 individual buses throughout Manhattan. Real time location updates of these buses can be accessed via a commuter's mobile device in the form of a map displaying a route's buses and stops. Furthermore, each bus line has an identification code that a commuter can request updates from in order to receive a text message relaying things like the nearest bus's location and what stop it is near. This kind of information grants you the ability to take your time getting to a bus stop or figure out another mode of transport if you deem the wait too long.
The cost of implementing a GPS tracking system for the country's biggest bus fleet has been surprisingly cheap. Each bus's hardware cost $1,700, while installation and labor ran about $7,200 per bus and came out to roughly $41 million to outfit the 5,700 buses in the fleet. According to Tony Laidig, lead engineer of the project, the MTA is the last major bus fleet to receive a GPS tracking system. This is in part due to the challenge of controlling such a large number of buses and keeping satellite signals reliable in Manhattan, where skyscrapers could distort these signals. Improved GPS technology has surpassed these hurdles and made signals more reliable even in Manhattan.
Technological innovation in the MTA is nothing particularly new, however, as MTA-related tech has been developing rapidly over the past year. The MTA App Quest contest recently challenged developers to come up with a plethora of mobile apps of variously useful functions. While in another move, the MTA has previously announced that Wi-Fi will be soon be made available on underground trains to allow internet and phone access for commuters (meaning we'll be hearing a lot more obnoxious/unintelligable conversations on our commutes).
In fact, the Bus Time program is not entirely new in itself. Bus Time already existed throughout Staten Island and the Bronx and in several Brooklyn and Queens lines. The latest expansion is nevertheless significant by integrating all of Manhattan. In addition, the MTA is hoping that Bus Time will be available for every MTA bus and route within the next 6 months, which means that hellishly long waits for a bus in New York City will soon be a thing of the past.