A Chat with Elegran's Kirk Eckenrode
Kamini Ramdeen
| March 04, 2014 | Published in
Elegran Insider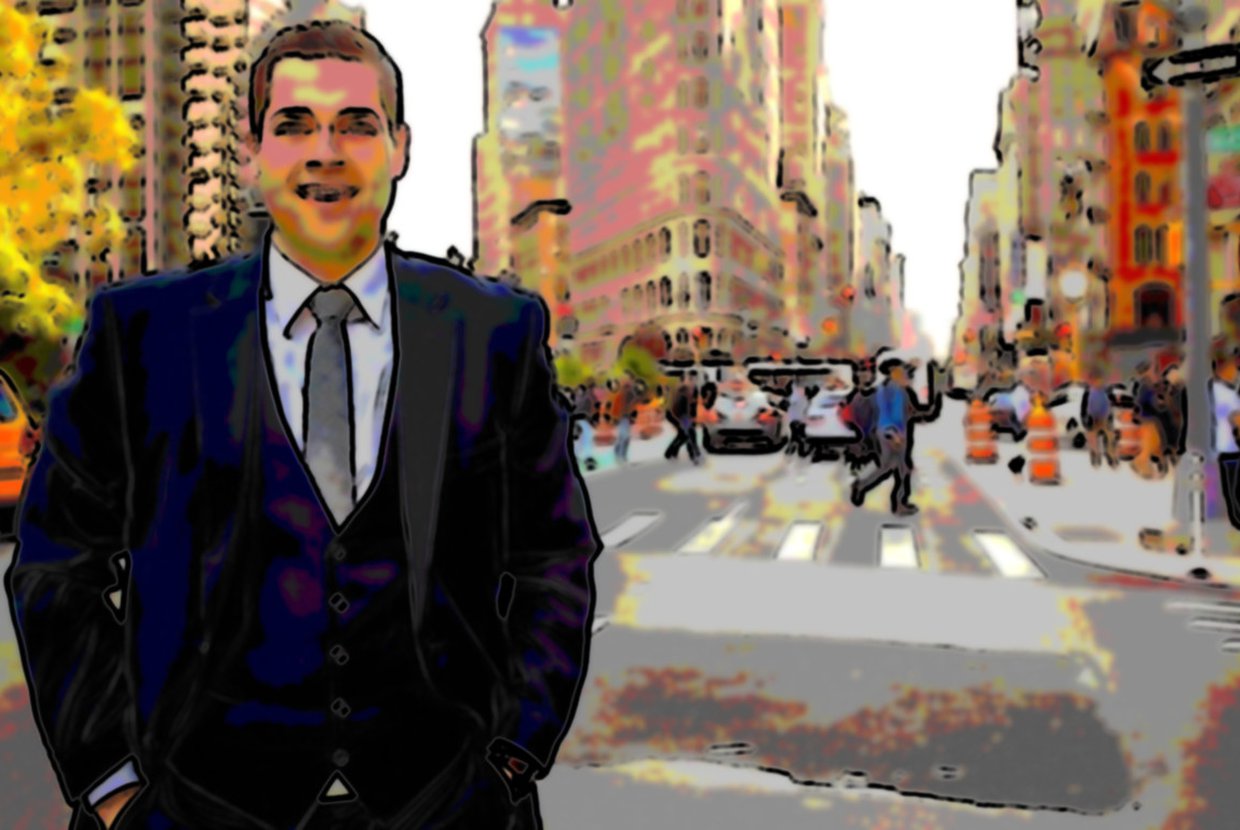 Recently, we had the opportunity to speak with Elegran agent Kirk Eckenrode about his experiences in the real estate market in NYC, notably his recent closings at 1280 Fifth Avenue and a penthouse at 150 East 57th Street. Kirk has a great deal of experience in building client relationships with domestic and international clients, along with a committed passion for the real estate industry.
With a background in Business Administration and Information Systems, along with your Financial and Management credentials, what made you get into the Real Estate Industry?
I would say that I wasn't interested in taking a mundane 9-5 job behind a desk, and coming out of college I wanted to take a risk and pursue a dream of working in Manhattan. My days in the real estate industry are dynamic and I constantly have the chance to interact with new people. However, I sort of hit the ground running, I learned the numbers of this market and which areas are up and coming, and also where the best deals could be made. My educational background definitely gives me a sense of comfort when preparing to meet with clients. The training I received in Finance and Management come in handy when dealing with the numbers aspect and aid me to formulate the best deals for the client, this experience also helps me understand clients expectations and how to effectively manage them.
How did you find Elegran?
It's a funny story actually, I found Elegran through another agent in the company, Seth Podell. We share the same Alma Mater, we connected through an alumni networking trip for seniors that were ready to graduate and interested in meeting people in NYC. We had the opportunity to talk and he told me about his position with Elegran, he also thought that it would be a good opportunity for me. A short time later, I interviewed for a position with Elegran, and here I am.
What closings have you completed that you would consider to be your most successful? Also, what's a recent closing you've completed?
I try not to consider one closing to be more successful than another. Everyone has their own wants and needs especially in the diverse market of NYC. Success, for me, comes from fulfilling the needs and wants of my clients. Although, yes, success can be determined by a number value, if the client is happy then I consider it a success.
I completed a recent closing with an international diplomat. My client was trying to find a space that was large enough for him and his family. He needed a space that would have enough bedrooms and enough play-space for his children as well as a work space for him to utilize. I helped him find a 5,100 square foot penthouse on East 57th Street in Midtown. It was perfect for him in the fact that it contained seven bedrooms, and one of which he's actually using as a library and study.
Another recent success would be the sale of 1280 Fifth Avenue. My client was only in NYC for 10 hours. In those 10 hours I took her to see many options of what I believed to be ideal investments. Within a week we had accepted offers and signed contracts. Three weeks after closing on the unit I was able to procure a tenant and she was able to start collecting rent on the apartment.
How do you relate or interact with clients in a unique way? When dealing with international clients (like the aforementioned international diplomat) do you feel that you can easily relate and build the broker-client relationship?
Hard work, dedication, response time, are a huge in sales, every agent must possess these qualities in order to function efficiently and effectively in a broker-client relationship. Looking for a home, can be stressful and I strive to make the experience of searching for a home enjoyable and successful. I think that a big part of why people enjoy working with me, and one of the things that I enjoy with this career, is that I get to use my sense of humor.
With international clients, there's a barrier of language and difference in how they may operate business. It's tough to overcome this when you can't hold a fluent conversation, but when you understand their primary goals and what their needs are it is a lot easier to guide the client from there. I've had experience with domestic and international clients alike, in the search for primary residences or investment properties. The best way of building the broker-client relationship is to be personable. You have to understand the client and then convey to them the expectation that their needs can be met and to achieve their goal of owning a piece of New York.
What about you personally do you think fuels your success in this industry?
Waking up and truthfully just enjoying what it is that I do. It's a passionate job, I have the rigor and fervor to wake up everyday and come into work knowing that my day is going to be different than the last. It is a beautiful market right now, in terms of the real estate that people are building, the product of NYC real estate is always in very high demand, and to be apart of selling this product and meeting the needs of people makes my job fun. I was very fortunate after college to find early success in an industry that's hard to stay afloat in. Success comes through having faith and trust in yourself.
Looking into your personal background I read that you are from Pennsylvania. What's the big difference between small town life and big city living?
I love living here, but I'm proud of where I'm from. I grew up in a small place near central Pennsylvania, called Williamsport. Growing up in a small town, I got the chance to foster my values and picked up good qualities from the people I was surrounded by my entire life. People move at a different pace back home than those in NYC. Luckily my mother taught me how to be patient - most of the time it was tough learning. Patience comes in handy especially when sometimes there's none of it to spare here in NYC. I think where I'm from originally aids me in giving people a fresh perspective in NYC when their buying real estate.
What would you say was your most challenging deal to close? How did you overcome this challenge? What traits of yours would you say helped you overcome this challenge?
My colleague Trevor Connolly and I worked with a client who was interested in finding not just an apartment, but a brownstone. They were working with a certain budget, and had a small time frame in order to purchase the home before having to go out of town. They wanted the deal to be wrapped up very quickly. We took the client over to Brooklyn, because the brownstone market in that borough has been doing phenomenally. Our clients found a brownstone that they loved, and their offer was accepted and the contracts were with our attorney. On the way to Brooklyn to have an inspection done on the property before the client was going to officially sign, I got a phone call saying that the owner accepted another offer and it was already moving forward. Our clients were devastated, they had fallen in love with that particular brownstone, and now we had to begin again from scratch.
There are just things that you can't control, it's important to take a step back, prepare and be confident that you, with the best of your abilities will work determinedly hard, to find something that they will love even more. That's what I did, and thankfully it all worked out. Within another week we were able to find a better property and go through with the closing. There's no time to dwell on the bad things, you have to have a short memory of the worse events, remain confident and have a positive mindset. In the end, we were able to find something that our clients did in fact love much more than the original brownstone.
What's the best part of being a real estate broker in the market today? What aspect of this industry appeals to you the most?
The best part, is being able to set accurate expectations and being able to have my clients trust and understand the guidance I'm giving them. Today's luxury and new construction market is moving so rapidly, sales are higher than what they have been in the past 25 years. It feels good to be apart of that. Currently, I'm able to see buildings such as One57 and 432 Park Ave, that are revolutionizing the NYC market. To have the opportunity to sell real estate in the same time frame as the development of such buildings is fascinating, and adds to the appeal. Considering the prices of the luxury market and the fast paced nature of the industry multi-million dollar decisions have to be made on the spot. To most buyers outside of NYC it is mind-blowing to think that someone would have to make such a big decision regarding such a large sum of money in what can be a very short amount of time. However, that is the personality of NYC. Having my clients find a property that they love in this type of market environment is the most appealing factor for me.
For more information on upcoming New Construction projects please contact Kirk Eckenrode at Kirk@elegran.com (570-419-6295)
All material herein is intended for information purposes only and has been compiled from sources and/or third parties outside of Elegran LLC. Though information is believed to be correct and presently reliable, the information is subject to errors, omissions, modification and/or withdrawal without notice. This is not an offer to sell condominium units. Elegran LLC has not been chosen by the Sponsor to market the condominium units, nor does Elegran LLC make any attempt to do so. A prospective purchaser should refer to the complete set of documents provided by Sponsor and should seek legal advice in connection with their purchase.