Finding Hidden Gems in NYC: There's an App for That
Stephanie Fujihashi | March 25, 2014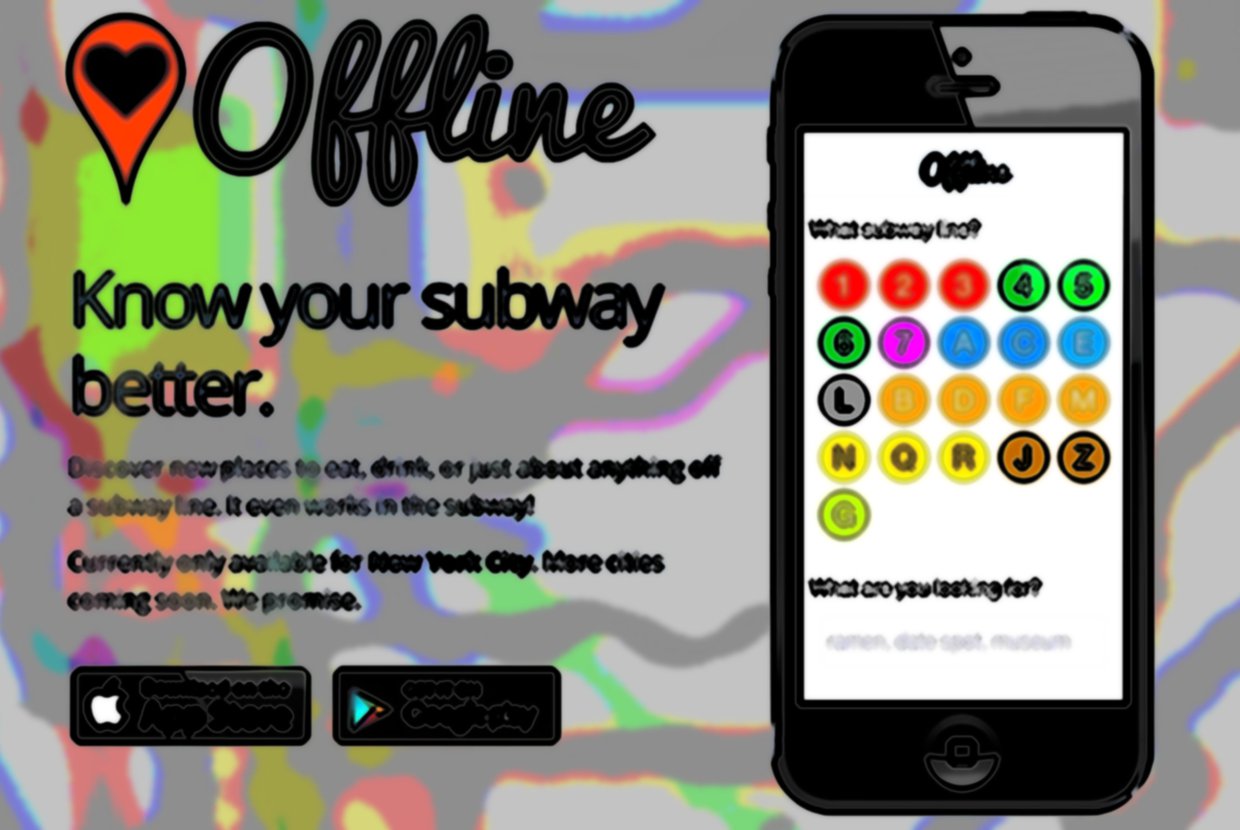 With the busy lifestyles that many of us New Yorkers have considered to be a normal part of our lives, we have a tendency to find a routine to stick to. Many of us go from point A to point B in the morning, just to turn around and go from point B right back to point A. We know which restaurants, bars, and barbers are within close proximity to our homes or our offices, but how often do we venture beyond the "norm," and try something new? How is it that we know every single mediocre Thai restaurant within walking distance from our offices, but don't consider that perhaps there may be an award-winning one just three or four subway stops away? Oh, but you don't have time, you say. Exploring one of the world's biggest metropolises, that's for the tourists. But what if there was an app that allowed you to search your entire subway line for a hidden gem of a frozen yogurt shop, a natural foods store, or some tasty Mexican food? Fear no more: there's an app for that.
Richard Mai knows that time is a valuable commodity, and he created an app specifically with New Yorkers' busy lifestyles in mind. Launched through the Apple App Store in February, Offline allows users to search for restaurants, bars, businesses, and pretty much anything else you can think of, but unlike other apps, Offline lets you search explicitly by subway line. I recently had the privilege to chat with him, over a cup of coffee, regarding the development of the app, what inspired him to create the app, and a few other things.
SF: Mr. Mai, thank you so much for taking time out to chat with me today about your new app. Could you give the readers a thorough breakdown of how the Offline app works?
RM: Sure. When you first open the app, it is going to ask you for two points of data. The subway line, and what you are looking for along that line, be it a restaurant, florist, what have you. On the next screen, the search results will display every subway stop off of that designated line, along with whatever it is that you are looking for within a five block radius from each station on that line. That's about a quarter of a mile. So whatever it is that you are searching for, the app will only show results within a quarter mile of each subway stop.
SF: How long have you been an app developer?
RM: Actually, this is my first iOS app. I basically taught myself the process by googling tutorials. Prior to Offline, I developed a web-based app, Everyone's Mixtape, a social music streaming app which allows users to add songs from Youtube and Soundcloud to their playlist, in the form of a virtual mixtape, simply by searching for the name of the song.
SF: How long did it take for you to develop the Offline app?
RM: I started in October of last year, and it was done around February. During those months I also created a web version. There was a lot of trial-and-error in learning the intricacies of the iOS language, as well. There were many moments where I said "Oh, I messed this up," and had to start all over. It was definitely a learning process.
SF: What inspired you to create Offline?
RM: This app was actually a solution to a personal problem. I have a daughter, and my wife and I hire babysitters to watch her in order for us to go out and have some alone time. We wanted to maximize our time in order to not waste money on a babysitter. We live off of the F line, so with places like Second Avenue and the West Village, there's plenty of great spots around. They're not by us, but they're one subway line away. I didn't want to waste time transferring or waiting for trains, and I didn't want to walk far either, especially after it got cold. I thought to myself, "Man, I wish I had an app that let me strictly search for stuff off the subway lines." And then I said, hey, this is a great idea. If I need it, I'm sure there's other people who need an app like this as well. That's when I decided to create Offline.
SF: Why did you name the app "Offline?"
RM: For two reasons. One, because you are doing searches for places off of a line, as in a subway line. The second reason is because you can actually use it while riding the subway, offline. That's part of the premium version of the app, which can be purchased for 99 cents. Obviously you can't search for everything, because there's no internet connection. But when you upgrade to the premium version, the app gives you the top 50 searches that I think you would probably use. When there's more usage, I'll be able to offer the top 50 searches that users actually search for, based on the subway line. But for now, even while riding the subway, you can search for burgers, pizza, ramen, pharmacies, and a few other types of restaurants and businesses. Once you upgrade to the premium version, the app will show you all of your previous searches in offline mode, as well.
SF: Great! Aside from the offline feature, what do you feel differentiates your app from other similar apps, such as Yelp?
RM: With Offline, your searches are very limited, but in a good way. It only gives you results for that one thing you're looking for, on one specific subway line. With Yelp, for instance, if I wanted to know what was available to me along the F line, I would have to scroll over this and that, narrow my search, and search again. With Offline, you search just once and you get the results that you are looking for right away.
Easy as 1-2-3: Using Offline couldn't be simpler
SF: Who do you think would be a good user for your app?
RM: You (laughs)! Or anyone, really. Anyone who lives in the city, or even commutes into the city.
SF: So this app caters mostly to the commuter culture.
RM: Not even just the commuters, but anyone who rides the subway in New York City, really. Anyone who has to stop somewhere, has time to explore the city, or needs a tool to search for a destination. It solves niche problems.
SF: Do you use the app yourself?
RM: Oh, absolutely. My wife is a teacher, so she'll ask me to stop by a Staples on my way home to pick up a few things. I don't really know where a Staples store is, so I'll use the app on my way home, select the F line, and it will show me all of the Staples locations along the F line. The app will show me that there is a Staples off of one stop, but maybe three stops later, another Staples location will be only a few steps from the station. So I would obviously go to the latter, because it is more time efficient.
SF: Did you learn to code in school, or are you self-taught?
RM: Coding-wise, I went to school for it. Technically, I went to school, Stony Brook University, for electrical engineering, in which you still have to code, but obviously with different (coding) languages from web programing. But it's all the same thing. Variables...loops…same stuff.
SF: You seem to really enjoy coding!
RM: I graduated in 2001, so I've been coding for over 10 years. I'm a software engineer by profession, I'm coding at work all the time. And when I get home, I put the baby to bed, and code some more! It's a passion.
SF: Can you tell me a little bit about your background?
RM: I grew up in Rockland County, a suburb outside of New York City. I remember coming into the city all the time when I was younger. My parents would drive down. I remember going down the FDR, and to Rockefeller Center for the holidays. But most of my memories of New York City revolve around Chinatown. It wasn't until I was an adult that I visited areas like SoHo, East Village, West Village. My parents were first generation immigrants from China, so they really had no reason to visit a place like SoHo...plus, back then it probably wouldn't have been the best place to go anyway.
SF: I feel like the Offline app is very NYC-centric, in that it caters to commuters who rely on the subway system as their main mode of transportation. Have you considered the possibility of expanding the app into other public transit-reliant cities in the U.S.?
RM: Absolutely. I was hoping to open it up to other cities, and my first thought was San Francisco. But that may be a little harder because they don't rely on the subway quite as much as New York City does. Boston and Chicago, I think, are good possibilities. I was actually thinking Tokyo may even be a good idea. The app would translate in any major city in which the lifeline of the city is the subway.
SF: Are you working on any additional projects at the moment?
RM: Right now, I'm actually working on the Android version of Offline. It will feature the exact same functions and benefits as the current iOS app, just on an Android platform. I'm shooting for having it done by May.
Mr. Mai is toying with the many possibilities of upgrades that he may incorporate into his app. Potential upgrades to the app include: the ability to directly make reservations at restaurants via an API (application programming interface) such as Open Table, creating a login system so that you can set personal defaults and favorites, further expanding the app's offline capabilities for those moments when users aren't connected to the internet, and, of course, the Android version. If you own an Android device and would like to receive an email notification once Offline becomes available through the Google Play Store, make sure to enter your email address here.