Serendipity: The Happy Chance of Meeting Fanny Allié
Written by Kamini Ramdeen
March 13, 2014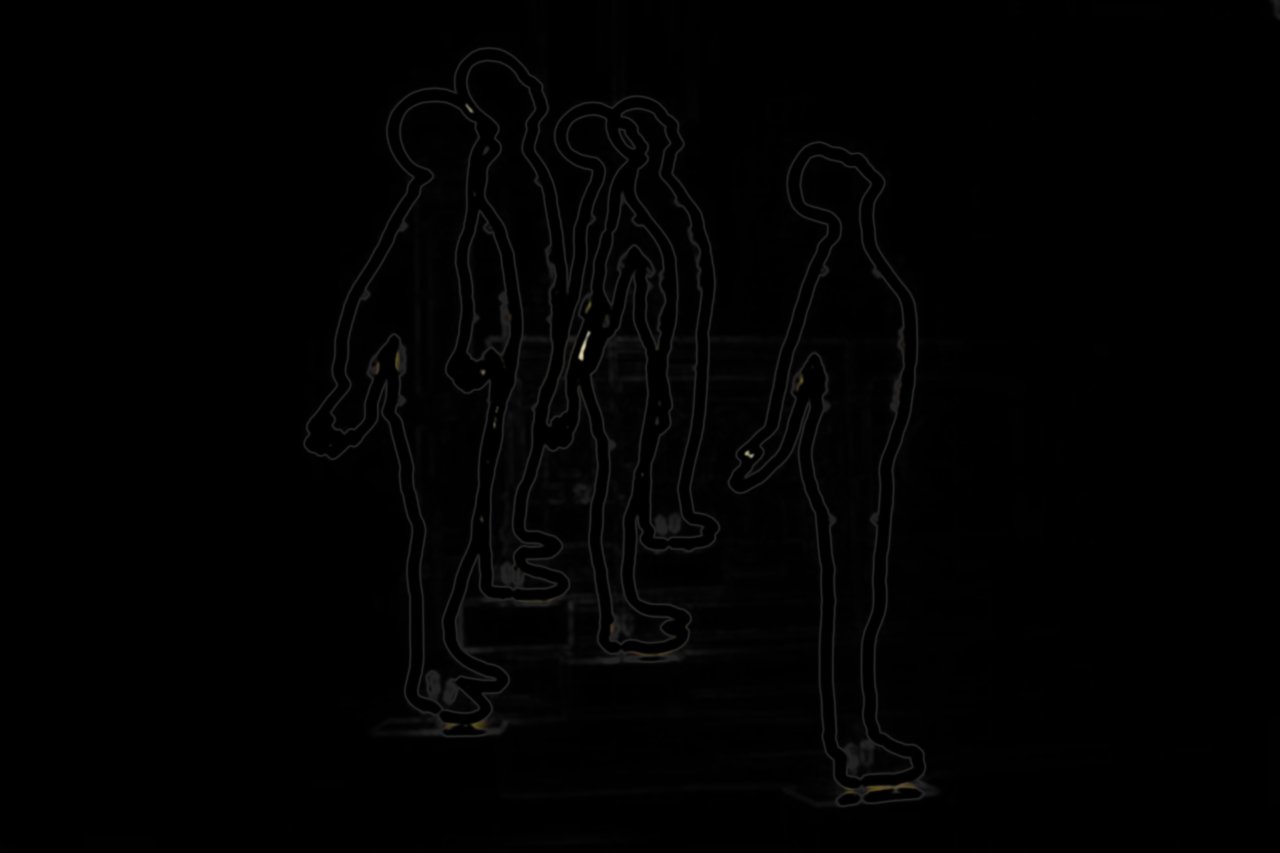 Have you been to Tompkins Square Park lately? If you have then you've seen the life-sized silhouette of an outlined steel man, standing beneath a tree looking up towards the sky. The title of this Art in the Parks program exhibition piece is Serendipity, created by N.Y. based artist Fanny Allié. Recently, Elegran Edge had the chance to talk with Fanny about her artwork exhibited in Tompkins Square Park and learn more about the artist behind Serendipity.
All About Fanny Allié
Fanny Allié is a seasoned artist, who has graduated from the National Superior School of Photography in Arles, France. She first came to New York to further explore her aptitude for art. She tells Elegran Edge about herself, "I've been here for 8 and a half years, after studying art in France, I came to NYC. I was lucky to be selected for the program, Artist in the Marketplace at the Bronx Museum, after only 1 year of being here. I was working in video at that time, so it was a totally different work than what I'm doing now, my work has changed a lot in the past 5 years."
Since deciding to pursue art fully in New York after leaving France, Allié has had a chance to step into her own in the city that is seriously lacking sleep. Yet she finds the wakeful city to be better suited to her artistic needs " I do think that the artist scene here is more open, and there is more opportunity. In France it's more institutional, I think. Here, it's more freestyle. There are fewer barriers."
Allié is a multidisciplinary artist with the ability to work interchangeably with many mediums of art. She has worked previously with sculpture, drawing, paper-maché, installations, video, neon lights, and has recently tried her hand with sound installation and painting. She fondly shares the beginnings of her road to being an artist, "When I was 16, I started taking pictures of my sisters. I staged them and put makeup on them, I was really into photography. I went to photography school to pursue this passion but began doing video shortly after. I never wanted to do anything else (in regards to working in art). Well, I did when I was really young," Allié smiles "I wanted to be in the police."
Now, a major question that we're all wondering is what's the message that Allié wants to share with the world. "My art is always focused on the human, the body and the relationship of the human to time, memory, childhood. My artwork links to the human and its trace. I see that's the common link between all my projects. I tend to make things first then I think of what it is."
All About Serendipity
Background: Allié had visited Tompkins Square Park to organize herself for her public work exhibition piece, she ran into a man named Christopher Gamble at this site. He is strongly connected to this park and community. Gamble was once homeless and lived in the park. He became the model of the piece. Allié focused on the human body with the idea of memory and how one's mark is left on a place.
Serendipity
Elegran Edge: What inspired your Tompkins Square piece Serendipity?
Fanny Allié: First I proposed this piece to the Claire Weiss Fellowship Program. It was going to be in Staten Island, but after I sent my application to the city, my proposal was refused. I was in touch with the public art coordinator for the NYC Parks & Recreation's Art in the Parks program, Jennifer Lantzas, she said she liked the project but she thought it would be better in a smaller park. She told me to pick the park of my choice. I found a private organization to fund my project, the Foundation for Contemporary Arts. I had the position (for the project) in mind but I didn't have the model. I went to the park and Christopher (Gamble) just came to me. We saw each other a couple of times, I took a picture of him in the position and he came to the opening.
Elegran Edge: It's sort of like the project was meant to be, because it all came together at the right time.
Fanny Allié: That why I called it Serendipity. He (Christopher Gamble) just came to me. I picked this park because I like the community that is around it. There are always people hanging around. I also picked it because there are different crowds that come to the park. I first chose Union Square but it wasn't available. It's very popular I could have exhibited there if I waited a year, but why wait?
Elegran Edge: What facet of you is in Serendipity?
Fanny Allié: The position of the silhouette. It is a position that I like, I used it in one of my videos that I was doing in 2008 called Bamboos. It was a group of people looking up with their eyes closed. Their bodies started to sway after a while. It was somehow spiritual, you can interpret it in the way that you would want. I wouldn't say that the word spiritual would describe me, but you can interpret it the way you want. It is a little mysterious and a little poetic, which is like my work as a whole.
Elegran Edge: This sculpture is described as public participatory? What does that mean?
Fanny Allié: It wasn't meant to be a public participatory piece, but I noticed little by little that people were putting clothing and accessories on the sculpture. I don't know who was doing it, and they were doing this quite frequently, many times per week. In the beginning I was upset. It started with just a red ribbon. I was like someone put something on it? Then I realized that I should leave it. I never took it down. Except for maybe once, when it was hiding the face I lowered it (the fabric) a little bit. Then I never touched it again. I actually came and documented it. The sculpture is not mine anymore. It is in the public realm, so it becomes a part of it. Sometimes, the interventions make the sculpture look a little ridiculous, it becomes a little silly sometimes, but that's okay, it is a part of it.
Seredipity with Community Flair
Elegran Edge: What's the objective part? What's the part of this piece that you would like to come across? What is the message of Serendipity for you?
Fanny Allié: I like the fact that it is visible and not visible, it's there and not there at the same time, it is just a metal outline. I like the fact that it is not so obvious. I placed it under a tree, Serendipity looks up to nature in an urban environment.
Selected Fanny Allié Artworks with Comment from the Artist
Window 125
"At one point I was really inspired by the news. The window was small and cute. I put my paper-maché objects (on the shelf) and created the objects (pertaining) to the (news) story. Each object tells its own story."
Suspension
"The text came from dreams my friends and family had, The words were embroidered onto a series of pillowcases. The overall theme was revolving around the idea of clouds. I like the idea of the body floating, sort of like Serendipity too. You are not here but somewhere else."
Glowing Homeless
"I use the materials or mediums that serve the project the best. The Glowing Homeless was created for a public night event called Bring to Light in Greenpoint, NY in 2011. I chose neon because my sculpture needed to be visible at night and neon was almost like drawing with light."
Silhouettes
"Silhouettes was displayed in the St Eustache Church in Paris in December 2012. The exhibit was commissioned by Rubis Mécénat and I used the same body position as for Christopher Gamble. Silhouettes represent 5 neon figures of family members and myself."
The Future for Allié
Allié will be featured in an exhibition in Jersey City, NJ with ArtBloc. "It's a mobile contemporary art and performance space, built from repurposed shipping container, near Hamilton Park. I installed the Glowing Homeless with a sound installation. The shipping container becomes The Glowing Home. I asked people living in that area to sing a song that relates to their home and to specific memories. I'm excited about the sound installation, I have never done it before." Allié continues "I want to do more public art in the future, it is meaningful."

We at Elegran Edge wish Fanny the best for her new exhibition, and encourage everyone to take some time out and see it!

Photos Courtesy of: Fanny Allié