12 Hidden Spots That Will Make You Fall in Love with NYC All Over Again
Stephanie Fujihashi | April 10, 2014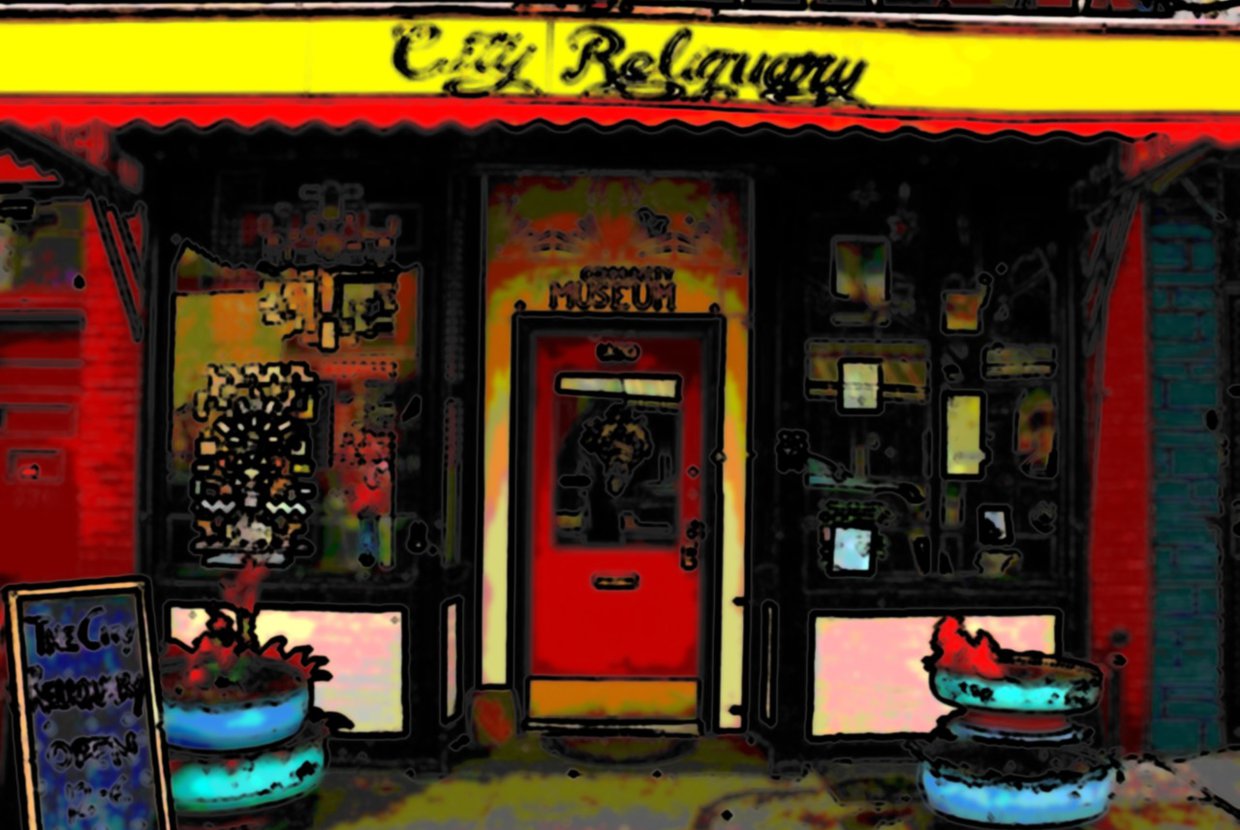 With one of the most brutal winters on record slowly coming to an end and the sun setting a bit later on in the day, finally, spring is nigh in New York City. For all those days that you caught cabin fever while battling frigid temperatures, you probably can't wait to feel the sun's warm rays, take leisurely strolls in the park, and watch the flowers bloom. In anticipation of a fabulous Spring in the city, we decided to compile a list of 12 of the most unknown attractions that NYC has to offer, ranging from waterfall parks in Midtown to hidden, prohibition style Speakeasies in the Lower East Side. Explore these hidden gems this spring, and fall in love with the city all over again. Don't forget to bring your camera with you!
1. Elevated Acre Park - 55 Water Street, Financial District
Sandwiched between two tall buildings on 55 Water Street, the Elevated Acre is a hidden green space open to the public. Finding the Elevated Acre may be a bit of a challenge, as you will have to either walk up a series of steps or take two shaky elevators, but the urban oasis awaiting you up top is well worth the hunt. This secret manicured garden with plants and trees offers a pleasant fusion of nature and modern Financial District architecture. Benches and walking paths are scattered throughout, and the park remains relatively uncrowded due to its secret nature (so shhh...don't tell too many people!). Enjoy the breathtaking views of the Brooklyn Bridge and the Hudson River with friends or with a lover. The Elevated Acre also offers free vintage movie screenings during the warmer months, complete with free water and popcorn.
Hours: Mon.- Sun. 8am to 9pm
Photo credit: Garrett Ziegler
2. Frick Museum (and It's Hidden Bowling Alley) - Upper East Side
Henry Clay Frick was a prominent 19th Century industrialist who had an insatiable passion for art. Prior to his death in 1919, he willed his Upper East Side mansion and all of its interior, including European art pieces, furniture, and decor, to be displayed in a public museum. Over a century later, Frick's wishes are still being honored. In addition to being able to view his extensive collection of art, special exhibitions lectures and education programs are held regularly. Fascinatingly, a century-old bowling alley is well intact on the basement floor of the museum. The basement is only accessible to Frick Museum members and journalists...that is, unless a regular Joe stumbles upon some serious luck. Those lucky enough to explore this well-maintained historical gem are granted the opportunity to bowl a frame.
Hours: Mon.- Sat. 10am to 6pm, closed on Sundays.
3. Pomander Walk - Uptown Manhattan
There is a hidden world nestled between West 95th Street and Broadway on the Upper West Side. The Pomander Walk is a gated residential community with a near century-old collection of 27 Victorian-era English rowhouses within its premises. Originally built in 1921 by nightclub impresario Thomas J. Healy, the inspiration for the creation of the Pomander Walk has it's roots in a 1910 play called Pomander Walk, which was set in Chiswick, a charming West London neighborhood. Surrounded by soaring buildings and virtually out of view to passersby, Pomander Walk is one of Manhattan's best kept secrets. You won't be able to access this hidden street unless you know someone who lives here, but if you're in the area, you can always peek through the tall, black iron gates for a quick slice of some good old London charm.
Closed to the public
Photo credit: PilotGirl
4. The Noguchi Museum - Long Island City, Queens
The Noguchi Museum, located in Long Island City, Queens, is devoted to the preservation and presentation of the work of Isamu Noguchi, a prominent Japanese-American landscape architect and artist. Over his artistic career that spanned six decades, some of Noguchi's notable pieces of work include: the distinctive red cube sculpture at the entrance of Manhattan's HSBC Bank Building, the Japanese garden of the UNESCO headquarters in Paris, and Miami's Bayfront Park. The Long Island City Museum honors Noguchi by boasting the world's most extensive collection of his sculptures, portraits, lunars (Illuminated sculptures), drawings, and designs. In addition to the exhibitions, the museum also has a stunning garden, and a cafe/gift shop beautifully decorated with Noguchi's signature Akari light sculptures.
Hours: Wed.- Fri. 10am to 5pm, Sat. & Sun. 11am to 6pm, Closed Mon. & Tues.
Photo credit: Karl Steel
5. City Reliquary Museum - Williamsburg
New York City is a Mecca for art and history enthusiasts, offering them essentially any museum conceivable. At the City Reliquary Museum, located in the trendy Brooklyn neighborhood of Williamsburg, visitors can enjoy brilliantly quirky displays of hard-to-find NYC artifacts, such as old subway tokens, terracotta fragments of landmark buildings, and paint chippings from the L train. The museum, which often hosts community events as well, is the size of a small apartment filled with precious curiosities. For the suggested donation/admission of just $5, you will discover an underground story of NYC history, unlike anything you have, or likely will, ever experience.
Hours: Thurs.- Sun. 12pm to 6pm, Closed Mon.- Wed.
6. Green Acre Park - Midtown
Nestled between 2nd and 1st Avenues on 51st Street in East Midtown, Green Acre Park is something like a well-kept secret for local residents and workers who enjoy taking a break in a peaceful and serene environment. As we all know, Midtown Manhattan is not typically a neighborhood synonymous with words like "peaceful" and "serene," but this park is exactly that. With a 25-foot-high waterfall cascading down a stone wall, an abundance of carefully manicured trees, plants and shady arbors, and an outdoor cafe with reasonably priced food, Green Acre Park is truly an urban oasis.
Hours: 8pm to 6pm, every day.
7. Tenement Museum - Lower East Side
The Tenement Museum, located on 97 Orchard Street in the Lower East Side neighborhood. is a National Historic Site, as well as an educational venue, which encourages visitors to gain a historical perspective on the immigrant's experience in New York City. This 150-year old, 5-story brick tenement building has been estimated to have housed a total of over 7,000 immigrants from over 20 nations between 1863 and 1935. The museum currently offers guided tours of 6 carefully restored apartments, in which many immigrant families struggled to establish a new life for themselves. Tours are not limited to the tenement building itself: Sweatshop Workers Tours, Foods of the Lower East Side Tours, and a Tour into a 1850's German-owned saloon is also available. For a city that was essentially built on the blood and sweat of immigrants, the Tenement Museum is a true gift.
Hours: 10 am to 6pm, every day.
8. The Panorama of the City of New York - Flushing, Queens
If you have not ventured out into Queens lately, then a 9335 square foot exhibit which depicts all of the buildings, parks, and streets in the entire city of New York at a scale of 1:1200 just may be the perfect reason to head to the Queens Museum of Art this weekend. This truly remarkable architectural project was commissioned in 1964 by the revolutionary Robert Moses for the 1964 New York World's Fair. The last update to this dynamic model was made in 1992, thus many of the "views" seen on the Panorama reflect a slightly older cityscape from the good old days. In 2009, the Museum launched their "Adopt-a-Building" program, in which individuals can "purchase" land from the exhibit in order to commemorate their first date locations, or the locations of their family owned business. Since the launch of the program, updates to the panorama have been made, with recent additions to the city such as the Brooklyn Bridge Park, Citi Field, and 27 Battery Park City buildings reflecting the ever-changing landscape of the Big Apple. Free guided tours of the Panorama of the City of New York Tour are available every Sunday at 4 pm.
Museum hours: Wed.- Sun. 12pm to 6pm, Closed Mon. & Tues.
Photo Credit: Shinya Suzuki
9. First Street Garden - Lower East Side
Tucked away between two nondescript buildings between First and Second Avenues on the Lower East Side, is a vibrant and colorful garden that is guaranteed to inspire any visitor. The First Street Garden may not have the lush trees and manicured lawns common among typical Manhattan parks, but that does not take away from its beauty in the least. A collaborative effort between the Lower East Side Girls Club and the NYC Department of Parks and Recreation, First Street Garden is a creative art space allowing for muralists to share their inspirational art. Currently, on the garden's plywood walls are inspiring murals depicting "Women Who Change the World." On the colorful walls, visitors will find paintings of revolutionary women such as Susan B. Anthony, Ida B. Wells, Rosa Parks, and the country's first Latina Supreme Court Judge, Sonia Sotomayor.
Hours: Fri. 4pm to 6pm; Sat.- Sun. 12pm to 4pm
Photo credit: BMW Guggenheim Lab
10. Merchant's House Museum - NoHo
Upon walking into the Merchant's House Museum, many will feel as though they stepped into a time capsule of old New York. The museum is easy to miss; to the average passerby, it looks like a typical 19th century Row House. Once inside, however, one will quickly see that the house once inhabited by successful merchant Seabury Tredwell and his family has been lovingly preserved intact for nearly two centuries in hopes of educating and satisfying the curiosities of history bluffs from around the globe. The museum houses over 3,000 items of the Treadwells, including furniture, clothing, household decorations, books, and photographs. Friendly and knowledgeable staff offer guided tours of the house, promising an exciting opportunity to take a look at what a 19th century family living in New York City may have experienced, long before the skyscrapers started going up.
Hours: Thurs.- Mon. 12pm - 5pm, Closed Tue. & Wed.
Photo credit: Curious Expeditions
11. Community 54 - Lower East Side
Upon first passing this place on 54 Clinton Street in the Lower East Side, you will think that you stumbled upon some sort of time vortex. Enter the "secret photo booth" located in this vintage video game arcade (complete with a fully functioning original Pac-Man machine), and you will discover Community 54, which can only be described as a hipster's dream. The small room adjacent to the photo booth boasts an vintage assortment of 80's and 90's streetwear and memorabilia. In addition to featuring rare finds, Community 54 also offers an outdoor garden/event space covered in magnificent street art, courtesy of graffiti artists from around the globe.
Hours: Mon.-Sun. 11am to 8pm
Photo credit: Irena M.
12. East Village Speakeasy P.T.D - East Village
If you find that you have grown a bit tired of your regular weekend bar ritual, perhaps you should consider some Prohibition-era style fun at Please Don't Tell, or "PDT" for short. This speakeasy style bar and lounge is "secretly" located between 1st Avenue and Avenue A in the East Village, in the basement of Crif Dogs, a hot dog restaurant. Upon walking into PDT's secret entrance, patrons will encounter a retro telephone booth. Dial a secret number, and walla, the wall of the booth suddenly converts into a door leading to the chic bar. The taxidermy decor, soft lounge seats, dimmed lights, and low-key murmurs create a truly unique atmosphere. PDT's highly crafted cocktails are a bit on the pricy side, but they are almost guaranteed to never disappoint. Due to its popularity, reserving a table may prove to be a challenge, so calling quite a bit in advance is highly recommended.
Hours: Mon.- Fri. 6pm to 2am, Sat. & Sun. 6pm to 4am