If I Had a Billion Dollars, I Could Buy Me a...City?
Samantha Brown | June 18, 2014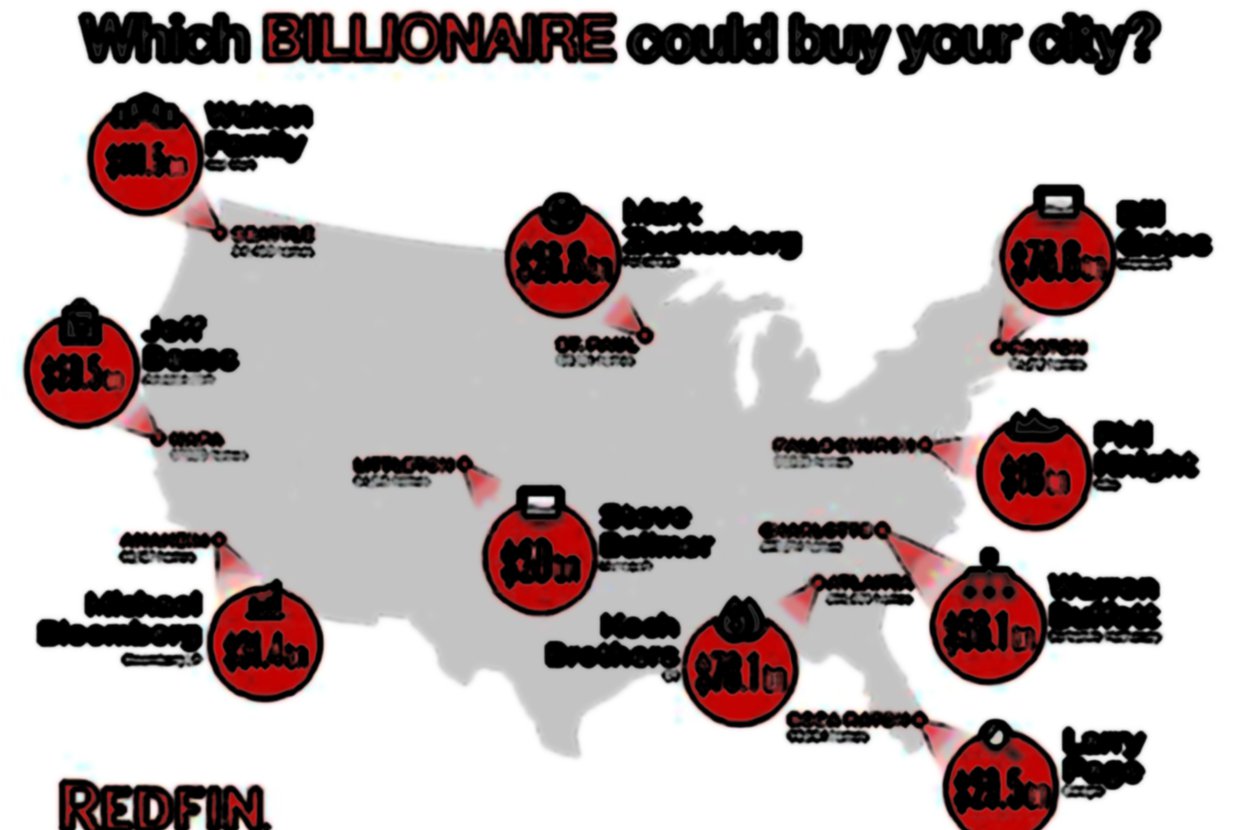 Photo Courtesy of RedFin
News flash: Billionaires can be a bit demanding. And as we've mentioned before, New York City is home to the world's highest concentration of billionaires. With 51 billionaires living inside City limits, developers have begun re-designing and marketing homes to suit their unique needs. For example, billionaires prefer open plan designs, high ceilings, large windows, and full concierge-style services.
Take local NYC billionaire Bruce Kovner, the founder and CEO of Caxton Associates. He purchased a Georgian mansion in the middle of Fifth Avenue for $17.5 million in 1999 and then spent an additional $10 million in renovations. He created 12 bathrooms, a sound proof media room, a two story master bedroom, a book vault, and a panic room capable of sustaining a chemical weapons attack.
Possibly even more impressive, Steve Schwarzman's duplex at 740 Park Avenue has 11 fireplaces, 37 rooms, 43 closets, a gym, sauna, and a steam room. He purchased it for $30 million in 2000, but it's worth at least $90 million now.
But what if billionaires were unsatisfied with only owning one (or several) homes? What if—hypothetically speaking—a billionaire decided to purchase an entire city?
That's the subject of a recent MSN Real Estate article. Many of the richest people in the country can afford to purchase every single home in certain cities. For example, with his fortune of $77.5 billion, Bill Gates could purchase the city of Boston, MA. That's 114,212 homes valued at a combined $76.6 billion.
One of the most prominent New York billionaires, David Koch, could purchase Palo Alto, CA for $40.6 billion. But if he chooses to pool his resources with the rest of the Koch family—and for the sake of purchasing a city, let's assume he does—he could buy Atlanta, GA; San Antonio, TX; or Phoenix, AZ. It must be nice to have options.
Another famous New York billionaire, former Mayor Michael Bloomberg, also has a wide array of choices. With his fortune of $33 billion, he can purchase Minneapolis, MN; Pasadena, CA; and Bethesda, MD. If he wanted to have a bit more money left over, he can even purchase the Bronx for just under $28 billion.
While some of the lesser billionaires have fewer options, they all have access to several mid-size and smaller cities. Carl Icahn can purchase East Hampton with close to $1 billion to spare. If Steve Schwarzman ever tires of his apartment, he can always go buy Lexington, MA. Rupert Murdoch can easily afford Chapel Hill, NC or Rye, NY.
So if any local billionaires ever find themselves displeased with New York City's luxury real estate, they always have the option of purchasing an entire city. But don't worry about them purchasing NYC for themselves—even Bill Gates can't afford the city that never sleeps.