Mayor De Blasio's New Affordable Housing Plan: Smooth Concepts and The Bumpy Road Ahead
Tasha Moore
| June 19, 2014 | Published in
Elegran Insider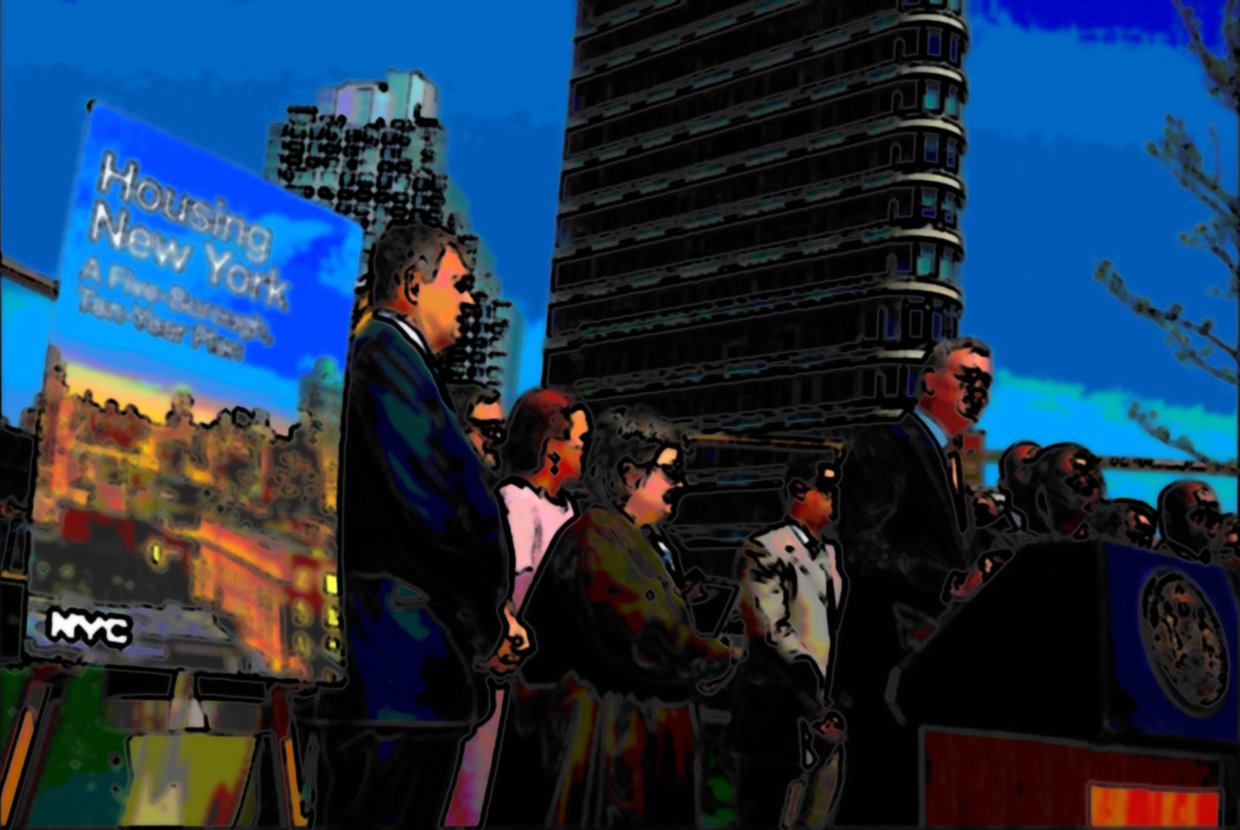 Courtesy of: nycmayorsoffice/ Flickr
During his candidacy, progressive Democrat Bill de Blasio's income inequality mantra launched him to mayoral status. Political pundits and activists have debated whether his billionaire predecessor Michael Bloomberg's policies created the lingering climate of exclusivity that mostly benefits the City's "haves," and socially impedes thousands of "have-nots." In May 2014, Mayor de Blasio unveiled a 116-page affordable housing manifesto, which he hopes will give everyone access to coveted housing in the big apple.
At some point during Bloomberg's 12-year reign as mayor, the former mayor nodded to income disparities that de Blasio proposes to have more efficiently addressed with his new housing plan. De Blasio insists that the "affordability crisis" is getting out of hand. His administration wants to preserve 120,000 affordable housing units and build 80,000 new affordable apartments over the next 10 years. But critics of the plan deem the mayor's methods impractical.
De Blasio's plan usurps Mayor Bloomberg's response to the disparities. Bloomberg called for an 80/20 model for which developers build 80% of new developments at market rate and 20% affordable units for low-income earners. Instead, De Blasio presents a 50/30/20 formula by which 50% of new developments are reserved for "middle-income" households at market rate, 30% to households with "moderate-income," and 20% for "low-income" households. Critics say that de Blasio's income bracket definitions are cause for great concern—especially that of "low-income," which is defined as those households earning 50% of the area median income. By New York City standards, this classification edges out minimum-wage earners.
A select group of stakeholders—private developers, Wall Street executives, community organization heads, construction representatives and City officials—recently convened during a 90-minute meeting at City Hall to give their initial sentiments about the mayor's plan. Some housing activists, a few of whom steered clear of the meeting, claim that de Blasio's plan fails to actualize the mayor's campaign promise to repeal the first iteration of the state's 1993 rent regulation law that allows landlords to raise vacant, formerly rent-stabilized units to $2,500 or more. The law is up for renewal in 2015.
When asked about the impact that rent regulation law will have on the mayor's plan, de Blasio insists that his administration "will work with the state"—a nonspecific response that leaves many change-seekers wanting. Moreover, de Blasio plans to construct taller buildings in 15 neighborhoods that he does not specify; and the prospect of taller buildings generally does not fare well with locals.
The mayors first of several stakeholders' meetings brought to light major zoning concerns as well. And some private developers have noted that de Blasio's 50/30/20 model will not always be profitable. By all accounts, some of the more doable aspects of de Blasio's plan include an increase in new jobs as a result of the anticipated construction surge and a much-needed revamping of the City's storm resiliency measures.