Old and New Fixtures of NYC Rooftops: For Use or For Show?
Kamini Ramdeen | June 15, 2014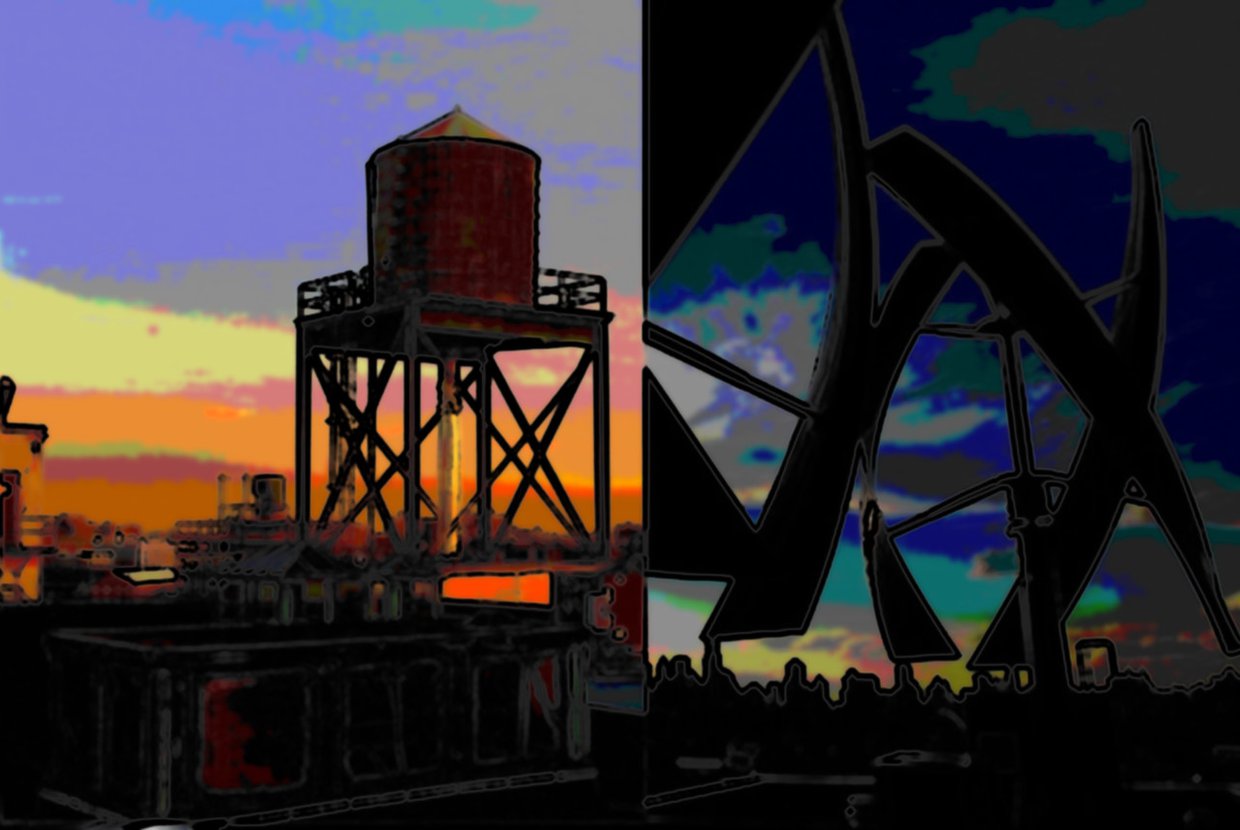 The rooftops of NYC are crowded with all sorts of gizmos, gadgets, and amenities. Newer rooftop functions include, pools, bars, and even farms. NYC rooftops are doing much more than covering our heads. The installations that are found on our rooftops are sometimes necessary and are sometimes just for show. Here are two installations that will have you looking at NYC rooftops differently.
What's something that's on almost every NYC rooftop? It's round, overlooked, stands on stilts, and sometimes artists paint them?
The answer is water towers. Most people don't even look twice at these wooded, miniature-hut shaped want-to-be houses, but they do provide an important service to New Yorkers living in buildings that are over six stories. If you didn't know, water towers actually provide water pressure for the upper floors of large buildings. There are three main companies in NYC that replace/maintain the structures: Isseks Brothers, Rosenwach Group, and American Pipe and Tank. Each company is family owned and operated and has been for generations.
Every 30-35 years they're replaced entirely, pending on their exposure to the elements. The little tower's wooden structure also serves a purpose. Naturally, wood fares better outdoors; it is after all meant to be there. The wood that is used is not treated chemically or painted, which is purposely done so the water supply doesn't become contaminated. It takes 2-3 hours to fill one up with water. This is a NYC rooftop fixture that has an undeniable and necessary purpose.
Meanwhile, in other parts of NYC, notably in Long Island City and Brooklyn, developers have been installing wind turbines. The turbines are installed to make buildings appear more green. Two installations have recently gone up on Pearson Street and 388 Bridge Street in Brooklyn, and about half a dozen more will be added to new developments.
In order for the turbines to properly create energy, the winds have to be moving steadily at 10 miles per hour. NYC winds range from 3 to 30 miles per hour and do not flow steadily from just one direction. Developers have adapted their turbines to the conditions of the wind flow changes by using helix-shaped turbines, which can still rotate regardless of wind direction.
Even though the appearance of these turbines seem to be making a greener impact, there are, of course, concerns.
"A tiny windmill on a big building is just silly — it might as well be a pinwheel. It's a lovely idea, if people want to pay for it and test it out, but as far as return on investment goes, it's a waste compared to more insulation and efficient building systems," said Russell Unger, executive director of the Urban Green Council to NYT.
L&M Development readily agrees with Unger's statements. "We're doing all we can to green the building, but it's kind of hard to sell an apartment by showing people your high-tech boiler," said David Dishy, director development for L&M Development.
The state energy research agency's director who is responsible for the small turbine program, Mark Mayhew said, "Our installers spend more time convincing people not to build turbines than to build them. The conditions really have to be ideal."
It seems as though the wind turbines, unlike their water tower counterparts, are just a fancy decoration for new developments. They also come with a hefty installation price of $100,000-per installment. Next time you look up at an NYC rooftop, maybe you won't be so impressed by the flashy decorations and will keep in mind that the less noticeable rooftop elements are doing more than you think.