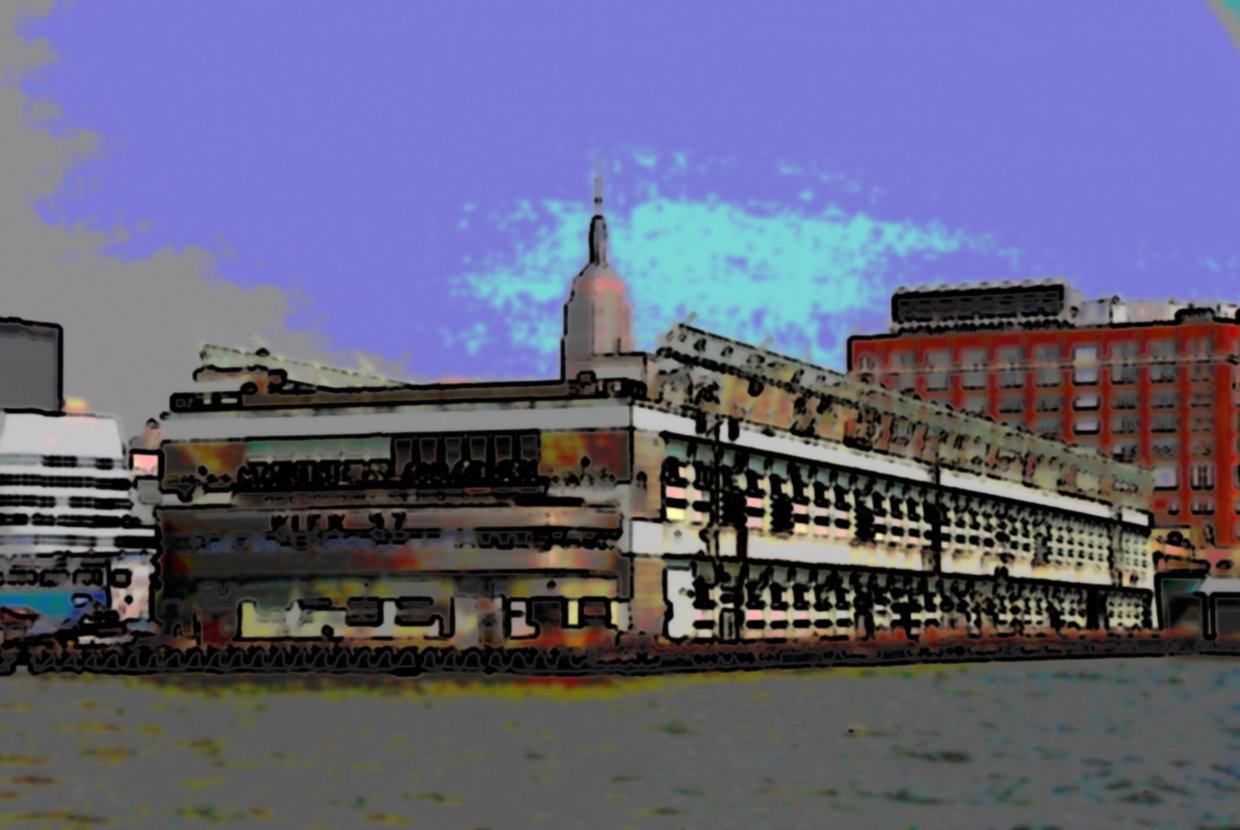 Since imaginative developer Youngwoo & Associates announced plans to convert Chelsea's Pier 57 into a 560,000-square-foot mixed-use retail complex and culture hub 5 years ago, the public's initial exhilaration surrounding the project has waned to mild enthusiasm…until recently. RXR Realty is reportedly in negotiations with Youngwoo to help move the groundbreaking $200 million project forward. The extent of RXR's involvement is unknown, as of yet. Youngwoo has rebranded the project as SuperPier, and anticipates that the completed facility will be like nothing the world has ever seen.
In 1947 the Pier was destroyed by fire, but it was reconstructed as a passenger and shipping terminal. More recently the New York City Transit Authority used the space as a bus depot, but it was abandoned in 2003. Youngwoo submitted the winning bid and currently has a 49-year lease with Hudson River Park Trust, the government administrators for the Hudson River Park and its properties. The New York City council approved Youngwoo's final plans for SuperPier in spring of 2013.
Now that RXR Realty is allegedly involved, SuperPier buzz is back to fever pitch. However, critics echo previous sentiments about the project's chances for success, and most bets are on how well Youngwoo's concept will entice Manhattan foot traffic to tread through SuperPier's immense space, which architectural firm LOT-EK has smartly designed. Plans include open spaces, restaurants, an outdoor screening area, and shipping containers reused as "incubators" to house the creative retail clients that developers hope will generate the buzz that will eventually generate revenue.
Youngwoo began fishing for an assortment of talent to house within its enormous waterfront complex. Representatives have searched internationally and locally for emerging as well as established businesses to occupy 430 distinctively decorated crates, each measuring approximately 160 square feet. To sweeten the deals, developers are offering an array of in-house perks, including accounting and design services, to desired tenants. Low rents and unconventional leasing terms are also options.
While Youngwoo finalizes its all-star roster of vendors for SuperPier, three anchor tenants have already signed on. Andre Balazs's spa and beach club will occupy 30,000 square feet; retailer Opening Ceremony is expected to take up close to 16,000 square feet; and Brooklyn Boulders' rock climbing gym will require 20,000 square feet - most of which will be situated below ground within its own state-of-the-art facility.