5 Franklin Place is Back and Booming
Nalyse Seymore
| January 23, 2015 | Published in
Urban Design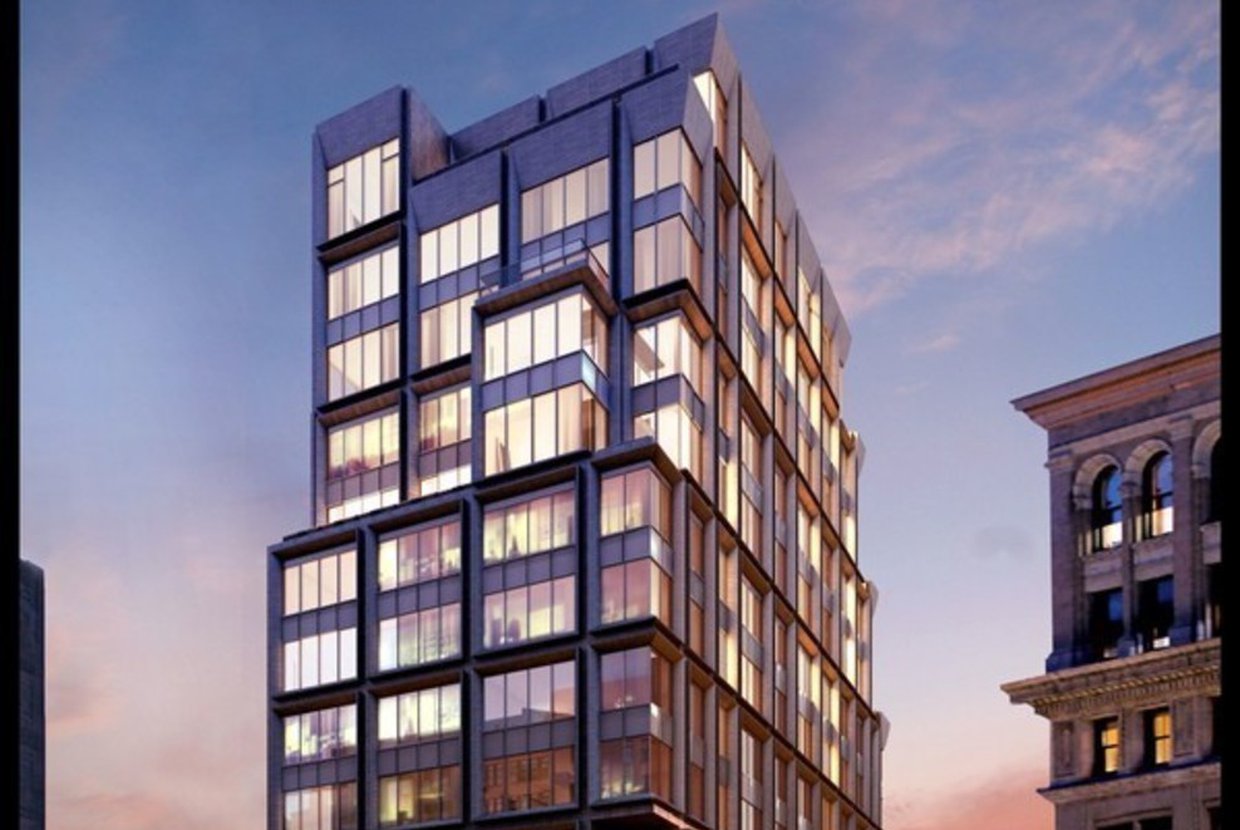 Franklin Place is Tribeca's new luxury condominium, comprised of 20 stacked stories, 53 condos and only one 4BR, 4.5BA unit left that is up for grabs at $7.5 million. ODA Architecture is responsible for this high-end contemporary property, which offers a panoramic view of the city, rooftop pool, lounge area, private residential garage, and an array of other luxurious amenities.

This condominium has two-story glass windows that show off the NYC loft legacy, as well as unique brick detailing that contrasts older, more historic buildings in the vicinity. Eran Chen manages the design practice used to create the boxy infrastructure of 5 Franklin Place. According to ODA Architecture, it was important for the design to have big openings in a way that was repetitive and consistent. Not only is the exterior facade of 5 Franklin Place brilliant, but Andres Escobar's use of height maximization illuminates the interior with sunlight and provides a luminous city skyline at night. A stacked structure provides this consistency while preserving the elevation and regality of luxury Manhattan condos.
ODA Architects are no strangers to NYC affluence and design; their unique framework and stacking style is prevalent in most of their configurations and has become their recognizable style. This similar style was used by ODA Architecture for an 18-story industrial, pre-war building, 93 Worth, located in Tribeca, and even for a 6-story building, The Code, at 101 West 15th Street in Chelsea. This residence also caters to families with children by offering a residential playroom. Escobar surely knows how to design a kid's bedroom with contemporary style. He's a real NYC enthusiast and his favorite place to be is the Soho neighborhood, one the most trendy neighborhoods in NYC, known for its shopping, food, and historical cobblestone streets, which are extremely expensive to install and maintain.
This Soho style in the heart of Tribeca comes with a price, which is evident from the block-long cobblestone path that leads to the tucked away building. 5 Franklin Place has an average selling price of $2.5 million, roughly $2,200 per square foot, which is identical to the median selling price for condos in Tribeca from Oct 14 to Jan 15. This building has done well since entering the market in May 2013, having only one unit left unsold. It's no surprise that residents have quickly claimed this space, as the surrounding environment is vibrant, home to a plethora of restaurants and entertainment venues. This building has come a long way since undergoing demolition and redesign since 2008 due to the financial crisis, thus delaying its grand opening, which may be taking place sometime this year.