Green to be Seen: NYC's Most Captivating Roof Gardens
Jonathan Tuason
| January 22, 2015 | Published in
Urban Design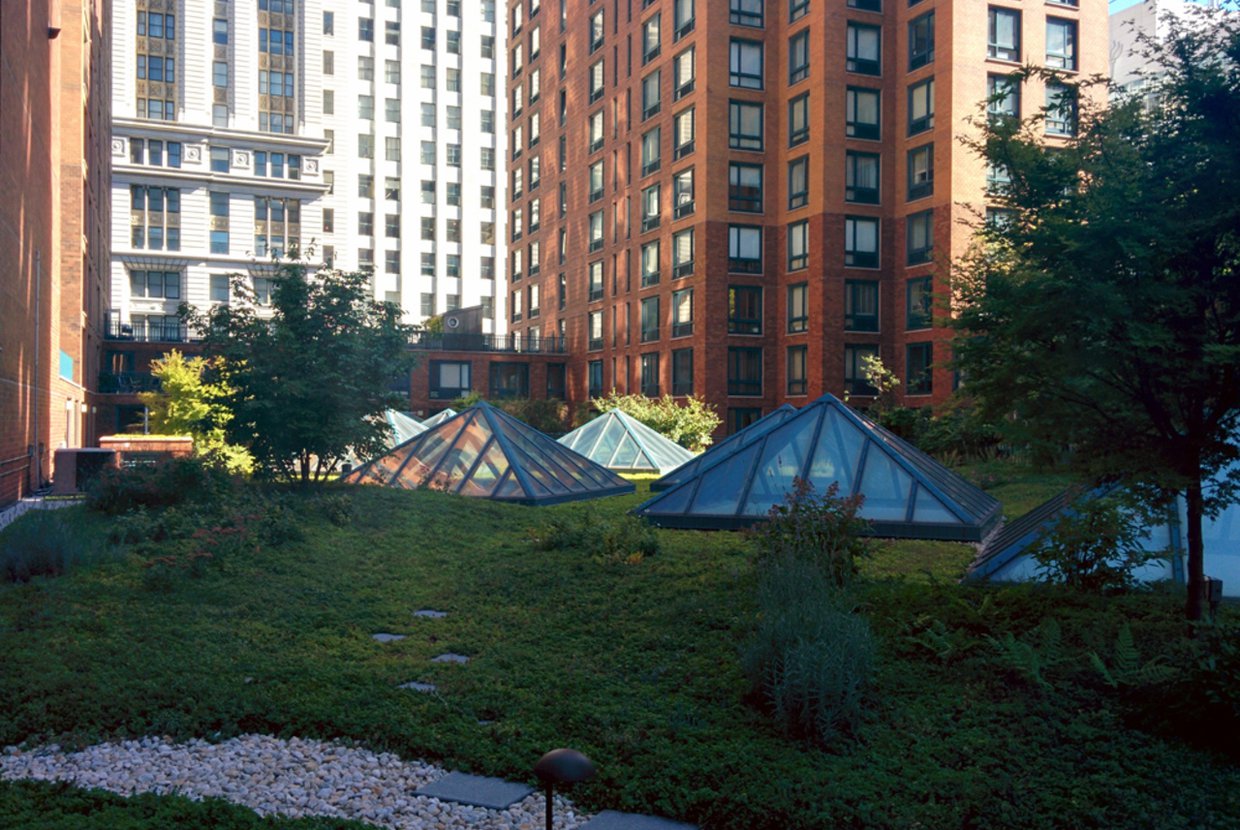 Image via Wikimedia Commons
It's a well known fact that New Yorkers don't look up, and that can be a shame, considering the impressive feats of engineering and architecture that have made New York's skyline arguably the most iconic in the world. But every so often, an upward glance reveals a pleasant and incongruent bit of greenery—a rooftop garden. The idea is far from new, but they've certainly picked up in popularity among new construction residential buildings. So which buildings have the most impressive spaces?
Institutional Grandeur: Rockefeller Center
Beautifully manicured lawns, topiary hedges, small trees, and reflecting pools can be found atop Rockefeller Center's buildings. The center's developer, John R. Todd, and its principal architect, Raymond Hood, designed these brilliant rooftop gardens as exclusive landscapes for tenant companies' employees. Their ambitious plans initially called on using skyways to connect each terrace, but they never came to fruition. Unfortunately, they're generally not open to the public, but the 620 Loft and Garden may be rented for private events.
Raw Functionality: Brooklyn Grange
The grassroots Brooklyn Grange is actually more of an institution than a single garden. That said, the gardening collective maintains two spaces—one in Long Island City, Queens, and another in the Brooklyn Navy Yard—with more than two acres in total, and produce an annual yield of 50,000 pounds of produce. They also lay claim to the city's largest beekeeping operation, with more than 30 hives. While there are many more urban gardens now, the last rooftop farm of particular note was in The Ansonia building at 2109 Broadway in the Upper West Side neighborhood, which was summarily shut down by the Department of Health in 1907. To be fair, the Ansonia's rooftop farm allegedly had a "small bear".
Upcoming Conversions: 108 Leonard Street (346 Broadway)
The old New York Life Insurance Company building in the Tribeca neighborhood was slated for redevelopment by the Peebles Corporation into a condo-hotel, but it's since been put on ice by the Landmarks Preservation Commission. While the conversion was generally considered a non-issue, even garnering support for the building's repurpose, LPC members had enough concerns to warrant taking it back to the drawing board. Among other things, they wanted specifics regarding the appropriately named Clocktower Gallery and its public accessibility. Hopefully, the planned space at the top will stay as it is: described a "green village", the massive space would be allocated for the building's residents, and appears to include grassy lawns and small trees.
Eco-friendly and Eco-nomic: The Zeckendorf Towers (1 Irving Place)

From afar, the seventh story of the Zeckendorf Towers at One Irving Place looks like an incredibly lush grass lawn (of course, that depends on the season), but that tract of green is actually made of the flowering sedum plant, making the entire thing a rooftop garden. Previously, it was occupied by nondescript planters—pleasant to be sure—but with Mayor Bloomberg's NYC Green Infrastructure Program, it was renovated to demonstrate environmental and economic benefits of green roofs. To wit, it increases the life of the roof itself, and even saves on cooling bills for the commercial tenants under it; it also affects the city's infrastructure at large by helping to regulate the amount of rainwater that would otherwise go to nearby sewers and potentially interfere with the Union Square's transportation hub.