A Closer Inspection of Micro-Units
Ilana Yoneshige
| February 23, 2015 | Published in
Elegran Insider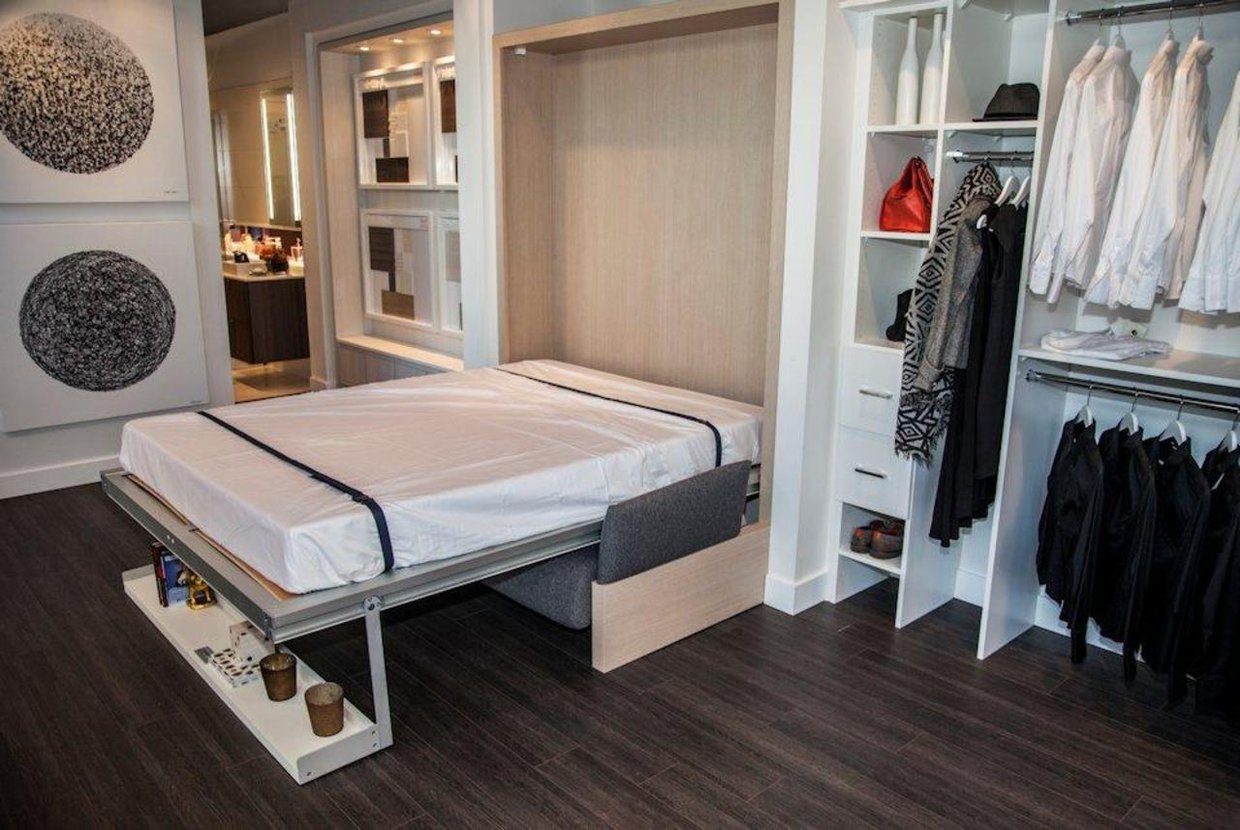 In many countries there are not enough living units to accommodate the rising population, inspiring the concept of the micro-unit, the "Swiss army knives" of housing. Cities throughout the United States are seeing an increase in illegal housing units to compensate for the lack of available housing, which attests to the growing problem of insufficient housing.

A micro-unit must be intricately designed so that every space is utilized to its fullest potential; there isn't space for extraneous possessions or social gatherings, only the necessities. Developers have many details to work out through the designing phases. Light, cool colors create the illusion of a larger space and maintain a positive, calming atmosphere. Larger windows allow natural light to flood the interiors, which also contributes to increased mental performance and a positive mood, especially if the views include nature or fountains. The ideal micro-condo size is between 275 and 300 square feet, being the optimum size for a "one person plus dog" household, a.k.a. the optimum size for the single, young professionals.
This is an ever growing demographic, since people are "staying single longer and having children later." According to a study, these individuals "often are very socially active, spending considerable time in public spaces in their local community." They will trade personal living space for being in proximity to urban life. The study focused on several cities, including New York, Boston, San Francisco, Chicago and Miami, and found that the locations of micro-developments in those cities reflect a desire to have access to high-amenity neighborhoods. Young professionals want to spend most of their time socializing at local bars, going to the gym, walking through the parks, and so on, spending a minimal amount of time in their apartments.
Micro-units have been getting a pretty bad rap, though there is almost no research on the long-term effects of living in these compact spaces. According to Tsur Somerville, associate professor with the University of British Columbia's Centre for Urban Economics and Real Estate, the success of micro-units "is assuming a sort of stress-free, constantly healthy young person. Someone who loses their job or is ill, or breaks up with their girlfriend, or whatever, might find this situation confining and depressing." Dak Kopec, director of design of human health at Boston Architectural College explains that crowd-related stress, which may be caused by compact living situations, can increase rates of domestic violence and substance abuse. He points out that to maintain these micro-units, residents must rearrange furniture constantly. If they stopped, the units would feel even more crowded. Susan Saegert, a CUNY professor of environmental psychology, says, "I've studied children in crowded apartments and low-income housing a lot. They can end up being withdrawn and have trouble studying and concentrating."
The big question seems to be: will such a small space have long-term, negative effects on a residents' psychological well being? According to Psychology Today, "tiny can be terrific." An important factor to psychological well being is choice and control; people must be making a voluntary choice to live in these micro-units. "Having control is important to people, in part, because it means they have the ability to be alone when they want to be alone...when we're alone, we can sort through the recent events in our lives and integrate them into our concepts of the world," Sally Augustin of Psychology Today writes. So far, several jurisdictions have revised their regulations to allow the development of micro-units, though they are limiting the number of micro-units that can be constructed for now.
However, there are still concerns regarding economic repercussions. Micro-units in many cities rent at higher rates per square foot, but at a lower total monthly rent. If the higher rates per foot of micro-units set a new standard, they could influence larger apartments to have increased rent. They could also shift construction too prominently towards single person households, neglecting affordable housing solutions for larger households. If these concerns are valid, micro-units may be utilized by a different demographic than intended, which would render the health concerns much more problematic. Adding density to housing also puts more strain on street parking capacity, though other options such as public transportation or car sharing may become more viable. In Vancouver, a building with 30 micro-units, renting for $850 a month, was leased out immediately after completion, which can at least attest to the demand for more diverse housing options.