Restaurant Week Winter 2015: 7 Neighborhood Spots to Try
Serena Horrigan
| February 17, 2015 | Published in
NYC Lifestyle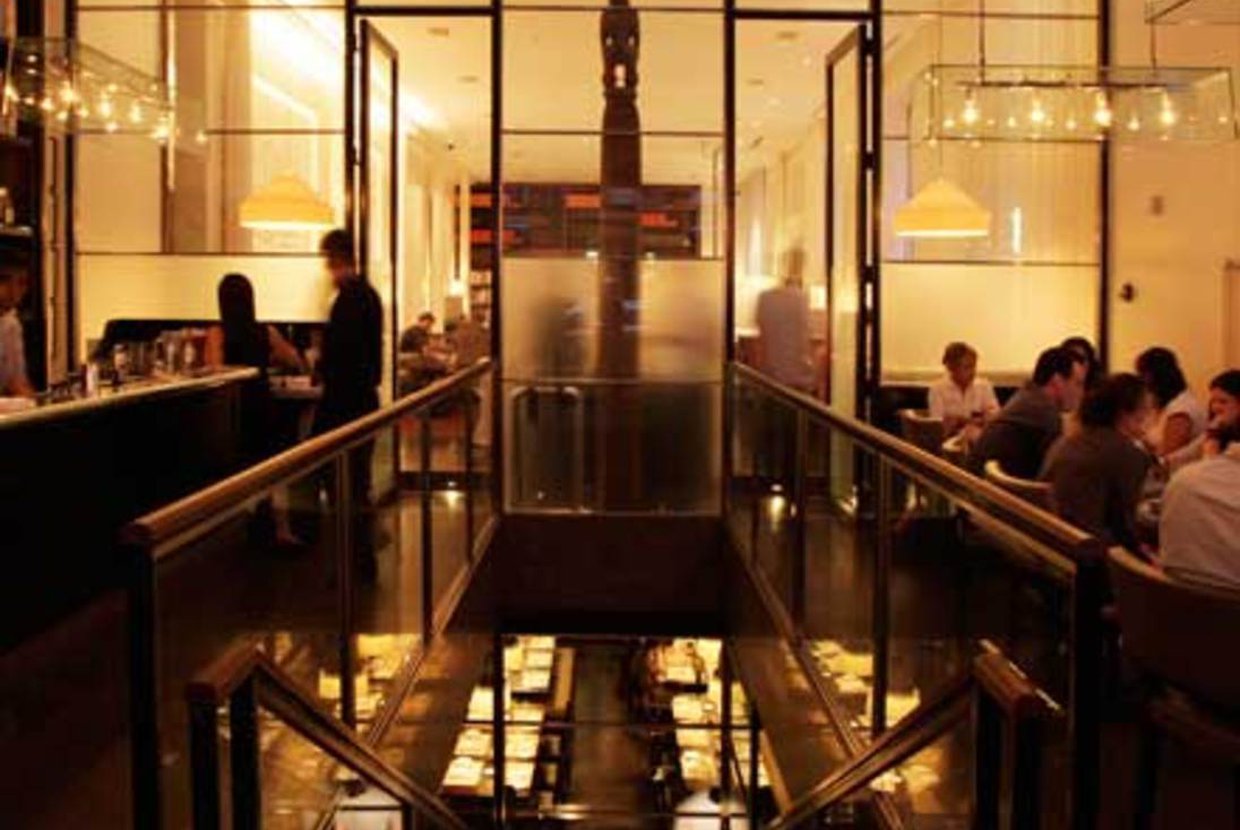 Round one of Restaurant Week 2015 is upon us. From Feb 16- March 6, New York becomes even more food-centric than usual, with 340 restaurants participating* in this year's epicurean bacchanalia. With such daunting options, Restaurant Week can feel like the Times Square of dining out. Let's suss through the distracting neon and focus on the roster's neighborhood-defining or revitalizing spots. The selections below are neighborhood affirming and vitalizing, bringing diners closer together by offering unique, purposeful, soul-satisfying experiences that enrich New York's unique sense of community.
Narcissa- Landing Adam Platt's 'The 12 Best New Restaurants', this high-brow, shabby chic hybrid opened to much fanfare last year in hotelier Andre Balazs' architectural behemoth, The Standard. The ultra-modern hotel inhabits a western nook of the East Village, significantly transforming the downtown scene near Cooper Union. Two dining rooms, one upscale farmhouse, the other, apres-ski lodge, serve up chef John Fraser's (Dovetail) imaginative, veg-centric cuisine. Narcissa's eclectic vibe emanates from its dining rooms and spills out onto the streets surrounding it, providing the ultra-hip, laidback style the East Village does so well.
Narcissa's Restaurant Week lunch prix fixe
Little Park- Nestled in Tribeca's Smyth Hotel on West Broadway, Andrew Carmellini's blonde-wood jewel box also made it on Platt's 12 Best New Restaurants. The setting is sublimely accessible, breezily fashionable without being trendy. In the kitchen, the renowned chef is pushing the hyper-local vegetable envelope with elevated omnivorous comfort foods. And he has adapted an entree approach that could become the new standard: modest yet shareable portions at modest prices.
Carmellini's restaurants have a history of rejuvenating and revitalizing neighborhoods. The Dutch, Locanda Verde, Lafayette and Bar Primi (below) all had dynamic effects on their surrounding locales, and Little Park, by being decidedly no trend and all quality, promises to follow suit. It may be just the restaurant Tribeca has been waiting for.
Little Park's Restaurant Week lunch prix fixe
Bar Primi- Positioned at the nexus of ever-trendy NoHo and the East Village, this boisterous, Bowery newcomer is at the top of food-centric powerhouse destinations. Another win for Mr. Carmellini, the scene at night brings to mind a different corner restaurant that transformed and redefined a neighborhood more than a decade ago: Schiller's Liquor Bar on the Lower East Side. Bar Primi's kitchen focuses on 'primi piatti', fresh pasta prepared with clean ingredients, resulting in inspired classics. Affordable and casually chic, Bar Primi is another example of Carmellini's transformative neighborhood forecasting, for which he sometimes feels like the Steve Jobs of neighborhood restaurants, giving New Yorkers something we didn't know we couldn't live without.
Bar Primi's Restaurant Week dinner prix fixe
Root & Bone- The East Village gave a warm southern welcome to its new(ish) neighbor, Top Chef alums Jeff McInnis and partner Janine Booth. The pair are reinventing soul food in their repurposed Dixieland-chic, Avenue B nook, but don't write them off as just another player in the city-wide fried chicken takeover. Their homage to southern hospitality and a rural, agrarian Americana combines with authentic ingredients for a different take on farm-to-table dining. Here it feels warm and genuine, like a homemade meal in Grandma's cozy farmhouse. Root and Bone spreads that warmth all over the neighborhood, with residents and visitors making it a dining destination. It's not just that homey feeling either. Their fried chicken scored #1 in Time Out's 100 Best Dishes & Eater's best new fried chicken. Root and Bone isn't just reinventing southern staples; it's rejuvenating the East Village by bringing warm, down-home hospitality to everyone who visits.
Root & Bone's Restaurant Week dinner prix fixe
Perilla-Nearly a decade after inaugural Top Chef winner Harold Dieterle opened Perilla as a modest little dining room on Jones Street, the West Village is still enamored with its comforting, ingredient-driven farmhouse offerings. The atmosphere is unpretentious, inviting and warm. Its understated, timeless aesthetic reflects the neighborhood itself; the West Village has largely remained above the trend fray, and Perilla mirrors that by focusing on substance over show.
Perilla is a treasure that maintains quality over trends, and just like the West Village, is exactly where you want to be on a quiet, charming night out.
Perilla's Restaurant Week dinner prix fixe
Red Rooster- Named for the legendary speakeasy that was integral in Harlem's cultural renaissance, Red Rooster is the creation of world-renowned Chef Marcus Samuelsson, who paid homage by opening a restaurant to mirror the neighborhood's unique vitality and rich history. The speakeasy provided a gathering place for cultural and political legends, and Samuelson has echoed that community feel with his newest venture. Located on Lenox Ave at W. 125th St, it's a place where anyone can convene for reimagined soul food and a vibrant cultural scene in the neighborhood he calls home. In the kitchen, Samuelsson marries Scandinavian comfort food (a nod to his upbringing in Stockholm) with Harlem's southern classics. Red Rooster showcases homestyle comfort foods alongside local musicians, artists and other cultural talent, while serving as a touchstone for restaurants dynamically interwoven with a community's past and present.
Red Rooster's Restaurant Week lunch prix fixe
Mercer Kitchen- Soho destination and mainstay for nearly two decades, Jean-Georges Vongerichten's subterranean restaurant on Prince Street is as relevant as ever, especially in the ever-fluctuating culinary landscape. Nestled in a classically modern dining room beneath The Mercer Hotel, Mercer Kitchen has continuously drawn a sophisticated crowd seeking elegant simplicity and quality ingredients in a neighborhood locale that has rendered itself impervious to shifting trends. The copper-plated, dark-wood accented dining room is warmly sublime, and the seasonal, new American cuisine mirrors that sentiment. Mercer Kitchen breathed new life into Soho's culinary scene when it debuted in 1998, and it remains a timeless neighborhood stomping ground that all New Yorkers can rely on.
Mercer Kitchen's Restaurant Week dinner prix fixe
*3 courses, $25 lunch, $38 dinner.
Red Rooster lunch menu: $35.
Certain restrictions apply.
Saturdays excluded, Sundays optional.