The Master Builder: Robert Moses
Ilana Yoneshige
| February 18, 2015 | Published in
Neighborhood News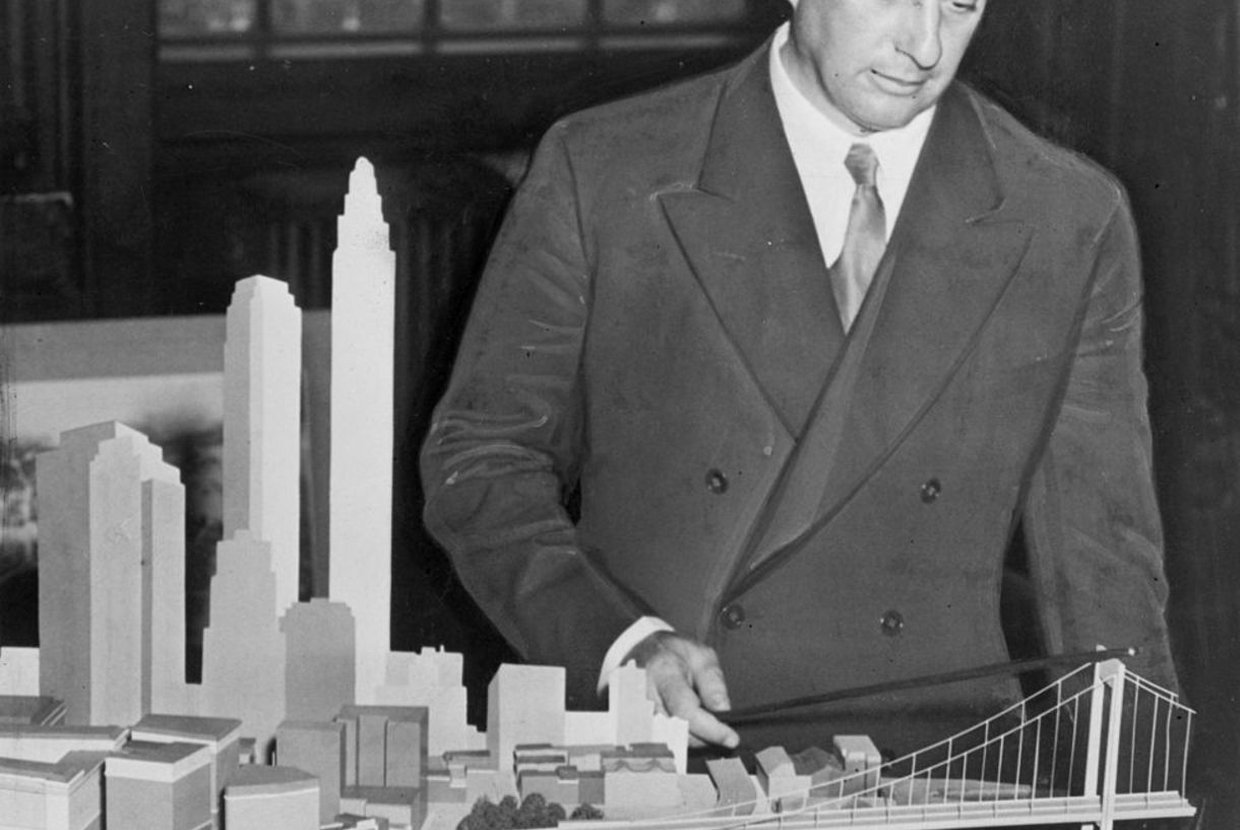 To develop the city that never sleeps, they called in the man that always builds. Robert Moses, in his prime, held twelve New York City and New York State positions simultaneously and worked about 15 hours a day, including on-the-go in his limousine office. And his relentless urban planning yielded incredible results: his urban planning is responsible for the construction of the Verrazano-Narrows Bridge, the Triborough Bridge, the Henry Hudson Parkway, the Henry Hudson Bridge, the Southern and Northern State Parkways, the Grand Central Parkway, the Cross Island Parkway, the Bronx-Whitestone Bridge, the Throgs Neck Bridge, the Brooklyn-Battery Tunnel, the Long Island Expressway, the Meadowbrook Parkway, the Saw Mill River Parkway, and countless other projects. Moses was a man who demanded results, known for saying "I raise my stein to the builder who can remove ghettos without removing people as I hail the chef who can make omelets without breaking eggs." When funds became accessible because of the Great Depression, Moses instituted an incredible building program which completed more than 1,700 projects in just a few months. Moses certainly got things done. "Those who can, build, " he said. "Those who can't, criticize."

And Moses certainly could. In the summer of 1936, he opened one swimming pool per week. According to the New Yorker, each pool was architecturally notable, different, and able to hold thousands of people at a time, indicating that Moses believed the public realm deserved only the best in design. One of his earliest achievements was the construction of Jones Beach. He transformed a sandbar into an elaborate seaside xanadu, adorned with bathhouses, restaurants and a tower inspired by a Venetian bell tower.
Most of all, Moses believed urban planning in New York City needed to shift towards developments for automobiles (hence the mouthful of bridges and parkways under his belt), and land preservation for parks. The New York Times wrote, "his guiding hand made New York, known as a city of mass transit, also the nation's first city for the automobile age." Moses was greatly influenced by the simple believe that "we live in a motorized civilization," and did not question the impact the automobile would ultimately have on the city. Many neighborhoods have been demolished to make way for expressways, and the streets are ever crowded with traffic. According to Untapped Cities, Moses is responsible for bisecting the Bronx roughly in half and consequently displacing as many as 5,000 families; making the Hunts Point community "congested, confusing and unwelcoming" thanks to the Sheridan Expressway; causing the Brooklyn Dodgers to leave NYC; and more.
Many believe that Moses was too reckless with his projects, seen as a bully in the architect world. Among his biggest critics was Jane Jacobs. Moses had planned to build the Lower Manhattan Expressway, which would have destroyed much of Soho. Jacobs valued the unique flavors of each neighborhood as microcosms of society, while Moses' concern was with paving the way for cars. Yes, he got things done, but perhaps not all the right things. Now, projects are held up for years by the approval process. There is an ongoing struggle to find the right middle-ground to think projects through completely while being productive in a timely manner.