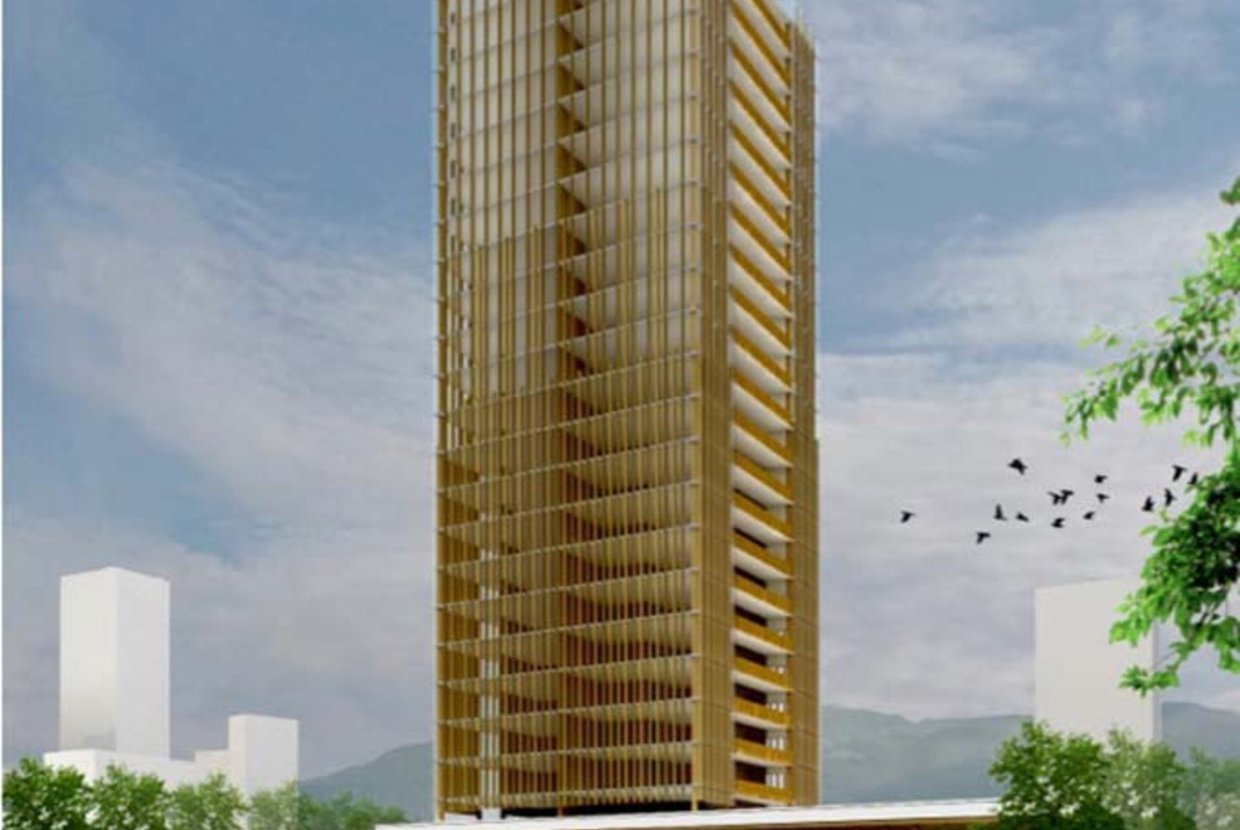 Architects often use a variety of materials for their developments. Steel and concrete – which are the primary synthetic materials used in building structures ­­­– represent over eight percent of man's greenhouse gas emissions. Inefficient transportation is often to blame for the greenhouse gases that pollute our environment.
Many architects and designers are concerned about the impact these materials have on the environment and are looking for a more eco-friendly alternative. This has lead to architects creating elaborate ways to make new and existing buildings more environmentally friendly, from wind turbines to solar heating panels. The unique material they were looking for was right in front of them all along – wood. Traditionally used for single-family homes, floors, and paneling, wood was never trusted for tall buildings.
The idea first came to light in 2013, when Canadian architect Michael Green introduced the concept at a TED talk that has now been viewed more than a million times. "I believe that wood is the most technologically advanced material I can build with. It just happens to be that Mother Nature holds the Patent," Green stated in his talk. Wood may be the saving grace to the environments' greenhouse emissions: it takes in massive amounts of carbon dioxide – one cubic meter will store one tonne of carbon dioxide. This could provide growing cities with cleaner air and more lush greenery. Green states, "If we built a 20-story building out of cement and concrete, the process would result in the manufacturing of that cement and 1,200 tonnes of carbon dioxide. If we did it in wood, in this solution, we'd sequester about 3,100 tonnes, for a net difference of 4,300 tonnes. That's the equivalent of about 900 cars removed from the road in one year."
The impact that wood buildings can have on the environment is astounding. There's already a nine-story tower built from laminated timber in London, and a 12-story wooden building underway in Norway. However, the biggest wooden project to get attention lately is in Vienna's Seestadt Aspern area – the HoHo project – will feature two wooden towers, the tallest that will stretch to 25 stories (84m). Architects predict the towers to be made from 76 percent wood – saving 2,800 tonnes of CO2 emissions when compared with similar concrete structures.
Many are skeptical of the fire safety of a wooden structure – but the use of cross-laminated timber makes it fairly fire-proof. Vienna has already instructed fire service to conduct a special test on the building on top of the required installations of more sensitive sprinklers. "It's hard to start them on fire, and when they do, they actually burn extraordinarily predictably, and we can use fire science in order to predict and make these buildings as safe as concrete and as safe as steel," noted Green. Resistance to wood-based construction stems from a lack of understanding on materials – it is in getting society to change its opinion about building with synthetic materials. Clearly there are better options available, but with a lack of understanding – we will never move forward.