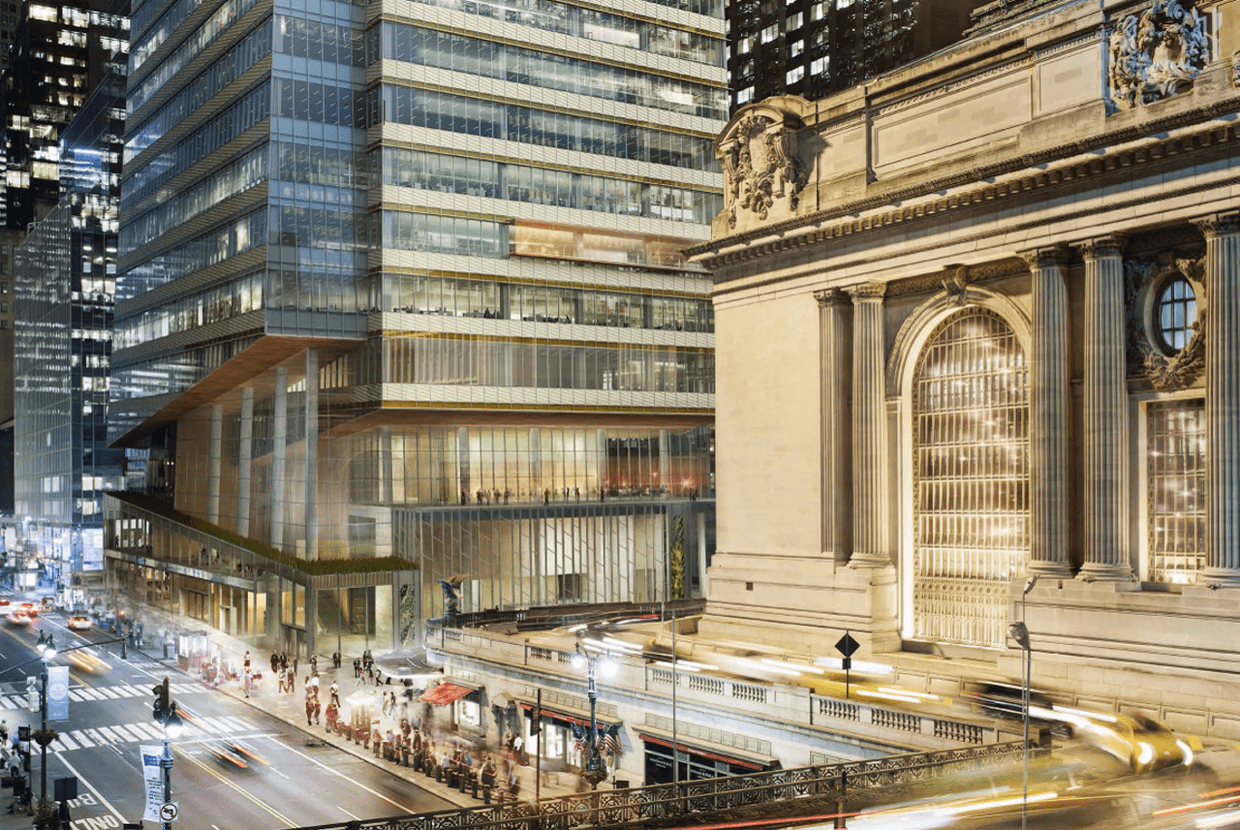 On March 30, Mayor Bill de Blasio agreed to the Vanderbilt Corridor Text Amendment, which will rezone the five-block stretch of East Midtown Manhattan. The amendment includes the construction of the controversial One Vanderbilt tower – a giant 1,400-foot-tall commercial skyscraper – that is set to rise next to Grand Central Terminal.
The City Planning Commission voted 12-0 to approve the $1 billion, 67-story tower, proposed by SL Green Realty. Although The City Planning Commission approved the Text Amendment, they made some modifications to SL Green's original design for the office tower known as One Vanderbilt. The changes included improving access to retail at the base of the tower and providing amenities to commuters. These are minimal modifications for SL Green, who plans to push the boundaries of One Vanderbilt by increasing the underlying zoning – in purchasing additional air rights and pleading to pour an additional $210 million of improvements into Grand Central Terminal.
The rezoning represents a key commitment from the mayor, who hopes new towerlike One Vanderbilt will replace aging office buildings. "The proposed building itself would be a significant addition to the East Midtown business district and to our skyline. It would provide the first new office space in at least a decade in the area around Grand Central Terminal, helping further the City's goal of keeping East Midtown one of the best addresses in the world. It would also be one of, if not the, most sustainable office buildings in the city", said Chairman Carl Weisbrod of the Planning Commission Weisbrod stated, "The improvements must be undertaken at the developers risk and must be completed before any bonus space is occupied in order to assure that the public benefits are achieved." The main concern that lawmakers are faced with stated City Councilman Daniel Gardonick, who represents the area, is whether the upgrades are a fair trade for nearly 535,644 square feet of extra development going to SL Green.
The important goal for the Vanderbilt Corridor Rezoning is to encourage modern commercial development. By encouraging modern development, RL Green Realty intends to create a mechanism to link new development to the much-needed infrastructure and public realm improvements in the Grand Central area. While Andrew Penson – the relatively unknown owner of Grand Central Terminal – is concerned that these improvements will allow developers to construct larger buildings devaluing the air rights above the landmarked terminal. While Penson may disagree, SL Green chief executive Marc Holliday said he and the others at the real estate investment trust were "extremely pleased" by the vote. Holliday stated, "As we work collectively to create a 21st century vision for the greater East Midtown business district, we believe One Vanderbilt will serve as an exceptional model for future development."