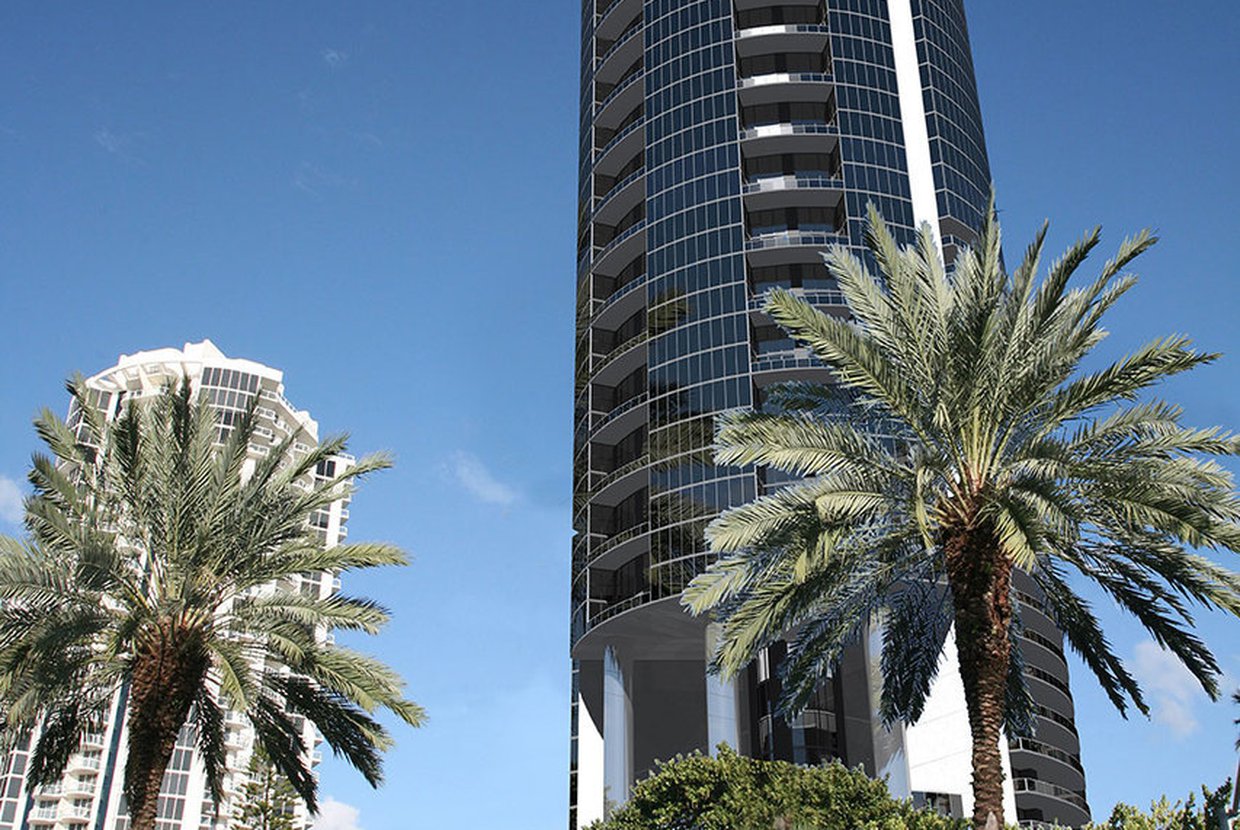 Luxury developers are taking advantage of established design labels. In Miami, buyers have committed millions to be able to live in the Porsche Design Tower, though construction won't be completed until early 2016. "What we're selling is luxury," says Gil Dezer, the developer of the Porsche Design Tower. "The buyers already know the brand. They like the style, they like the look and that's why they feel more comfortable buying it." Brand trust certainly goes a long way; a study compared the behavior of consumers in regards to trusted/distrusted companies. Across the board, consumers were likely to recommend a trusted company, pay more for their services/products, share positive opinions online, and defend the company. Distrusted companies, on the other hand, are openly criticized. Developers like Dezer have identified the advantage of utilizing brand trust as a brilliant real estate strategy.
The Porsche Tower will be shaped like a piston driven into sand, containing three car elevators. Each can deliver a convertible up 60 stories and then slide it into the owner's personal steel-reinforced garage. "It's for guys who love their cars – to have a place to put them and hang out with their friends," Dezer told The Real Deal. Nearly all of its 132 units have been sold already.
Dezer is also working on a condo project known as the Armani/Casa. According to The Real Deal, the 60-story condominium will have 260-units. "Armani/Casa was born from my desire to see my design aesthetic at work in interior spaces," CEO Giorgio Armani said in a written statement. "On a project like this where we have the benefit of partnering with a talented architect like Cesar Pelli, we get the opportunity to create something really very special – a remarkable living space, imbued with the spirit of modern elegance." Foreign buyers who are unfamiliar with the real estate market are inclined to trust these brands, which already have an international reach.
Mumbai, India is also embracing branded luxury homes. According to the New York Times, Lodha Group, India's biggest developer, is at the forefront of this movement, partnering with Jade Jagger and Armani. India is booming with wealth, increasing the demand for a more luxurious lifestyle and branded homes. Sunteck Realty, another Indian developer, is partnering with Disney to create condos with unique children's rooms that can be customized by the buyers.
Despite the trend's immense success, Mr. Lodha of Lodha Group expresses concern, saying "I think branded residences in India have started to become a little trivialized. If you stretch it too far, quite frankly, we don't think consumers are falling for that." If too many developers eagerly slap on a brand name without taking the time to justify the expectations consumers have when they see the name "Armani" or "Porsche," those brands will lose consumer trust. In order for the trend to maintain its momentum, developers must maintain the integrity of the brands their condos are named for.
Branded condos are scarcer in NYC. Baccarat Hotel & Residences in Midtown was only recently completed.