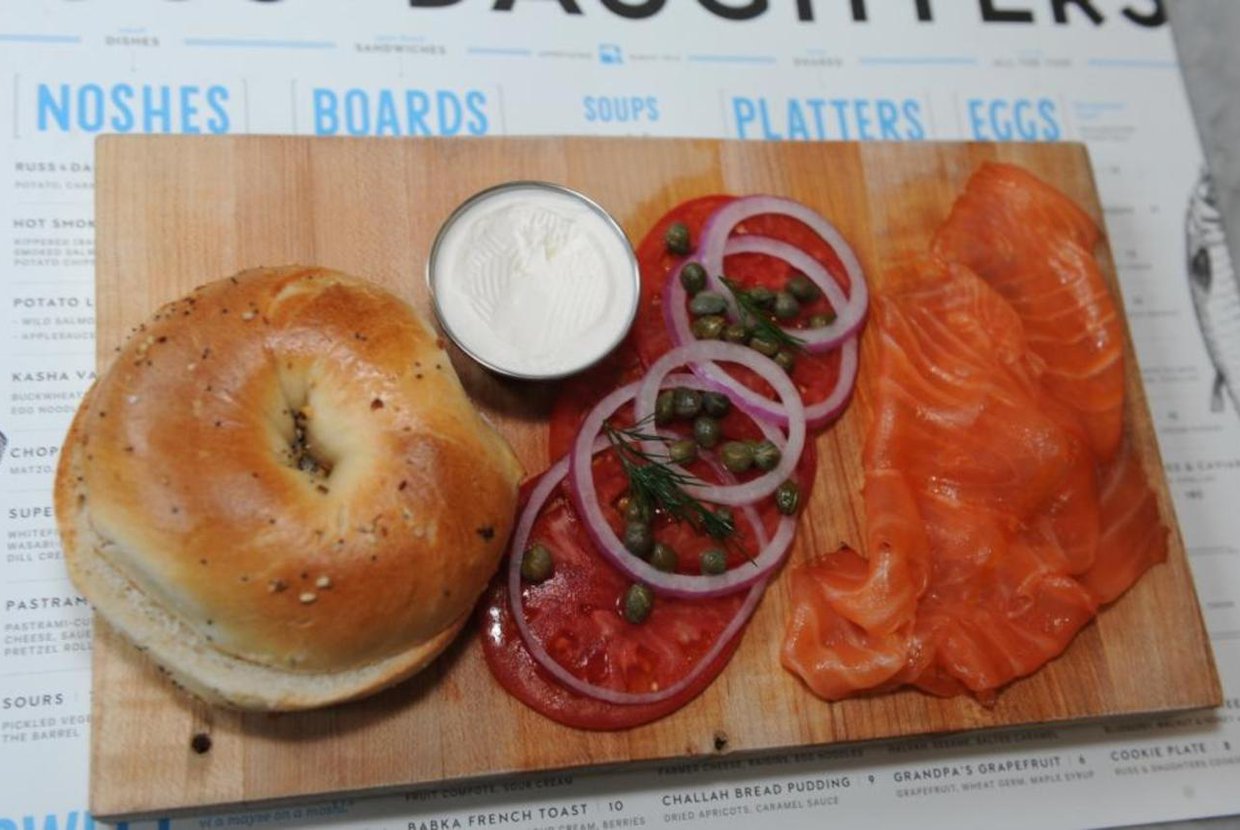 YIMBY recently revealed renderings for 57 Orchard Street, the Lower East Side's newest hyper-modern luxury condo design. The "razor-sharp copper clad facade" is slated for completion in 2017 and will add a uniquely avant-garde aesthetic to a street deeply rooted in the immigrant history of the Lower East Side.
Not always the hipster hangout it has become, Orchard Street's story dates back to its origin as the 18th-century orchard of colonial politician James De Lancey.
In the early 20th century, it became the epicenter of immigrant tenement life in Manhattan: immigrant families working in nearby factories or neighborhood storefronts. The architecture of the street has traditionally been low-rise red-brick buildings with fire escapes climbing their facades, though luxury condos like 57 Orchard will soon change the landscape. The street teemed with stores selling discount wares run by the immigrants who populated the Lower East Side, making it the main shopping thoroughfare for the neighborhood. The blocks between East Houston and Delancey Street were long known as the 'bargain district', with shop owners hawking discount clothing, leather goods and luggage. Below Delancey, there are still some Orthodox Jewish-run shops selling men's suits, while the whole section of the street above Delancey is closed to traffic on Sundays so stores can set up stalls outside for an open air market.
These days, Orchard Street's music, dining and nightlife scene make it more trendy hipster enclave than working class bargain district while its luxury condos have deemed it a highly desirable address. Below Grand Street, Orchard runs into Chinatown and remains far less gentrified than its northern strip.
60 Orchard Street- The striking lightbox facade of this contemporary luxury condo building adds a stark contrast to the red brick and fire-escape clad buildings that flank it. There are seven spacious condos inside, one per floor. Curved entryways offer a futuristic feel. Sharp, clean lines compose a minimalist, modern aesthetic in the homes. The kitchens feature black granite contrasting with white integrated refrigerators, cabinets and pendant lighting illuminating state-of-the-art appliances. All residences feature angular balconies or roof terraces seamlessly connected by folding glass walls.
Russ & Daughters Cafe- Russ & Daughters has been a Lower East Side institution since the Eastern European Jewish emporium on East Houston Street began serving smoked fish, shmears, dried fruits and caviar in 1914. One hundred years later, the fourth generation owners opened an eatery around the corner at 127 Orchard Street. The new cafe counterpart has mirrored the iconic original with its neon signage, herringbone floor tiles and slicing counter, but with a full menu of noshes, platters and sandwich boards, an open kitchen, and a throw-back soda booth serving egg creams, cocktails, beer and wine.
Tenement Museum- The Lower East Side Tenement Museum at 97 Orchard Street and its Visitors Center at 103 Orchard are veritable time machines back to turn of the century immigrant life in New York. In 1988, historian and social activist Ruth Abram was looking to build a museum honoring the history of America's immigrants. She stumbled upon the tenements at 97 Orchard, finding a dilapidated building with its original finishes still intact. With meticulous research, Abram and her co-founder were able to restore the apartments to their original state, turning the space into a real life diorama of tenement life. Over the past two decades, the Tenement Museum has showcased six apartments reflecting the lives of the European immigrants who inhabited them a century before.
75 Orchard Street- With its traditional brick and fire escape facade, this charming walk-up at 75 Orchard Street embodies authentic Lower East Side living with thoroughly modern renovations. Hardwood flooring, stainless steel appliances including dishwashers, cherry wood cabinetry and granite countertops make the apartments feel luxuriously contemporary while living in an iconic representation of traditional New York architecture.