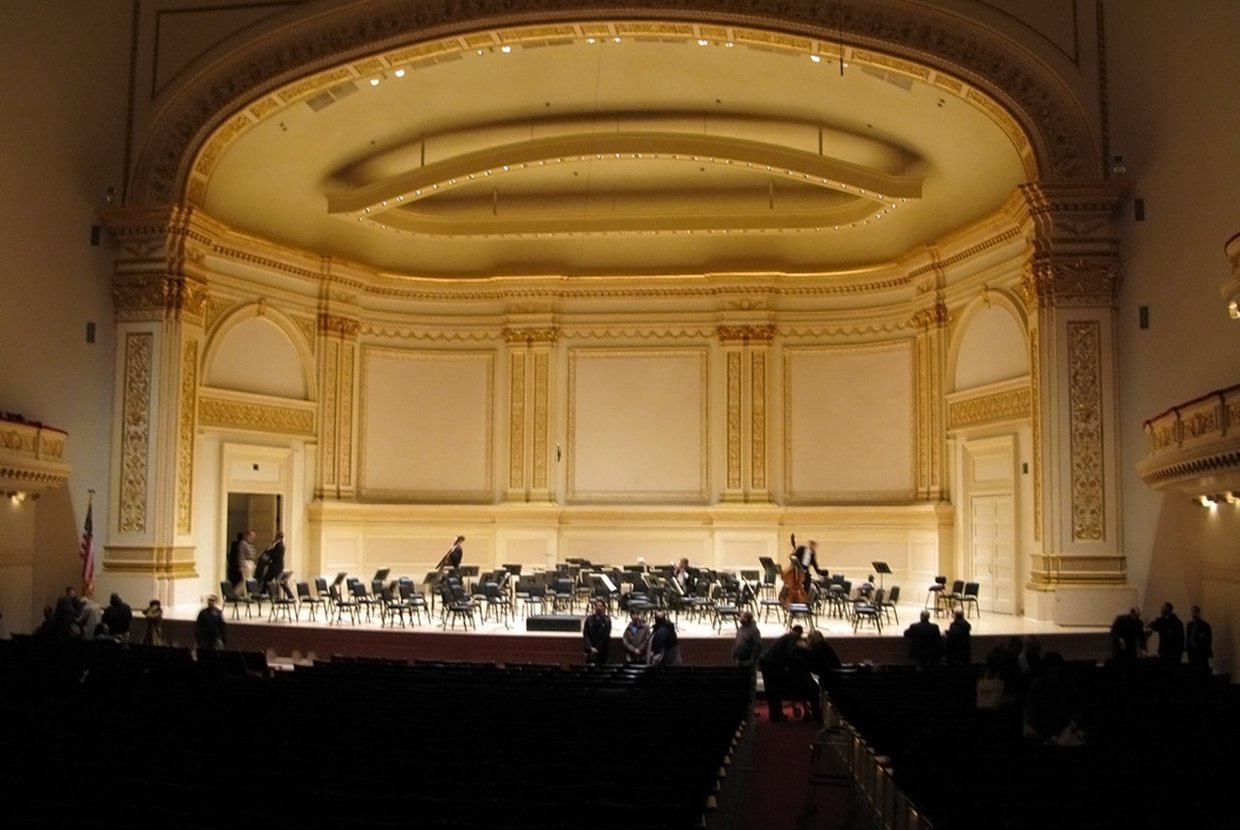 Today in 1961, Judy Garland performed what is often known as "the greatest night in showbiz history" at Carnegie Hall. The legendary performer's killer act was made all the more unforgettable by the venue itself. With 124 years of performing arts history and a near brush with demolition, Carnegie Hall is a legend in its own right.
Not to be confused with uptown respite Carnegie Hill, Carnegie Hall in Midtown West was built and funded by industrialist and philanthropist Andrew Carnegie, who, in 1887 had met Walter Damrosch, the conductor of the Symphony Society of New York, while traveling from New York to London. They began talking about their vision for a new concert hall in Manhattan, and Carnegie, in his typical philanthropic nature, committed to funding the endeavor.
Built with a regal Italian Renaissance-style facade, Carnegie Hall opened in 1891 as a venue for artists of all varieties to showcase their crafts. Carnegie stated the hall's mission would be "to stand for ages, and during these ages it is probable that this Hall will intertwine itself with the history of our country," and this proclamation has come to fruition in its rich cultural impact on New York and the nation.
Throughout the years, world famous talent and important political figures have graced the stages of Carnegie Hall.
Rachmaninoff had his Carnegie Hall debut in 1909, performing his Second Piano Concerto with the Boston Symphony Orchestra.
Benny Goodman performed with one of the first racially integrated orchestras in 1938 for a swing concert that brought such jazz legends as Count Basie to the stage. This live recording remains one of the best-selling jazz albums ever.
1968 brought Dr. Martin Luther King Jr. to Carnegie Hall as a keynote speaker for a tribute to W.E.B. DuBois. His Carnegie Hall address was the last major speech he would give.
After the death of Mr. Carnegie, his wife sold the hall to real estate developer Robert E. Simon, who promised not to tear it down as long as the venue kept paying for itself. Several decades later though, Carnegie Hall almost met its demise at the hands of Robert Moses' notorious Slum Clearing Committee. In 1955, he announced its plans to demolish a large swath of tenements around Lincoln Square and bring a new home for the New York Philharmonic, which was responsible for a huge chunk of Carnegie Hall's funding. The move would financially cripple the hall, and its demolition seemed inevitable.
In December 1959, world-renowned violinist Isaac Stern finished a remarkable 12 performances in four days at Carnegie Hall and commiserated with philanthropist Jacob Kaplan that he may have played his last act at the doomed venue. An idea was born between them to save the venue, with Kaplan providing funding and Stern spearheading the campaign. He organized civic leaders, mobilized a committee and launched a campaign asking the City of New York to buy Carnegie Hall. His challenge was to convince the mayor that "Carnegie Hall would not compete with Lincoln Center, but could instead be saved to serve as a national center for teaching music and the development of young artists." He began a petition and procured the signatures of famous musicians, civic leaders and politicians.
On June 10, 1960, the city agreed to purchase Carnegie Hall for $5 million.
Thanks to Isaac Stern's grassroots campaign, Carnegie Hall narrowly escaped being a distant memory. It was designated a National Historic Landmark and New York City landmark in 1964 and 1967, respectively, protecting the world famous arts institution from any future destruction.