#TBT: Coney Island's Colorful History
Serena Horrigan
| April 02, 2015 | Published in
Elegran Insider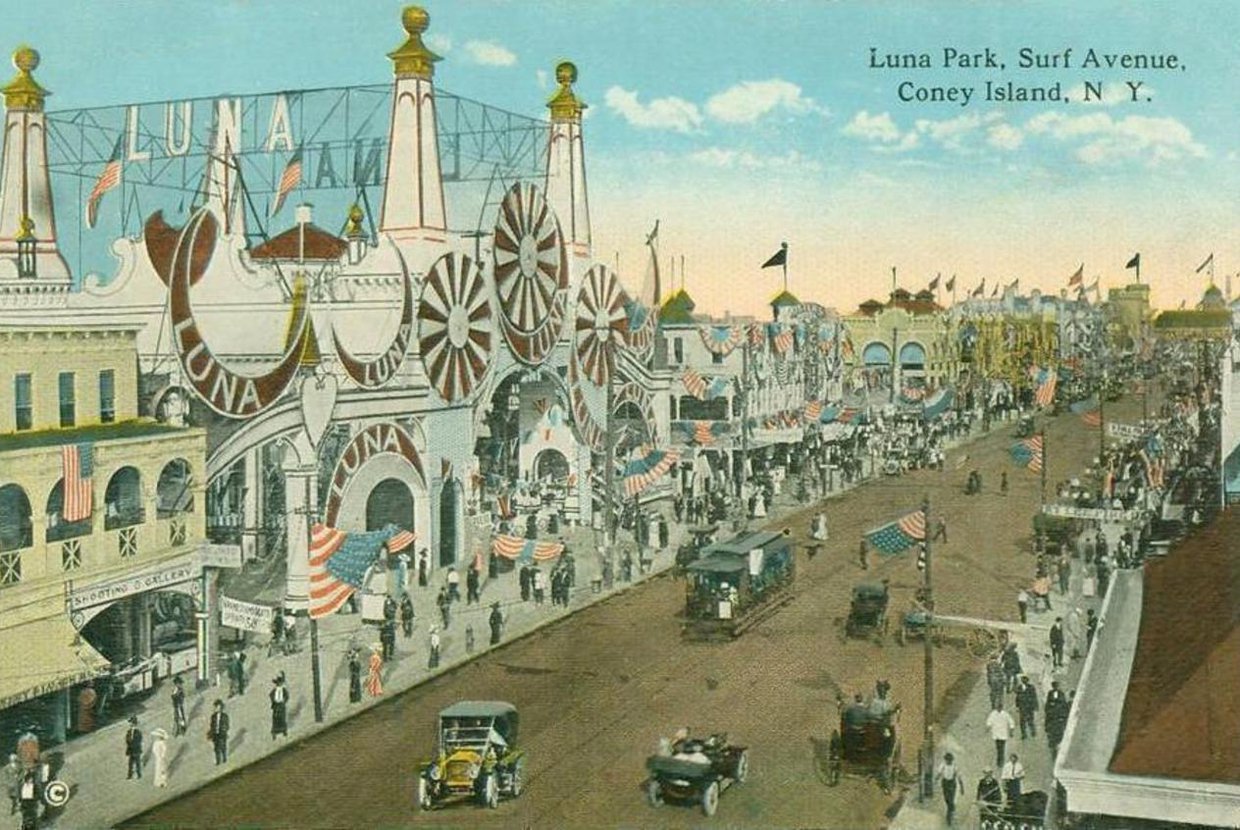 Coney Island's legendary Cyclone opened this week to some chaos when the roller coaster got stuck during its first run of the year! Luckily no one was harmed, but this marks the newest event in Coney Island's unique and colorful history. Grab a famous Nathan's hot dog and let's take a historic stroll down the iconic boardwalk.
The proximity to Manhattan and natural beauty made the island a natural choice for tourism, and when The Coney Island Hotel was built in 1829, it brought with it an era of gravitas and elegance to the beachfront area. Other upscale, luxurious resorts followed, and Coney Island became a destination for Manhattanites looking to escape the city for the eclectic entertainment, fresh air and a beach vacation. By the early 20th century, Coney Island was a sea of bathhouses, amusements, clam bars and novelty shops.
The first carousel and roller coaster were built in Coney Island in the late 1800s, starting a thrill seeking trend that spread to every corner of the earth.
The amusement park Luna Park opened in 1903 to much fanfare. It had fanciful architecture and intricate towers lit up with thousands of twinkling electric lights, an elaborate novelty during the early days of electricity. It staged fantastical villages, sideshows and novelty exhibitions, providing the first large-scale escapism entertainment industry. The world-famous Cyclone roller coaster opened in 1927 and has been hugely popular ever since.
Tourists didn't just come to Coney Island for Luna Park's entertainment value. Its beautiful shoreline and boardwalk attracted masses of beachgoers, and when the ornate and grandiose Shore Theater was built in the Roaring Twenties with a flapper-era flourish, it attracted New York's most glamorous socialites.
Coney Island was also a bonafide dining destination, with eateries opening up all over the beach. The most famous of these opened as a tiny hot dog stand on Surf Avenue by Polish immigrant Nathan Handwerker. Since then, Nathan's Famous has become one of America's most recognized and beloved food institutions, attracting such notable customers as Al Capone, Cary Grant and FDR, who infamously served the hot dogs to the King and Queen of England in 1939. To this day, Nathan's original Coney Island restaurant is a worldwide tourist attraction with a reputation for being among the best hot dogs in the world.
Coney Island's heyday of the early 20th century began its decline in large part to a seemingly unrelated factor: automobiles. Once cars were widely available, more New Yorkers began traveling to New Jersey and Long Island for beach getaways and out-of-town entertainment. This combined with some general mismanagement and misfortune brought about the closing of Luna Park in the late 40s, marking an official end to Coney Island's golden age.
Coney Island has seen revivals since its glory days. Amusement park Astroland took the place of Luna Park in 1962, though it closed in 2008. The Cyclone is a NYC landmark and has a spot on the National Register of Historic Places. Today, many classic boardwalk traditions have been reimagined, such as the Sideshows by the Seashore, the Mermaid Parade celebrating seaside arts and culture, and the annual Nathan's Famous Fourth of July Hot Dog Eating competition.
Even Luna Park is having a rebirth, having reopened in 2010 as a totally re-imagined venue for games, rides, retail and eateries for a new generation of thrill seekers.