A Chinese Developer for the Ultra-Luxe 118 East 59th Street
Ilana Yoneshige
| May 18, 2015 | Published in
Elegran Insider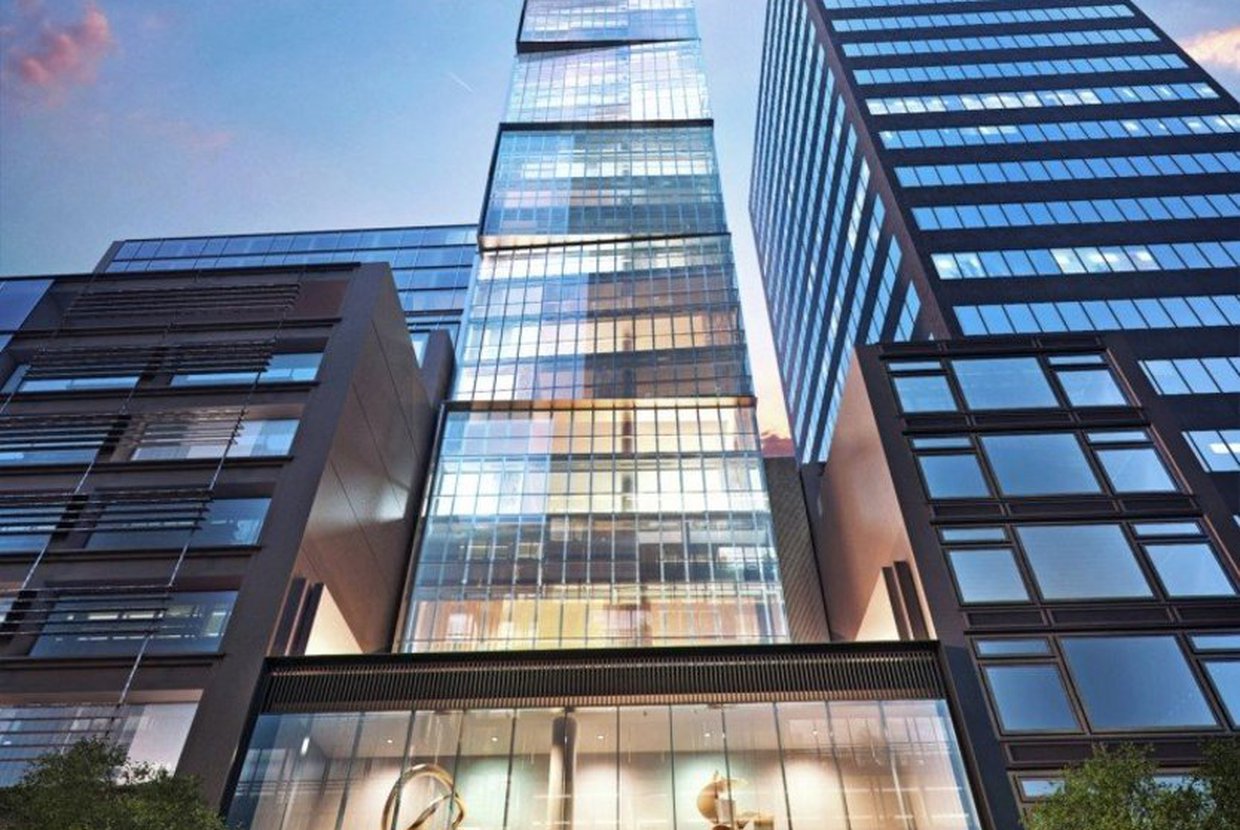 Rendering via New York YIMBY
Chinese architect firms have designed projects in New York, partnering with local developers, or working completely solo, but never before has a condominium been entirely realized by a sole Chinese developer. Based in Hong Kong, Euro Properties specializes in real estate developments in the international market, responsible for new constructions in Australia, China, Singapore and the United States. Euro Properties will be the first developers to extend their reach into the New York Real Estate scene via the 38-story luxury condominium at 118 East 59th Street, reports the New York Times.

Demolition of the four-story building that once stood at the site in Midtown East has already been completed, though the foundation is only scheduled to be poured in June and sales are set for September. 118 East 59th Street will have a facade that "recalls the pressed-down buttons of an old-fashioned tape recorder," as it has angled sections, like unevenly stacked glass boxes. Each of the 29 units will occupy at least a full floor, and most of them will have two bedrooms and about half will have Central Park views. The kitchens and baths will be finished with marble; the baths will also have bidet-style toilets. The included amenities are still being discussed, though Neo Que Yau, chief executive of Euro Properties, says that there will almost certainly be a fitness center, treatment rooms for massages, and a lounge with outdoor gardens. Euro Properties is remaining true to its tenets, ensuring top notch customization, comfort, convenience, culture and creativity at 118 East 59th Street, with prices that will be consistent with ultra luxury new developments in the area.
Soo Chan, president of SCDA Architects is responsible for the design, though he is better known for his "Neo-Tropical Architecture" which blends indoor and outdoor spaces. His New York debut, the Soori High Line, is being erected at 515 West 29th Street. The ultra-luxe condos have private pools inside traditional living room spaces. Though this phenomenon is unusual in the United States, interior design features like those in Soori High Line are more prominent in Asia. Many think the concept of these mixed spaces is too bizarre, and wonder "how do I maintain it?" Chan is not worried about selling the units, though, because "true luxury means never having to worry about all these particulates."
With Soori High Line in mind, we have a lot to look forward to as the luxurious 118 East 59th Street continues to be developed.