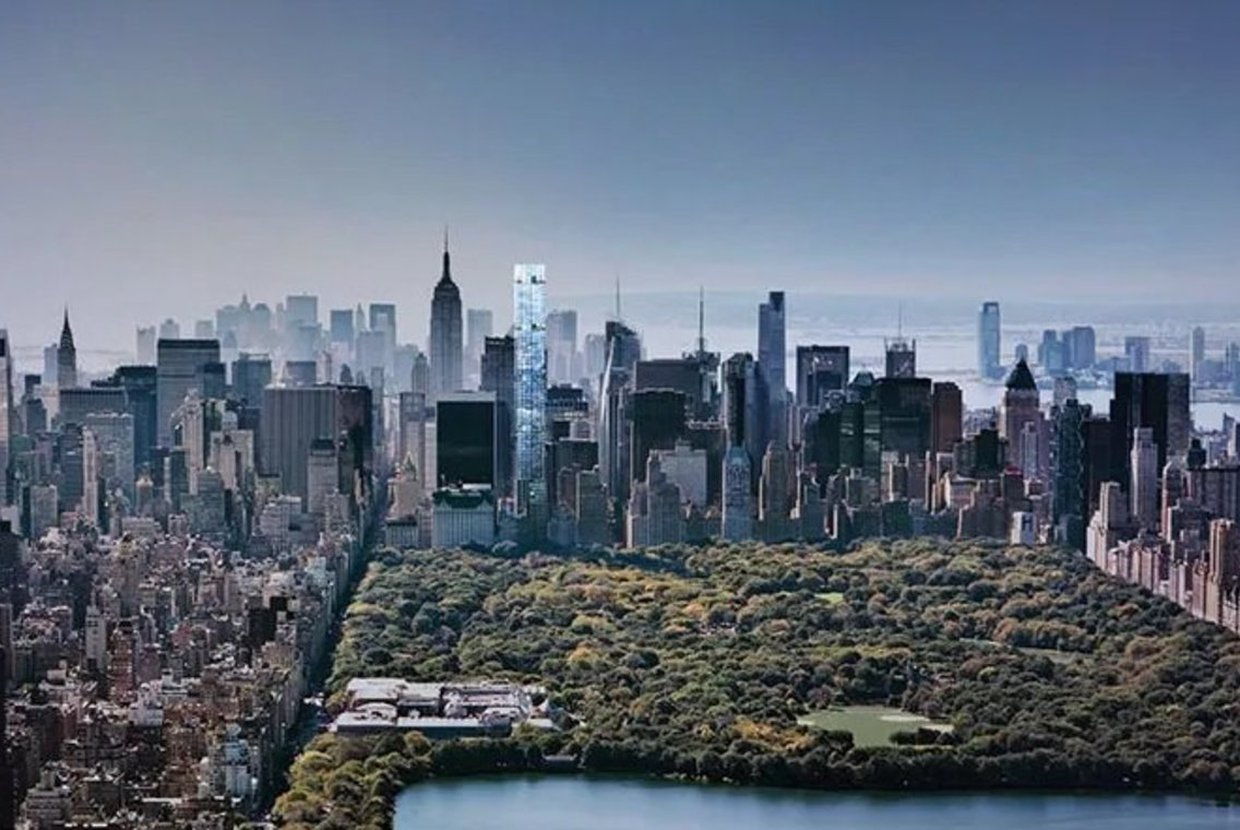 Last week, Manhattan's Community Board 5 voted in favor of a temporary, but immediate, moratorium on new construction over 600 feet tall along Central Park.
The area in question is the area near Central Park from 53rd Street and Central Park South and Fifth Avenue to Eighth Avenue, which in recent years have seen an onslaught of those supertall, superslim skyscrapers, such as One57 and 217 West 57th Street, on and around 57th Street's Billionaires' Row.
In a brief to the mayor's office and the Department of City Planning, the board proposed a ban which focused on seven of these behemoth pencil towers for the imposing shadows they cast on Central Park and the views they impede citywide. The current laws are staggeringly lax for developers, and the zoning and land use regulations in place allow for "as of right" development which let the plans developers have for a purchased site remain less than transparent. Because of this, developers have enjoyed a sort of free for all in the sky, and the board argues this approval process requires stricter regulations for several reasons.
Besides the fact that these supertall constructions are obstructing views for existing buildings and casting long shadows on Central Park, other issues the board points to include tax loopholes, the very real risk of construction dangers associated with building to such unprecedented heights, and the risk to historically and architecturally important buildings on or around land that developers want to purchase.
On that note, less than a week after the proposed moratorium, Yimby revealed 1 Park Lane's renderings for its 1,210-foot tall glass condo tower. Its height will make it one of the tallest residential buildings in the city. And Its location? The luxury condos will break ground at 36 Central Park South, directly on top of the Helmsley Park Hotel. The historic hotel's fate was sealed when it was denied landmark status last October, and according to 6sqft.com, its gutted foyer is all that will remain.
Designed by Handel Architects, this newest glassy skyscraper overlooking Central Park is slated to have 88 private-terraced condos and cost $1.7 billion, with a proposed revenue of $2.3 billion.
Yimby explained that 1 Park Lane's location near the park's east side will "help bridge the gap in the skyline between the larger towers of 57th Street".
This filling in the skyline is, of course, what the Manhattan Community Board is rallying against, and an ironic result of this is that these luxury towers are, in some cases, getting in the way of each other. 1 Park Lane, for example, will allegedly block the Central Park views of the MoMa Tower at 53 West 53rd Street, whose renderings are up and sales set to begin soon. This 1,050 tall angularly stacked glass luxury condo structure, designed by starchitect Jean Nouvel, is almost a decade in the making and will sell units starting at $3.18 million. Its unique exterior design means that some of the lower units views will be blocked...by itself.
Where do you stand on the Central Park Skyscraper Moratorium? 6sqft.com lets you vote here!