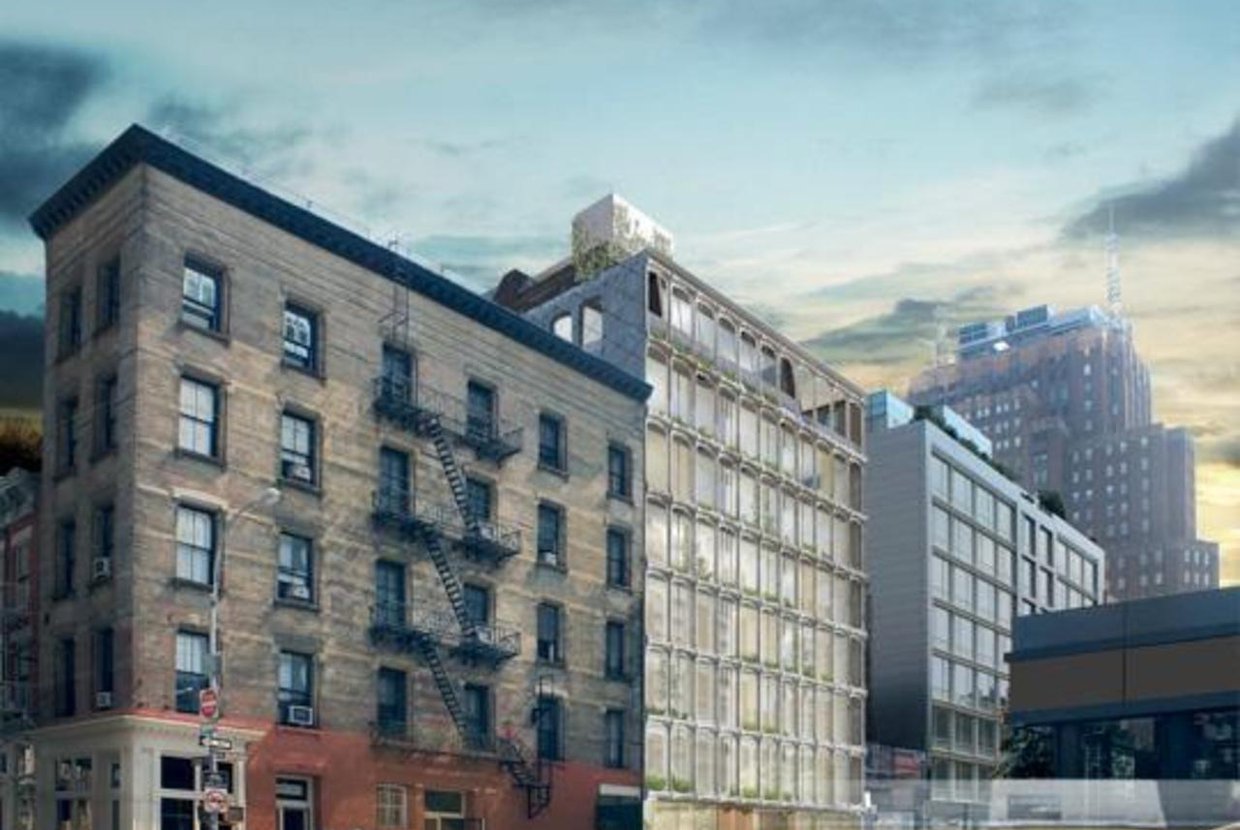 The restaurant industry celebrated its biggest awards gala, The James Beard Awards, last night in Chicago. The best new restaurant of 2015 went to Bâtard, which opened last year by world-renowned chef Drew Nieporent on West Broadway. This thoroughfare serves as the western border for Soho's Cast Iron Historic District before running down through Tribeca and has stunning architecture, iconic culture, and a gritty past.
West Broadway runs north/south from Park Place up to West Houston though prior to 9/11 it continued down to Vesey Street. It had quite a bad reputation in its early days, and in the 1800s was nicknamed "Rotten Row" for its prevalence of expensive brothels, which led to slum-like conditions in neighboring tenements. Much like the Bowery of this era, West Broadway's dismal fate was further sealed by an elevated train, in this case the Sixth Avenue El, that submerged it in shadows by blotting out the sun, further reducing the desirability of the already struggling thoroughfare. Luckily for the future of West Broadway, the Sixth Avenue El was demolished in 1939, and West Broadway's depraved 19th-century incarnation is a far cry from the luxury condos, upscale boutiques, and world famous restaurants that line it today.
Bâtard- The James Beard Winner for Best New Restaurant opened quietly last summer at 239 West Broadway, with celebrity restaurateur Drew Nieporent at the helm and chef Markus Clocker, who previously honed his skills with Gordon Ramsey, in the kitchen. This American Nouveau venture, named for one of Burgundy's famous Grand Cru's, got three stars from the Times for the classic sophistication, flawless execution and sublime flavors of its dishes, and warm, welcoming dining room. The menu is ever-changing, with beautifully composed dishes like a fried zucchini blossom with poached prawns and lobster served with candied lemon zest and yellowfin tuna with marinated radish and quinoa. For desert, caramelized milk bread with brown butter ice cream and berries is a summer sensation, and the unsurprisingly Burgundy-centric wine list offers impressive variety and scope.
325 West Broadway- Slated to open in late spring, the condos at 325 West Broadway were once home to a chocolate factory, and its stunning cast-iron architecture is currently being meticulously restored to reflect its prior life. The 9-story building in Soho's Historic District will offer 24 residences with private terraces, vanity bathrooms, and state-of-the-art stainless steel appliances. Amenities will include a private courtyard, fitness center, and concierge.
The Odeon- Anyone familiar with the 'Me Decade' excess of 1980s New York is no stranger to The Odeon. Whether you experienced it in its heyday or just read about it in Bright Lights, Big City, you know the French bistro at 145 West Broadway is more than restaurateur Keith McNally's inaugural neighborhood-defining restaurant. It's a relic of 80s nightlife and culture deeply embedded in New York's collective nostalgia. These days the Tribeca landmark is less Page 6 and more mainstay neighborhood bistro, but it's still a popular choice for moules frites and croque monsieurs washed down with inspired cocktails and a French-forward wine list.
The SoHo Gallery Building- Built in 1900, this aptly named 7-story loft at 420 West Broadway was SoHo's first gallery space and became the most prominent venue to view the early works of Roy Lichtenstein and Jasper Johns. Today the lofts have been transformed into nine co-op residences, including a stunning duplex penthouse that blends ultra modern minimalist luxury and breathtaking panoramic views.