NYC Seller Stories: Kevin Huang
Nicole Kofkin
| June 30, 2015 | Published in
Elegran Insider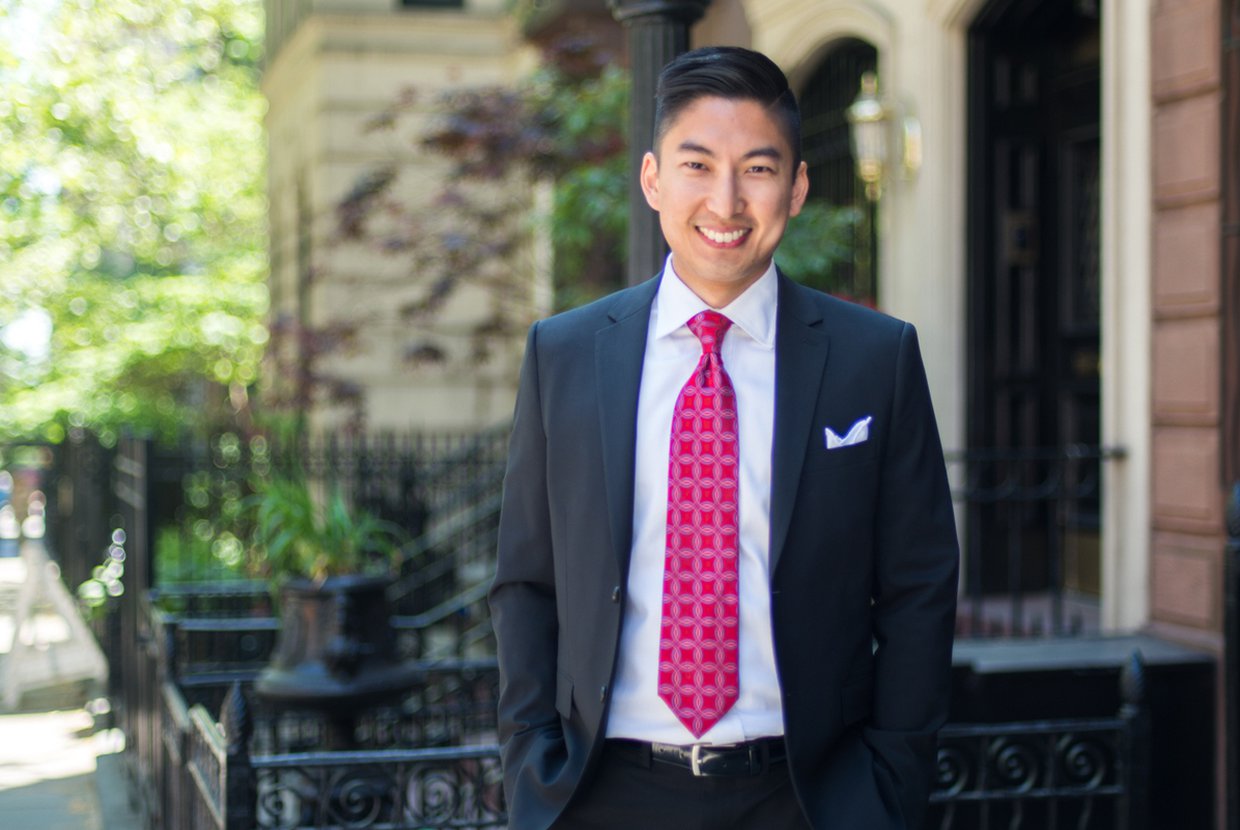 "I'm passionate about what I do. I think it's important for people to enjoy what they do, because then it doesn't feel like work."
Meet Kevin Huang, one of the newest additions to the Elegran Real Estate sales team. Born and raised in Georgia, Kevin moved to New York City six years ago, right after graduating from the University of Georgia. Feel free to speak with him in English or Mandarin, as he is fluent in both languages. Besides being a fantastic real estate salesperson, he has a third degree black belt in Taekwondo, has completed three marathons, was a badminton state champion, and competed in Junior Olympic sparring.
Q: How did you get into real estate?
I've always been interested in real estate because I am fascinated by architecture. My parents have investment properties, so I grew up seeing how to manage them, and I have personally invested in real estate as well. Being in New York you're surrounded by buildings and architecture all the time.
Q: Why Elegran?
I chose Elegran because Elegran is different. We hire outside the real estate industry. People with different backgrounds bring different angles and perspectives, and I think the clients appreciate that.
Q: Do you prefer new construction or pre-war?
New construction! There's a characteristic of pre-war buildings that you don't find in new construction, but at the same time I like new construction because of the cutting-edge technologies and architecture. Buildings are constantly evolving, and if you look at New York City, there's a story behind every building and a reason why it was built that way during that era. New construction tells the story of your modern time and what the future holds.
Q: What is your favorite neighborhood?
There's something about the charm of West Village that I love. There are so many trendy cafés and restaurants, and I just love those brownstones. Some of my favorite streets in the area are the tree-lined ones like Bedford and Bank Street.
Q: Describe your ideal New York apartment.
Gut renovated brownstone with a minimalistic modern and Japanese-styled wood interior. I would like state-of-the-art features, and nothing too cookie-cutter—something with character and originality.
Q: Describe your favorite New York annual event.
July 4th in New York is very fun. With the fireworks on the river, the best view is from rooftop decks. It's just a great way to have fun with friends. I'm from the South and I miss the barbecues, so if you're lucky enough to find a roof deck with a grill, you're set.
Q: What do you attribute your success to?
Hard work, persistence, and the people around me who make me better. I think you have to surround yourself with people who are smarter than you, and seek those who are going to push you. I have a good group of friends and coworkers who push me. You have to put in the time and effort to be successful in this business, and as an entrepreneur. No one is going to hold your hand or tell you what to do; it's all very self-driven.
Q: What is the best advice you can give first time buyers?
Understand the New York market, how it works, and what the dynamic is, because this market is completely different than anywhere in the United States—or in the world for that matter. Keep your expectations in check and know that $800,000 will not buy you a McMansion, but rather a 500 sq ft apartment. It's absurd when comparing that to somewhere in Georgia, Florida, or Texas. So know what you're getting into, have that expectation, and the process will be a lot easier.
Q: What are some key things you've learned from past jobs?
Time management is critical with anything you do. You have to be efficient and punctual. I think people overlook it because it's so simple, but the day can go by in the blink of an eye. You have to focus and not get distracted. For me everything is a learning process—you have to constantly question and challenge the status quo. One should always stay curious.
Q: What are your future aspirations?
Investing is a passion of mine, so I'd want to be a full-time investor. I will eventually develop buildings and create a holding company with real estate assets and businesses from other industries in my portfolio.
Q: Any predictions for the future of real estate?
There's going to be a significant amount of construction in emerging markets in the next ten years. You will see an influx of capital to developing countries, because there's so much land that isn't developed yet. Megacities will eventually be in these developing countries. Furthermore, I believe sustainability will be a key trend. It's not catching on very quickly, but with climate change, there's a trend towards going green.
Q: How do you overcome the hurdles of working in such a competitive market?
I think generally speaking, we all go through failures. I think my biggest challenge, because I'm a perfectionist, is overcoming failures by being resilient and continuing on. Part of this job is having the resiliency and the grit to succeed. You have to differentiate yourself in the New York City brokerage industry. NYC real estate is arguably the most competitive market in the world, but that's part of the appeal and why I love it.
Q: What makes you stand out?
I am an independent thinker. I avoid groupthink and look at things from a different perspective. I am also a curious person and always question why and how things work; from this, knowledge is gained. Moreover, I have a finance/investment background, so I can view real estate from an investor's point of view. Lastly, given my background, I thoroughly understand the Chinese culture and can cater to my Chinese clientele.
If you'd like to contact Kevin, he can be emailed at khuang@elegran.com or reached by phone at (212) 729-5712 ext. 148.