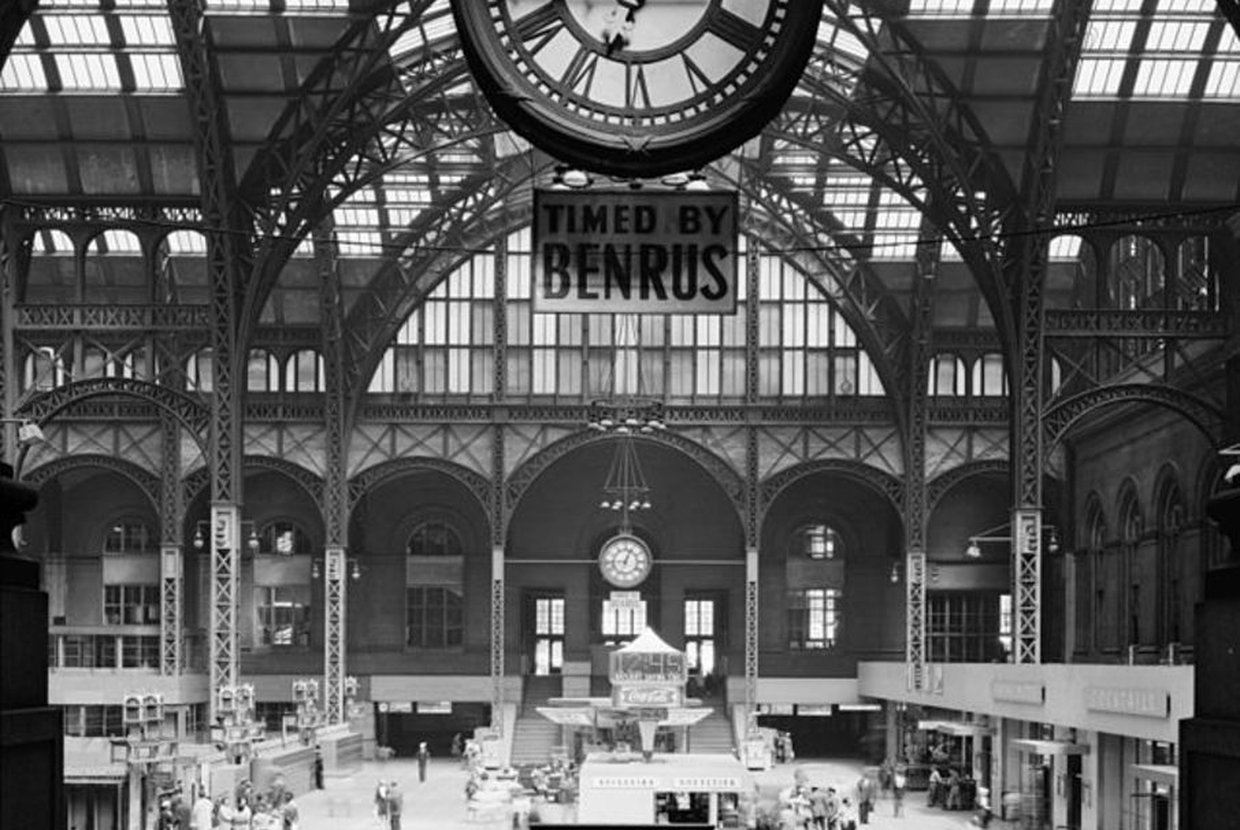 Vornado Realty Trust has commissioned Norwegian architecture firm Snøhetta to design their overhaul of the real estate surrounding Penn Station.

The Oslo-based design firm behind Times Square's public plaza was hired to create a "framework for the redesign of Vornado's current buildings and street-level spaces in Penn Plaza," according to Mark Ricks, Vornado's SVP of development. Vornado also plans to close off part of West 32nd and 33rd Streets that service what Ricks appropriately calls "the collision of humanity" to limit vehicular traffic and test the success of a pedestrian plaza.
New York City officials have pushed for improvements around Penn Station ever since the original Pennsylvania Station, a beautiful Beaux Arts structure, was destroyed to make room for Madison Square Garden. With its demolition went 50 years of rich New York City history, sparking the modern historic preservation movement.
Built in 1910, Pennsylvania Station was a stunningly ornate behemoth that spanned two full city blocks, from 31st to 33rd Streets between Seventh and Eighth Avenues. Architect Charles McKim was commissioned by Pennsylvania Railroad (PRR) president Alexander Johnston Cassatt to design what Cassatt described as "the entrance to one of the great metropolitan cities of the world." Its ornate Beaux-Arts architecture was inspired by the Gare d'Orsay station in Paris, and boasted dramatic vaulted glass ceilings, towering doric columns, and a vast, airy concourse inspired by the Roman baths. Thomas Wolfe paid homage to the station in his classic American novel You Can't Go Home Again, calling it "an architectural quality in precious materials that set the stamp of excellence on a city."
Penn Station enjoyed its heyday prior to and during World War II, with more than 100 million passengers traveling through it in 1945. After the war, the increased frequency of airline and highway travel led to a sharp decline in train ridership. By the late 50s it had fallen into disrepair and its air rights were optioned by the PRR. The fate of the once thriving, now dilapidated Penn Station was sealed on July 25th, 1961, when The New York Times announced its demolition, and with little preservation advocacy in place at the time, the Old Penn Station didn't stand a chance. Even so, protesters were outside the station picketing as it was razed to the ground. In a 1963 editorial piece "Farewell to Penn Station," preservation-minded New York Times journalist Ada Louise Huxtable wrote, "We will probably be judged not by the monuments we build but by those we have destroyed.".
Penn Station's disrepair and demolition had an indelible effect on the city and on the preservation activists who protect its architectural and historical integrity. Indeed, its fate is largely attributed with the birth of the landmark preservation movement, and in 1966, the National Historic Preservation Act became law. The law contained important provisions that "forced federal agencies to consider the potential effect their actions have on historic properties, required states to establish preservation offices to interact with the National Trust, and established an advisory council to liaison with the government's executive branch."
The National Historic Preservation Act spearheaded American landmarks preservation and established the National Register of Historic Places, overseen by the National Parks Committee. Because of these preservationist organizations, today "virtually every community in America is experiencing revitalization that has a key component in preservation", ensuring that Pennsylvania Station did not die in vain.