The Spitzer We Knew is Now Developing in Williamsburg
Nalyse Seymore
| June 18, 2015 | Published in
Neighborhood News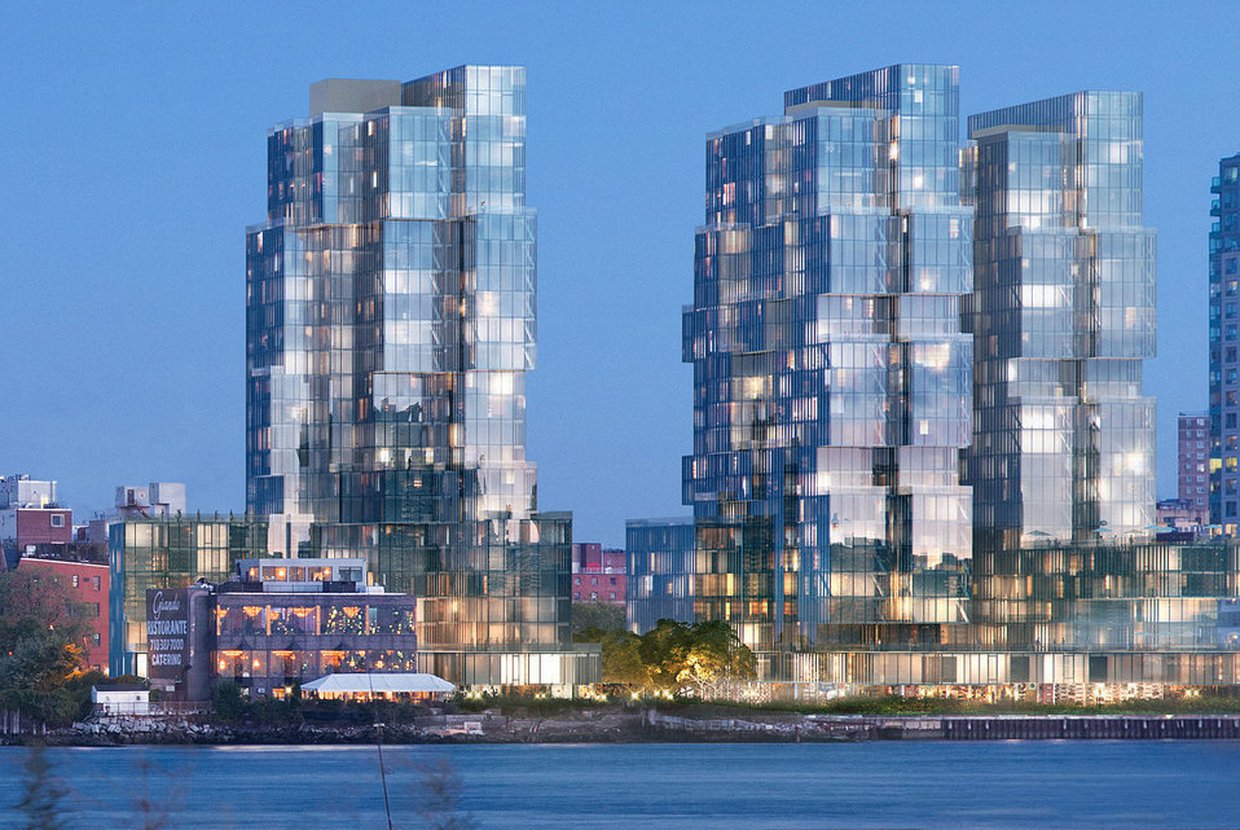 After a seven year hiatus from politics, former governor Eliot Spitzer has changed gears and is now following in the footsteps of his father, real estate mogul Bernard Spitzer. His father built 15 buildings that span New York City, including The Corinthian in Murray Hill, 800 Fifth Avenue in Lenox Hill, and 1020 Park Ave on the Upper East Side, as well as many landmarked buildings. Following suite, Eliot Spitzer's development consists of three residential waterfront towers in South Williamsburg.
Spitzer is working with architect Eran Chen of ODA Architects to design three 24-story towers at 420-430 Kent Avenue for $700 million. According to Curbed, building permits were approved as of last week. Like many of Chen's other designs, the towers will be stacked and will feature two outdoor pools, a public park, and waterfront esplanade. Spitzer wants the development to have 856 rental apartments, 20 percent being affordable housing. It will be marketed by aptsandlofts as an authentic Brooklyn property, according to the company's founder David Maundrell.
To get this plan up and running, Spitzer used building revenue from Spitzer Enterprise. According to the Times,"[Spitzer] sold the family's remaining 144 apartments in the Corinthian for $147 million. The Crown Building went next, for $1.77 billion — a huge profit given that the mortgage on the office building, which his father bought in 1991, was less than $300 million."
The competition in the South Williamsburg neighborhood adds a whooping 4,000 new units, but Spitzer isn't worried. In 2013, right before his father passed, Spitzer Enterprises embarked on a development by purchasing a site in Midtown West. According to the Times, "The Spitzer family tends to hold on to whatever it buys, making it unlikely that it would resell. But its .40-acre parcel is wedged between two other development sites." He still doesn't know what he will build there, be it a hotel, office building, or residential space. However, Spitzer is not talking about this former project, as if it were for mere practice, and instead has his eye on the trendy, South Williamsburg prize.