The World's Tallest Passive House Rises on Roosevelt Island
Ilana Yoneshige
| June 16, 2015 | Published in
Urban Design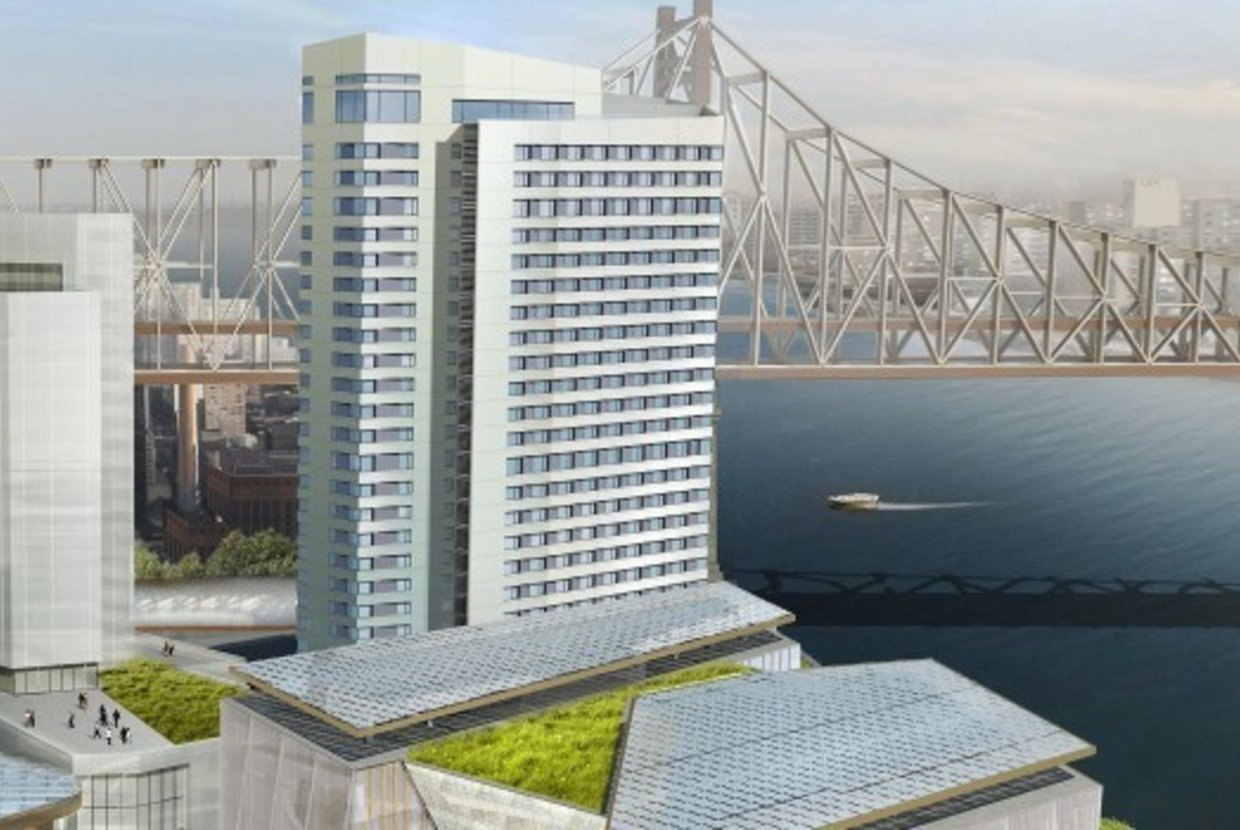 Rendering via Handel Architects
The New York Times has announced that the tallest passive-house in the world will take rise on Roosevelt Island. Construction began this month and is due to be completed in 2017. So what does it mean to be passive? Passive buildings are designed with airtight building envelope and a system that exchanges interior and exterior air to efficiently use less energy. Water for passive houses are heated primarily with solar thermal systems via the roof, supplemented only partially by electric heating. The roof insulation is thicker, and the walls use a double-wall system that is almost three times thicker than that of a conventional house. Windows are triple-glazed to minimize heat loss, and the coated glass manipulates heat to minimize in the summer and maximize in the winter. The concept of the passive house began in Germany, led by the Passivhaus Institut, though the first passive house in NYC took root in Brooklyn less than a decade ago. Since then, residential passive houses have been popping up throughout NYC, like 62 Powers Street and 90 Hall Street.
The tower will be 270 feet tall (26 stories), contain 350 units, and house even more graduate students, faculty and staff as part of a new 12-acre campus for Cornell Tech. This will surpass the current tallest passive-house building, which stands 20 stories in Vienna, completed in 2012. "We really do set the bar for this energy-efficient type of development throughout New York City," said Jennifer Klein, an assistant director for strategic capital partnerships at Cornell Tech.
The tower will have 60 to 70 percent less energy consumption than conventional high-rises. On top of being energy efficient, passive houses can also help eliminate allergies and asthmatic symptoms. The residences within the tower will be micro units of about 350 square feet, plus some more traditional one-, two- and three-bedroom apartments. Though due to the constraints of a $115 million budget, the designers rejected some of the more expensive passive-house systems seen in Europe.
Cornell Tech is working on greenifying the rest of the campus as well; the first academic building, to be designed by Pritzker Prize winner Thom Mayne of Morphosis Architects, will cost about $800 million. The passive house "is a clear signal that in today's era of climate change, it's not enough to simply build tallest. To lead the market, [Cornell's] tall building will need to be a passive house," said Ken Levenson, the president of NY Passive House.