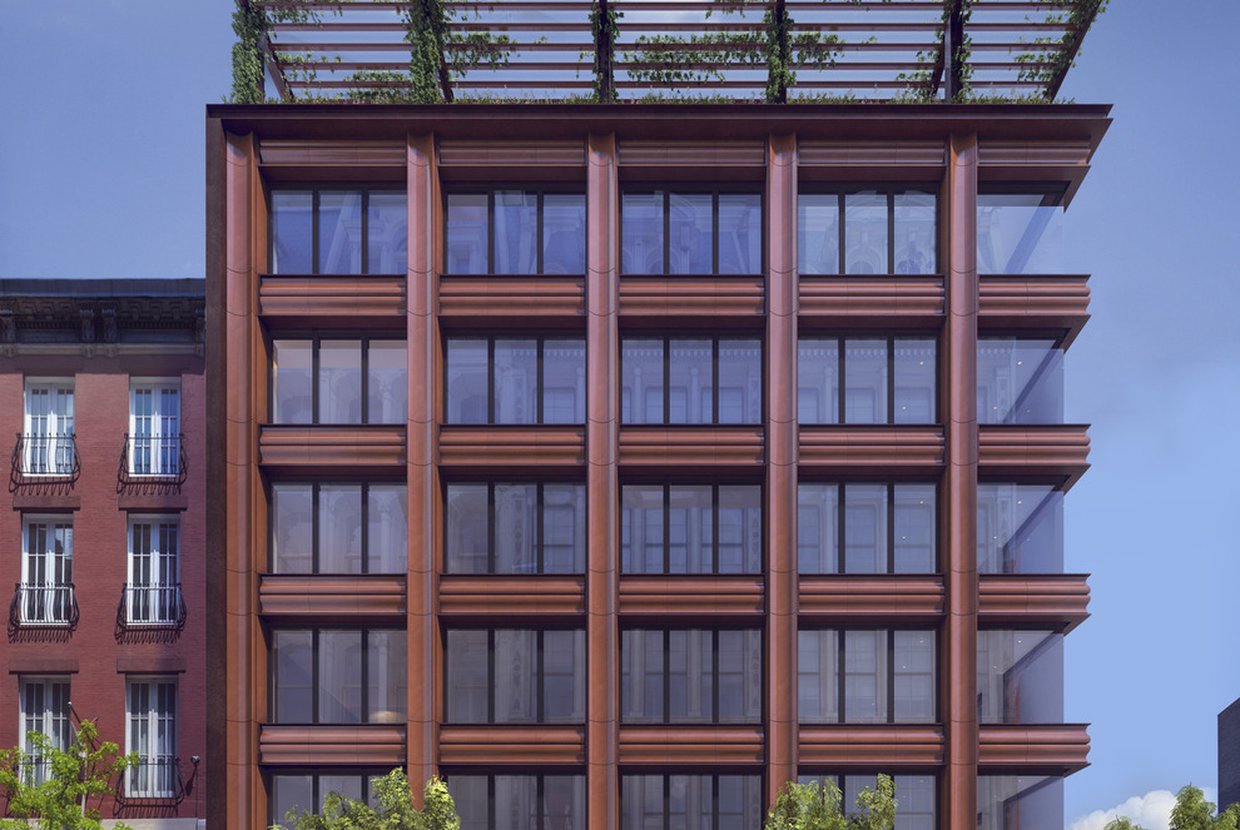 Starchitect Annabelle Selldorf is the principal architect of Selldorf Architects, and since creating the firm in 1988, Selldorf Architects has achieved "international reputation for work that is sensitive to context and program, thoughtful in execution, and timeless". They've engaged in various projects that range from highly designed residential buildings to a 140,000 sq ft. facility that recycles curbside materials.

Selldorf is a visionary of her craft fashion, creating the new within the old. "We don't always need new buildings, which is why I've always enjoyed working inside old ones, but I'd be lying if I said I didn't want to do new ones, too." Selldorf said in an interview with The Telegraph Luxury. One of her most celebrated design was the 200 Eleventh Ave luxury condo, which is listed at $19.9 million. The building has an internal ramp so residents can park in front of their own door.
In 2012, 10 Bond Street was a vacant lot of which Selldorf said, "I want to fill that vacant lot with an apartment building." Fast forward to today, the corner of 10 Bond Street and Lafayette Street, is now home to a stylish creation of terra cotta and steel that houses just 11 fancy co-ops. Selldorf has used terra cotta in a figurative way. Terra cotta was also used in her design of the 520 West Chelsea luxury condo, listed for $4.2 million to $20 million. The terra cotta material was traditionally used as architectural ornament in New York during the 19th century. Utilizing it's rustic aspect, the terra cotta captures the essence of Selldorf's architectural fashion, creating the new within the old.
Rustic, romantic, remarkable, Bond Street is a sight for sore eyes. This mere two-block, cobblestone-paved street is as historic as it is reputable for the breathtaking designs by BKSK and Herzog & de Meuron. Noho has become one of the greatest and most fashionable neighborhoods in New York City, and despite the fact Broadway and Union Square are minutes away, the constant activity eludes Bond Street. This street is home to plenty of people, one of them being "Livin' La Vida Loca" singer, Ricky Martin.
On rare occasions will you see an availability from Selldorf Architects. Aside from those previously mentioned listings, listed for $2.5 million in The Urban Glasshouse at 330 Spring St. is a flexible 2-bedroom, 2-bathroom condo Apt. 2A. It's as breathtaking inside as it is on the outside, with windows comparable in height to its high ceilings and vibrant French white oak. Nothing says 'living large' than living on imported wood floors.
Selldorf Architects has designed across nations, including Le Stanze Del Vetro in Venice, Italy, Luma Arles in Arles, France, and even partnered with David Zwirner in designing both his art galleries in New York City and in London.
Recently, Selldorf Architects contributed to the Storefront Annual Drawing Show, Measure. The exhibit goes on until September 12, 2015.