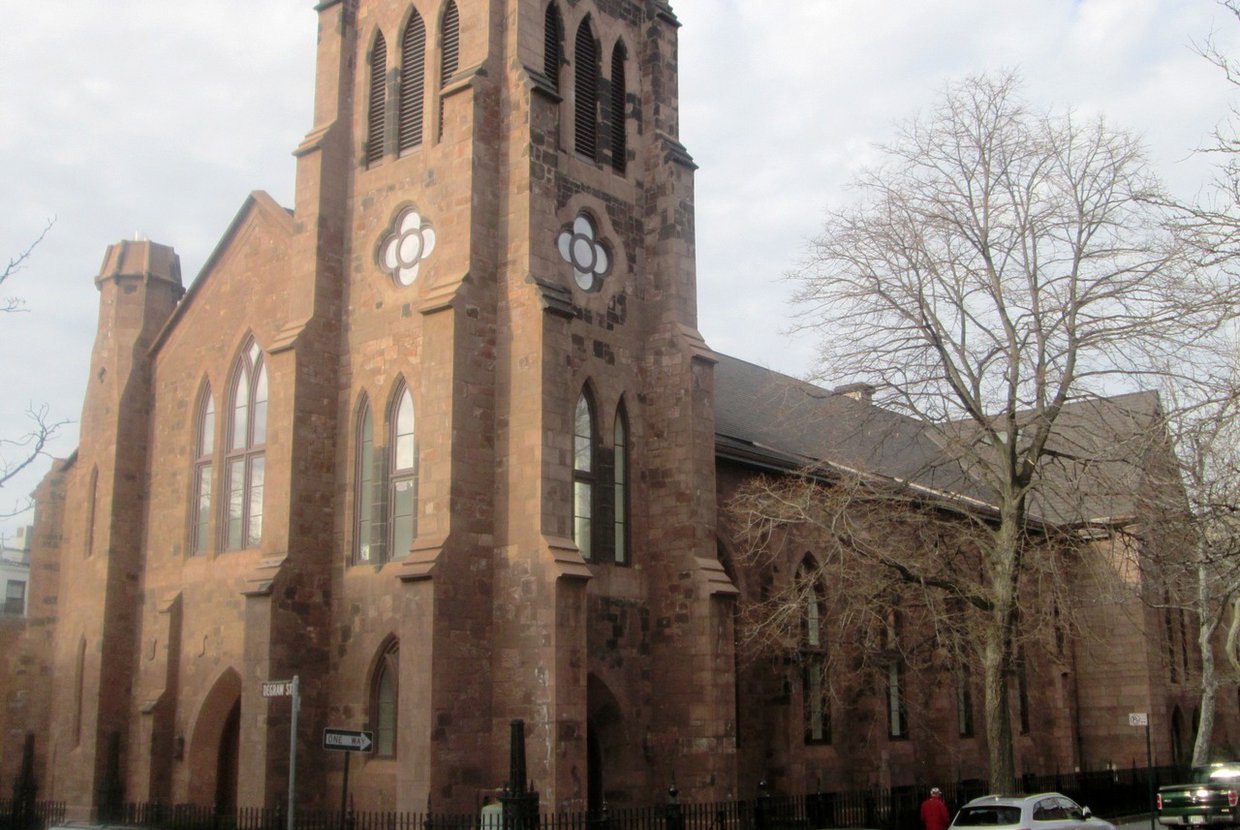 Photo of Cobble Hill's 58 Strong Place via Wikimedia Commons user Beyond My Ken by-SA 4.0
In the recent Brooklyn New Development Report compiled by CityRealty, it is estimated that the borough will see an addition of 22,000 new apartments within the next four years, with Downtown Brooklyn and Williamsburg getting the bulk of the new structures.
The information comes with little, if any, shock. King's County has become hip and excluding some relatively untouched neighborhoods, the demand to live in the borough is much higher than supply can keep up with.
But these 22,000 units are planned within, to stress the point, new developments. There's been a wave of luxury apartments, condos and co-ops that have been churned out from preexisting, yet renovated and converted, buildings. In Prospect Heights along Vanderbilt Avenue, named after Cornelius Vanderbilt, architect of Grand Central Depot, a predecessor to the modern Grand Central Station, sits Vanderbilt Place Residences at 279 Sterling Place, a four-story, 22 unit co-op converted from the landmarked 1895 built Public School 9 Annex.
Known as the Borough of Churches, Brooklyn has witnessed a decline in these historical, well-detailed structures mainly to do with their declining membership and an inability to keep up with necessary renovations.
But the parting of a church is not like that of a business. Unless the latter holds great cultural and historical significance, like FAO Schwarz, the loss is fairly easy to cope with. There's a clear purpose for churches (not ending with worship), all of which fit into the context of Brooklyn's long history, and the obligation of each church to serve its community. But there's also the quality of character. "Is there a church in the area?" may not be a common question among Brooklyn's buyers, or buyers in any market place, but a major component of buying or renting is what's around the area. Part of a neighborhood's character is a direct result of that making it a potential reason why one may decide to settle on a neighborhood.
(The next time you're in Clinton Hill, Brooklyn Heights, or Williamsburg, look to see how churches and the neighborhood fit into the context of each other.)
But with a structure like a church, as specific as its use is, when demolition is the last resort, what can be done to preserve its architectural charm and place in a neighborhood?
For many, turning these houses of the holy into houses of luxury is the prime option.
The former Carlton Mews Church at 232 Adelphi St. in Fort Greene is one of the finest examples in church-gone-condo conversions. St. Mark's Episcopal Church, a Gothic Revival built in 1888, was sold in 2001. Years went by without a plan for the church under its new owners but the partially demolished, rental-converted sanctuary has been available for leasing since early 2015. It's Apt. 7, going for a rental price of $8,000, is a pleasant reminder of previous splendor. Standard to its original state, the windows arch, mimicking the walls of this open concept 2-bedroom, 2.5-bath space.
The black and white color palette is a nod to its gothic architecture roots and vibrant new present, absorbing and reflecting natural light from the massive, stained glass window to provide a setting of tranquility. Similar in detail but packing divinity into a smaller space are The Spire Lofts in Williamsburg. A neighborhood labeled as "quirky" and "defined by experimentation and craft", the description of the original, cool Brooklyn neighborhood fits staunchly with the Roaring Twenties era building.
It's true that Brooklyn faces no shortage of churches between those facing the threat of demolition or those that are on the market. But when you're trying to preserve a name that symbolizes something unique to you, seeing what makes the foundation of that name disappear is highly disconcerting.
Church-to-luxury housing conversions are a solution to both preserving a title that has its roots in Brooklyn's early development and helps to satisfy an ever-growing demand to live here. In many ways, it is the safest bet for those who want to see their churches function for something if not worship. It's the safest bet for neighborhoods that may feel the loss of such grand works of architecture effaces history.
Architecture that predates the 22,000 expected new developments is still architecture to praise and as long as these defunct churches are deemed sacred and of value as a possible project to an owner, a developer, and a luxury housing enthusiast, Brooklyn, NY will always hold the title of the Borough of Churches.
Can I hear an "amen"?