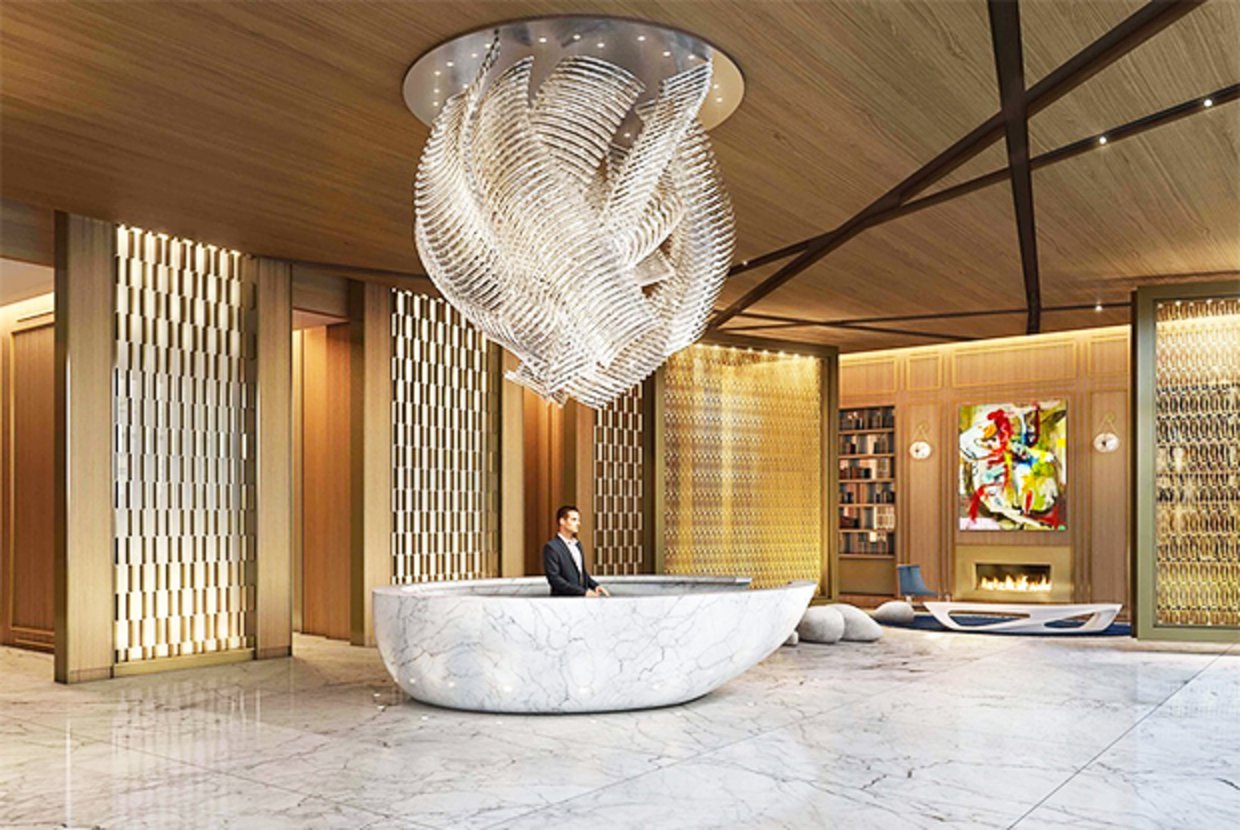 New York City is a museum of high-rises. With a constant flow of new towers undergoing development each year, some of the biggest names in the architectural industry have been testing their limits and taking new risks in the residential market.

Architect Rafael Viñoly sparked interest in 2013 with his vision for 432 Park Avenue, a new tower in Midtown that is now the tallest residential building in the nation. But another one of the most talked about new developments this year has been the tower at 605 West 42nd Street. It's not the tallest, nor the biggest, nor the most record-breaking in expenses, but it has its own persona and philosophy. And it's going by the name: Sky.
At 62 stories high, Sky is a luxurious rental tower that is structured to look like a sleek model of glass planks overlooking Central Park. With a development cost of $820 million, the building has a total number of 1,175 apartments. To put that into perspective that is more than 10 times the number of units available at 432 Park Avenue, and 70 units shy of matching the total number of rooms at the Waldorf-Astoria.
Hotel sales are now thriving with investors, making a world-wide profit of $42 billion in the first half of 2015. In response to this growing interest, architects and developers are putting together a new creature in a market: residential buildings that feel like hotels.
The data projections indicate that Sky is a strategic effort in the apartment-hotel niche. It has the highest number of rentals of any residential building in the city, but its main attraction is its likeness to the quality resort experience.
Designed by the Goldstein, Hill & West Architects; an architecture firm that specializes in high-rise hospitality buildings, the Sky residential tower is asymmetrical in shape with a futuristic spin in its appearance. But inside it has all the nuances of a cozy lodge. The ground floor is a post-modern replication of a luxurious hotel's lobby and its centerpiece is an sculptural receptionist desk made of marble. The hallways upstairs have a rich, multi-colored texture of dark and light wood that's combined with the shimmering accent of wall lighting, a decorative choice that is most unique to luxurious resorts. Other amenities include: a concierge, valet, virtual doorman, a children's room, a Turkish bath, outdoor and indoor pools, as well as pied-à-terre accommodations.
Having a great view of Central Park is a thing of the past. In this year's trend, New York City buyers want more amenities. And developers are fulfilling that need at a premium.
Joseph Moinian, the lead developer behind the construction, intended Sky to be a luxurious living experience for both travelers and New York City residents. About 80% of the apartments will follow the market, with studio apartments starting at $3,000. Moinian originally planned to have condos on the upper floors but has since changed his plans. Now the standard one-bedroom apartments will share the same lobby as the more luxurious units in the Sky tower.
New York high-rise architects have been adding their own individuality to their creations. Manhattan skyscrapers are now slimming down in size, and in the residential front, apartment rentals are being packaged with new attractions most commonplace in resorts. In short, New York — "based architects are going ahead of our time by transforming the landscape of Manhattan, at the risk of losing the interest of their investors in mind."