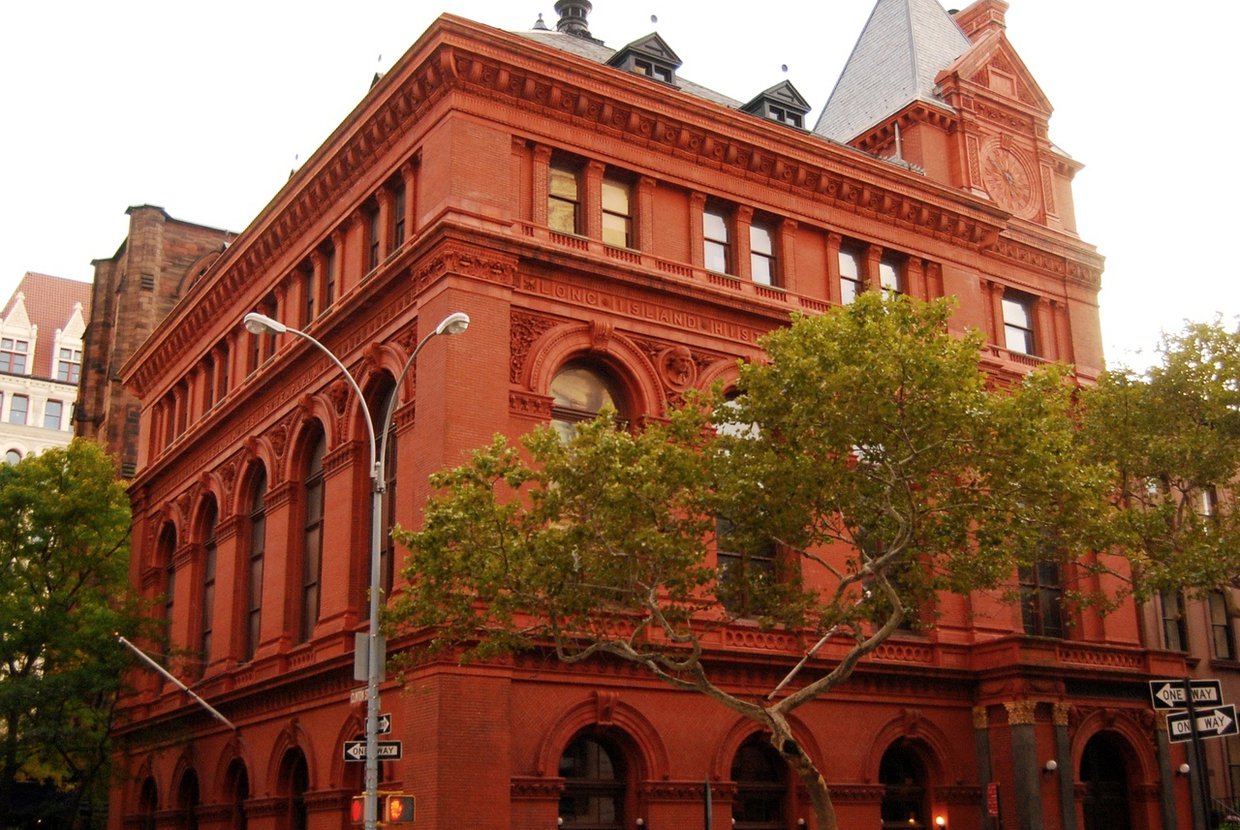 City Realty recently released its Brooklyn New Development Report for residential development projections, and Downtown Brooklyn and Williamsburg were at the top of the surge, with an estimated 22,000 new apartments in these neighborhoods slated for the market by 2019. With all this development, the changes to historic buildings, such as the conversion of the landmarked Dime Savings Bank into a luxury tower, is inevitable. While the Dime Savings Bank will remain intact as an elaborate lobby, un-landmarked buildings in hot Brooklyn neighborhoods are seeing demolition to make way for shiny new luxury residences.
That said, many historic buildings are getting a new lease on life thanks to luxury housing. Take, for instance, this crop of dilapidated Brooklyn churches that are getting luxury conversions.
Last week, Marvel Architects revealed renderings for the Jonathan Rose Companies' new luxury rental building in Brooklyn Heights. The honey-colored brick facade is striking, and it will have lavish lobbies opening onto Pierrepont Street and Montague Streets, both of which we're featuring in a special two-part edition of Street of the Week.
Up first, the history, highlights, and record breaking real estate of Pierrepont Street!
Coveted for its stunningly beautiful array of Greek Revival, Victorian Gothic, and Classical Revival architecture, as well as its amazing riverside views of Manhattan, Pierrepont Street has been a destination address since its inception in the early 1800s.
The sublime street is named for 19th century merchant and veritable founder of Brooklyn, Hezekiah Beers Pierrepont. In 1802, he acquired part of the estate of landowner Philip Livingston and hired a surveyor to divide the property into streets, essentially developing the original Brooklyn Heights. To ensure his residential project prospered, he needed to make it convenient, and desirable, to Manhattan. To do so, he acquired the leases of the fleet of existing Brooklyn ferries and granted them to Robert Fulton, inventor of the modern ferry boat and a personal friend of Pierrepont. The resulting Fulton Ferry was not only luxurious and spacious, it crossed the East River to Manhattan in a speedy 12 minutes. With this new ease in commuting for Wall Street bankers and merchants, Brooklyn, specifically Brooklyn Heights, became Manhattan's first suburb.
Pierrepont ensured the further beautification and popularity of his namesake street by opening the waterfront at the base of Pierrepont Street to the public, and it today remains as coveted and desirable an address as it did in its earliest years.
Designed in 1911 by George Fred Pelham, 62 Pierrepont is an exquisite Beaux-Arts style co-op building with a lavish, meticulously detailed entryway and lobby. It features a tranquil, beautifully landscaped backyard garden with climbing vines and loose stone walkways.
This historic architectural gem offers amenities such as live-in super, laundry, elevator, private storage, and bike parking, and is situated two blocks to the breathtaking Brooklyn Heights Promenade.
Located at 128 Pierrepont Street, the Brooklyn Historical Society was founded 1863 and has operated out of the stunning Queen Anne-style building since 1881, when the museum commissioned architect George Brown Post to design its headquarters. Post found inspiration for the design in the Brooklyn Bridge, and incorporated busts of Christopher Columbus William Shakespeare, Benjamin Strauss, and Ludwig Van Beethoven, among others. The resulting structure of ornate terra cotta facade, intricate bricklaying, and decorative architectural details bring the museum continued praise from architectural historians for its technological innovations and aesthetic beauty. It was recognized as a National Historic Landmark in 1991, and is on the National Registry of Historic Places.
The museum's mission is to connect the vibrant history of Brooklyn with its diverse community of today.
An impeccably maintained, exquisite pre-war co-op just off the Promenade, 20 Pierrepont Street offers historic Brooklyn charm with residences featuring pre-war detailing, soaring ceilings, hardwood floors, an abundance of windows, ample closets, dramatic archways, bathrooms with traditional subway tiling, and state-of-the-art appliances and fixtures.
This elevator building offers such amenities as a landscaped garden and patio, storage, laundry, and live-in super.
Herman Behr Mansion
Located at 82 Pierrepont Street, the Herman Behr Mansion was designed by renowned architect Frank Freeman for 19th century industrialist Herman Behr and his sons, tennis player Karl and golfer Max, the breathtaking mansion is known as one of the city's great masterpieces of Romanesque Revival.
It boasts a facade of terra cotta, salmon colored brick, and rock-faced sandstone, and features a menagerie of carved lizards, lions, dragons, and gargoyles. The Behr family owned the estate until 1919, and Karl Behr returned to the home after surviving the sinking of the Titanic, which he'd infamously taken to follow his love interest, Helen Newsom. Rumor has it he proposed to her on a lifeboat.
The mansion became a rowdy, bordello-esque hotel in the early 20th century, had a short stint as lodging for Franciscan monks in the '60s, and was converted to rental apartments in 1977.
Next week, we delve into the history and homes of Pierrepont's neighboring Montague Street!
Photo via Wikimedia Commons user Gnarly, licensed by CC 3.0.