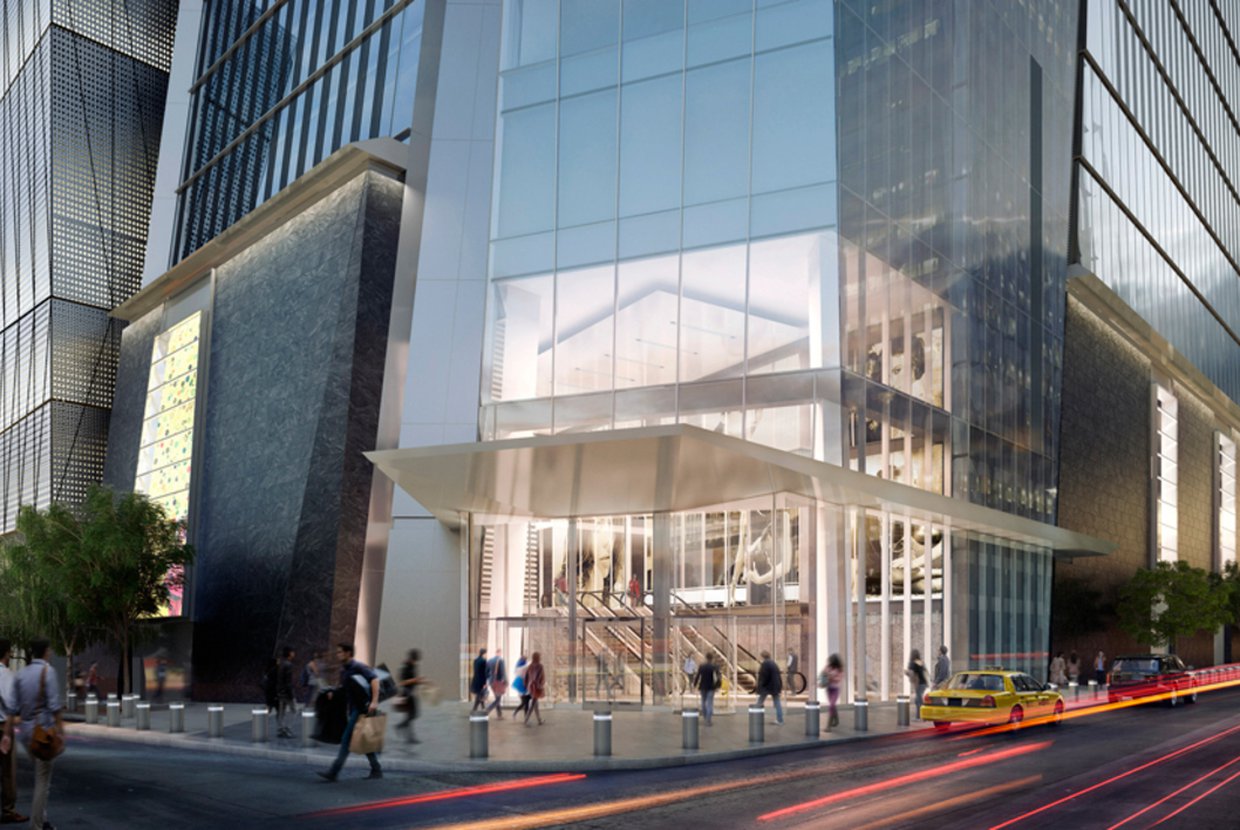 Rendering via The Related Group
Last week, The Post published new renderings of the city's highest observation deck atop the 75th floor of Hudson Yards' highest, ultra-luxe, glassy tower, The Related Group's 30 Hudson Yards.
The very large and very sleek Kohn Pedersen Fox–designed luxury building is currently under construction, and will top out at 905 square feet and 52 stories. Slated for completion in 2019, 30 Hudson Yards will be transformative both to the West Side skyline and an important component of the behemoth Hudson Yards Redevelopment Project.
Ever since Related Group launched its Hudson Yards Redevelopment Project in 2012, the massive, under-construction neighborhood north of West Chelsea has gotten a lot of press as the Far West Side's 'it' neighborhood-to-be and the largest redevelopment ever of its kind. It will take up and expand on the huge swath of the High Line from 28th Street to 33rd Street between Seventh Avenue and Hudson River Park.
Hudson Yards has spent the last 50-plus years as a dilapidated rail yard, and plans to redevelop the area have historically failed. Real estate tycoon William Zeckendorf Sr. was the first to propose a development for the site back in 1956, but the banks rejected the exorbitant financing package it would require. In the '80s, New York Yankees' George Steinbrenner and Jets' Sonny Werblin both attempted to acquire the land for a new stadium for their teams.
When New York was in the bidding for the 2012 Olympics, Former Mayor Michael Bloomberg campaigned for the yards to be transformed into a massive sports arena. When NYC lost the bid, Bloomberg wanted the project to proceed, and proposed that the Jets move to the new complex from their home in the Meadowlands. Major backlash for the proposal came from Madison Square Garden owner Cablevision, who feared the obvious competition from a stadium so close by. To squash the plan, they staged a Stop the Jet advertising campaign at the cost of $40 million and effectively killed Mayor Bloomberg's proposal.
The current Hudson Yards Project promises far more than a mammoth sports arena; it will be a full-blown city-within-a-city, and the largest real estate development in the history of the US.
Exceeding the Freedom Tower and Barclay's Center in scale, Hudson Yards is being seen as the pinnacle of real estate revival in New York.
It's not just its grand scale makes the project so buzzworthy. The development is not actually being built on solid ground, but rather on enormous elevated platforms that will essentially act as a roof over the train tracks, allowing the trains to run as usual.
The building of the Hudson Yards Project, which effectively involves erecting an entire city on stilts, promises to be incredibly challenging as one of the most advanced in the history of US commercial real estate development.